Algae Grower
Join Date: Jul 2012
Location: Lincolnshire
Posts: 10
Light planting problems!
---
Hi everyone,
Im wondering if anyone could tell me how to keep my plants alive and thriving!
I bought the plants on Thursday night, and the grass is already yellow and breaking to pieces. I don't know the names as i usually just go to my lfs, see them and put them in if they look nice! The big leaved plants are doing okay, and the tall plant at the back is doing really well, its even growing on the top! But all im trying to do is to cover that part of the aquarium ready for Discus fish?
I currently have sand as a substrate, and have 2x 10000K lights. I also have some root tabs on the way and they'll turn up on monday!
What would peole sugest me do? and what type of plants?
Heres a picture!: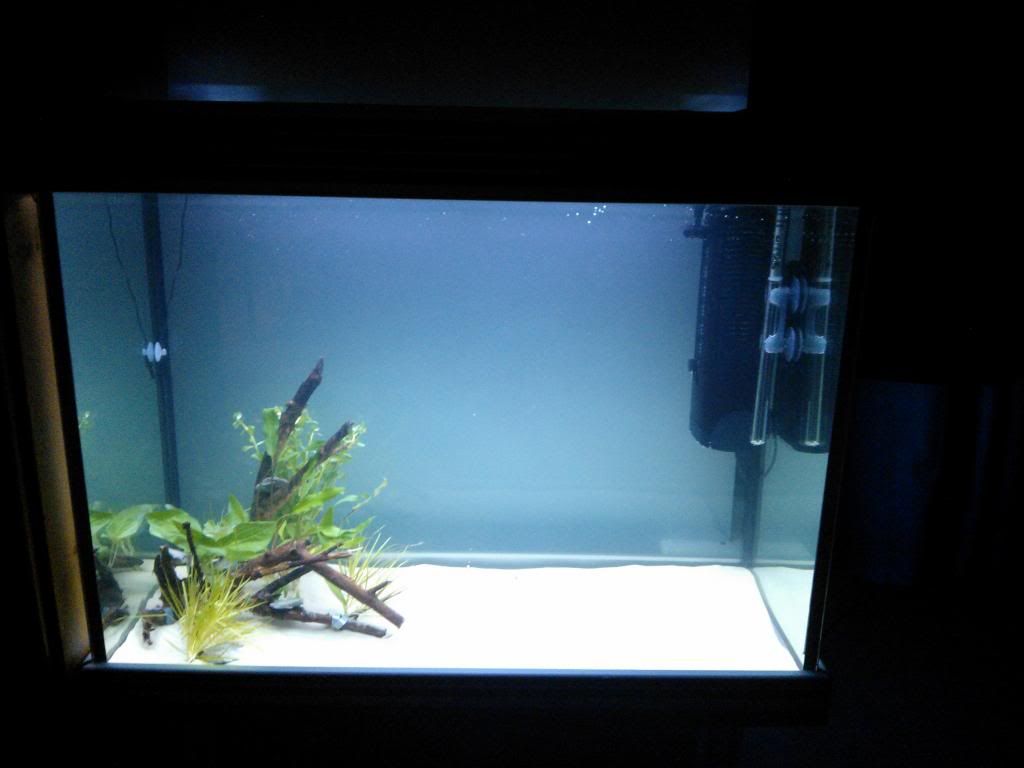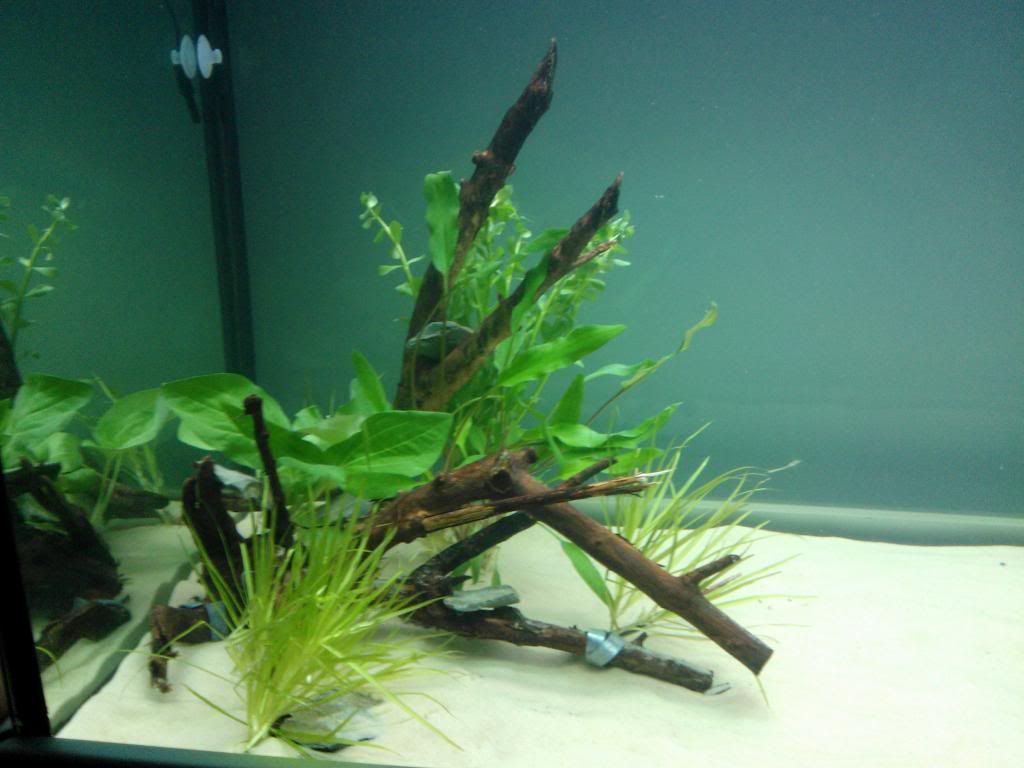 Thanks
Mike
The grass is blyxa japonica, its kind f a temperamental plant, it does require nutrients to survive, it will not be happy if its shorted on any of them

Id use one light for now especially since ur not fertilizing, the bigger leaved plants have more of a fat store of nutrients and can survive a shortage better but will eventually start showing signs of deficiency.

Whats ur ultimate goal here?
Algae Grower
Join Date: Jul 2012
Location: Lincolnshire
Posts: 10
Thanks, my ultimate goal would be to grow the plants where i have placed them, to cover that area reasonably densely for cardinals and otto's and cory's. Then some hiding space for Discus. Im not too bothered on what plants, as long as its green and living and its a good covering, then im happy!
Also, the lights can't differ, they are both either on or off unfortunately
i have them on from 3-11pm so its around 8 hours!
u may need to reduce the intensity then, or think of carbon supplementation as well.. it looks pretty bright in there

the root abs will help though
Algae Grower
Join Date: Jul 2012
Location: Lincolnshire
Posts: 10
Thanks, i'll wait for the root tabs to arrive, and then i'll see what happens from there.... im not really sure how to reduce the intensity if im honest :/
cheeseclotch, window screening, etc
plenty of threads on here for how to do it
u can even tint the lens that covers the lightbulbs
I agree. Is there any way you can replace the 10,000s with 6500Ks?
If you could bend the plant weights, they might be made out of lead. Many people use neoprene fishing line or black thread to attach plants to other things.
Can you use Seachem Flourish Comprehensive? I use it and I think I've found the right dose over the default. Also, some plants have problems going from one tank to another and turn yellow, or your water params might not be suitable for that particular plant, and it is advised to leave the parameters alone instead of doing long-term changes, and to use plants that tolerate your water well. I take that back- Discus are an exception to the rule because they have to have certain water attributes, so you may have to adjust the water and keep it adjusted every water change.
If you don't have a liquid water test kit, you're going to need it. In my price range API Master Test Kit seems pretty good.
I would personally recommend in your case working on plants first and after the tank has been well-planted, bringing in the Discus. Once the plants are in and growing well, fast-growers and to a lesser degree, slower-growers, will take in available ammonia
Please take what I've written with a grain of sand
and use what makes the most sense to you.
Steven
---
MY TANK: Planted 10g; 2 x 10W CFL; Fluval U2 internal filter; MGOCPM/black sand cap
A Silent Cycled Tank
started April 18, 2012