Algae Grower
Join Date: Jul 2012
Location: PK, NY
Posts: 30
Newb looking for advice
---
My tank has been up for a wile now and i think things are going alright. Here is a little background of my tank, its a 34g cube, 2 bags of EC, 2x12" truluman led strips on for 9 hours a day, G3 filter and a 300watt inline heater with controller set to 77deg. I have 2 angles, 5 neon's, 2 cory cats and a lone guppy(the guppy is my sons fish). For plants there is a jungle val, amazon sword, hornworth(not sure how to spell it) java fern, dwarf hair grass. My parameters PH=7. KH=3, GH=6, ammonia nitrate nitrite all 0, EC around 500(G3 gives this spec). Is there any thing els i should be testing for? I swap out the mechanical filter every 2 weeks, swap out 2 bags of purigen in the chemical basket once a month, and rinse the bio and canister every 6 months with tank water. I am doing a 5gal water change about every 10 days, using Poland spring or deer park witch ever is on sale because my tap has lots of mettle and chlorine in it. I put between 5-10ml of api liquid co2 every day when lights come on and 30ml of api leaf zone at water changes. That was the only ferts i could find locally, now i can get flourish at a new store that just opened. Would it be better to switch to flourish, if so will that replace liquid co2 and leaf zone? Or should i just keep doing what i am doing because it seems to be working, things are growing water is clear and fish seem happy.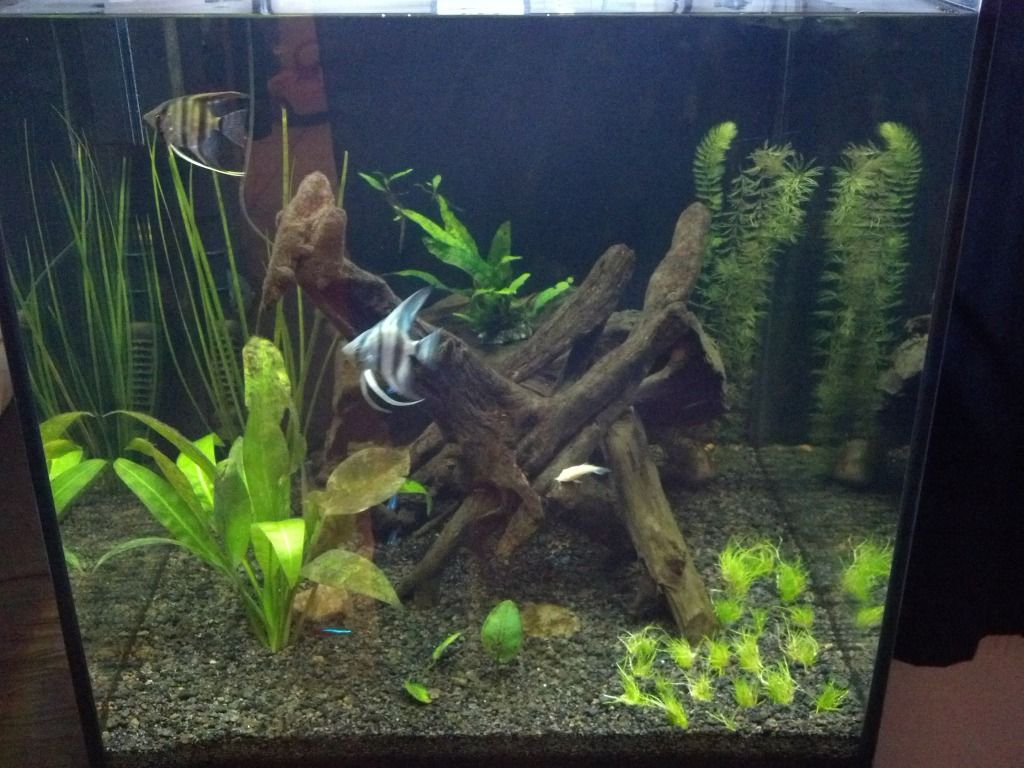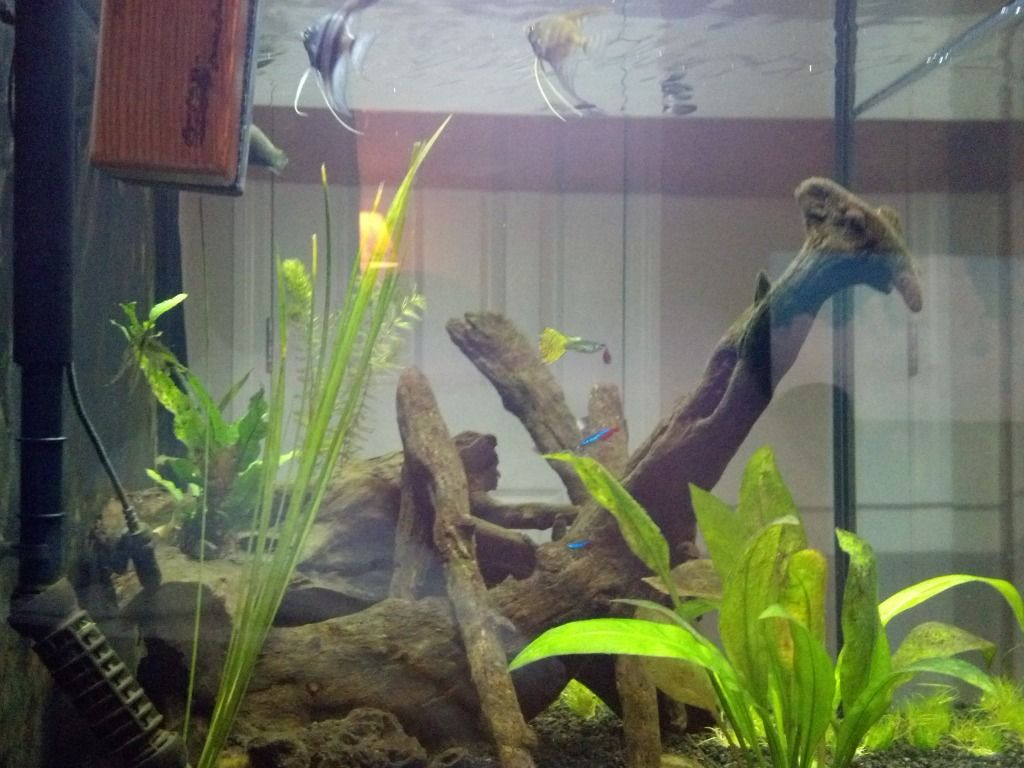 just planter the hair grass hasent filled in yet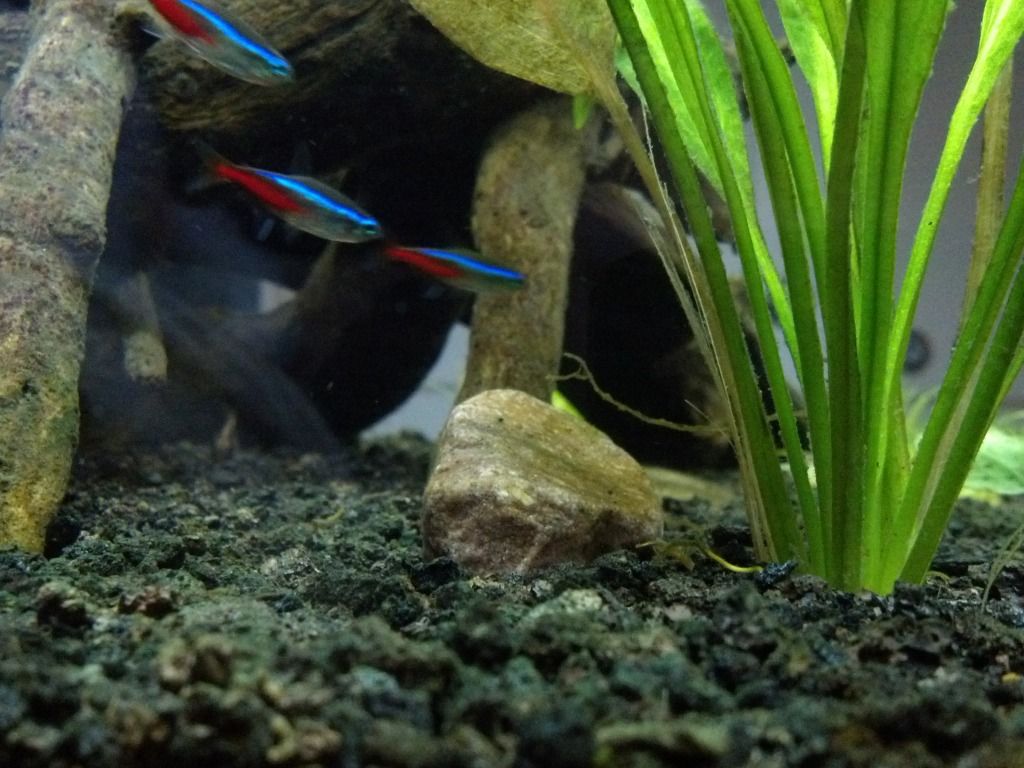 Your tank looks good. Things seem to be working well for you. You know what they say: "If it ain't broke, don't fix it !"
I don't think you need to change anything you're doing.
Planted Member
Join Date: Jul 2012
Location: corvallis, OR
Posts: 259
you should just switch over to a pressurized co2 system, a lot cheaper in the long run. I use dry ferts on my tank and it seems to do well, i wish i had a cube tank... im kinda jealous of this tank haha
Planted Tank Guru
Join Date: Jan 2010
Location: Contra Costa CA
Posts: 11,721
Just going by your test results I would be concerned that there is not nitrate (NO3) showing. The plants are using all the nutrients that you are adding with the fish food.
Fish food usually has a pretty decent balance of N, P, and most micros. Not so much K or Fe, so the Leaf Zone and carbon supplements are just right.
Yes, I would add Flourish Comprehensive to add just that little bit more that the plants may need.
I can't fully agree with the thought that things can't be worth adjusting a bit. It is good not to make large changes but tanks do change even when the don't see it. That requires being ready to change small things.
One thing I would first look at is the water used. To cut the amount of hassle and expense, I'm pretty sure you can switch to regular tap water and use a product to deal with the chlorine and any metals. Prime is a favorite with many people that is easy to use and deals with both problems.
You may have a really special situation but for many people all around the world, adding a bit of dechlor is much better than buying water to drag home.
Planted Tank Guru
Join Date: Jul 2011
Location: Gone
Posts: 5,993
I believe there comes a point for each tank were one needs to fine tune for that particular tank by making small changes followed by observation over time. I would offer the 1st thing to eliminate would be the bottled water. Followed my the chemical filter media. Next would be the Macro ferts.

When one achieves balance of Light, Plants, Fish/Inverts, Water perimeters a tank should be able to thrive with only occasional dosing of Trace ferts. Keep in mind it's a system, not just a collection of parts.
Algae Grower
Join Date: Jul 2012
Location: PK, NY
Posts: 30
Thanks for the input everyone. I started out using tap water, the PH is 7.6 and GH 8 and KH 7, I knew i wanted to keep angle fish so i did enough water changes with RODI water to get those parameters down, then started using bottled water to keep them there. At the time i was not using prime as a declor, i have it now to recharge the purigen. It would be very cool not to have to buy water if prime could make my tap water good.
Planted Tank Guru
Join Date: Jan 2010
Location: Contra Costa CA
Posts: 11,721
Bottled water, as in drinking water, spring water and similar products are not really all that great for aquarium use. They are not regulated, so can change at any time.

If your tap water is OK, no toxins, then a blend of tap water and reverse osmosis or distilled water will be a better blend. Test the RO or distilled to be sure, but these should have so close to zero minerals or anything else, and be very consistent. RO and distilled are close enough to the same for aquarium use it does not matter which you use.
Beware of those machines outside stores that say the sell RO, though. If the filters are not changed regularly they start allowing too many minerals through, so the water is not really RO pure any more.
You can get small RO units that you hook into your kitchen sink, if you do not want (or cannot use) a built in unit.
Prime is a very good dechlor, and economical to use.

If you are trying to get the Angelfish to breed or are keeping wild caught then you will probably use something close to a 50/50 blend of tap + RO, then filter it through peat moss. Hatchery raised fish ought to be just fine in your tap water.