Help Filter/pump too strong
---
I bought the girls a new 10 aqueon tank because the light went out on our 3 gallon and we were using our back up pump on it because the origional pump went out. I bought a tank kit I now feel as though I spent to much and should have just stuck with our original three gallon and not had a light. any way the pump.filter that came with it is too strong for our betta and may be too strong for the plants. Do i try to baffel this thing (if so how) or should I just try to sell it and re coop some of my cost. and put the old pump/filter back in it. the old pump/filter said its for a 3-5 gallon tank as least If i remember right it did. I don't think it went up to a 10gal. so it might be a little small for the 10 gallon I don't know what to do and I am feeling very frustrated with this hole home school project. any advice

the new pump is an aqueon quiet flow 10

My old pump/filter is a tetra whisper I believe the box said for 5 gallons.
Planted Tank Enthusiast
Join Date: Feb 2012
Location: NJ
Posts: 501
This is fixable, you can put some kind of foam on the output of the filter. If this filter is a hang on the back (HOB) type, you can maybe use foam filter from Aquaclear filters to slow the flow down. Also, search the "Planted HOB Thread" to get some ideas as well.
Jam any type of filter floss or poly foam product in the output area
---
I did that with several of my HOB filters. They're all completely silent now. The least favorite out of these filters is the Aqueon QF10.

I like running filters with the water level 75% below the top, so the filtered water agitates the surface of the water, but you can't do that with the AQ QF10 though because of the way it's designed.
One way that I use to baffle the flow of HOB filters is to buy a cheap soap dish from the dollar store. They are clear acrylic and come with suction cups to stick on the tank wall beneath the outflow of the HOB. Little drain holes allow some water through and the rest is diverted back up to the surface. Works a peach.
---
Easing my toes in the water
SFBAAPS Member
Here's what rrastro is talking about. Reduces flow, lets you fill it with more biomedia or floss or whatever. I just put plastic pot scrubbers in mine.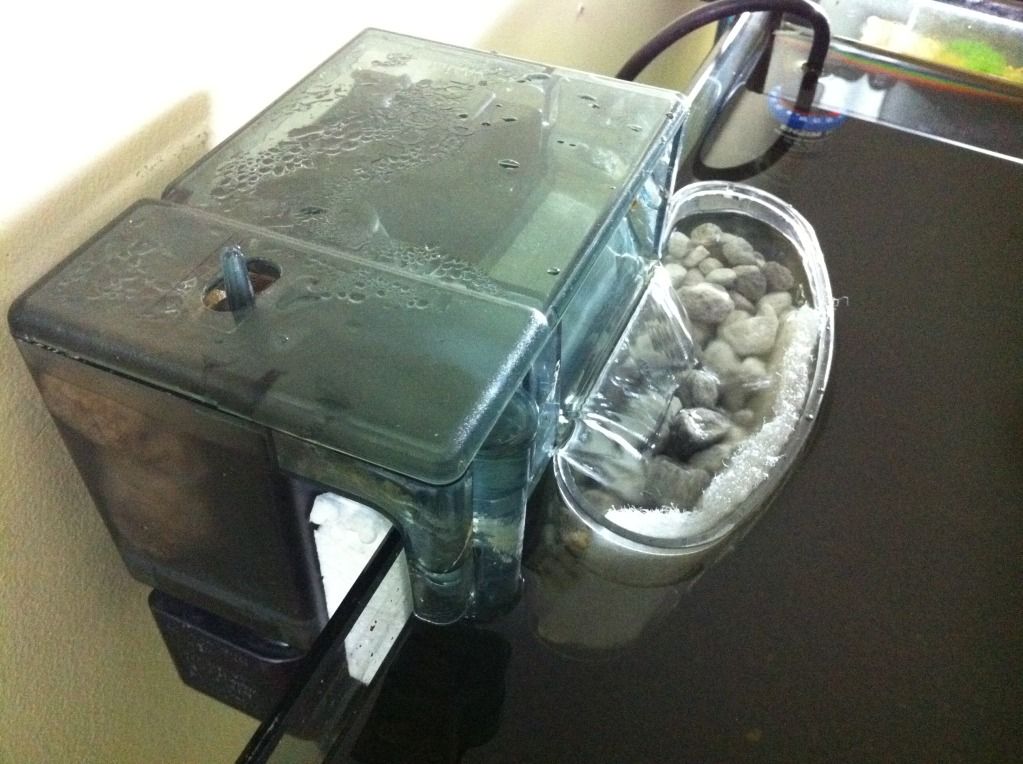 ---
20g platy, , 2 x 10g shrimp, 3 x 20g shrimp, 7.5g shrimp and 1 great dane/mastiff puppy.
Sump Pimp #2
My Tanks and my shrimps
Those work too, but I think those are toothbrush holders.
---
Easing my toes in the water
SFBAAPS Member
I will check and see if i can get a stick on soap dish and try that.