Planted Tank Enthusiast
Join Date: Nov 2011
Posts: 828
Look into jet pipes if you want to make sure that the flow is strong enough. There's only metal versions of it I believe but it's a pretty cool look if that's what you go for. The jet pipe gets smaller at the opening causing the water to spray out stronger and depending on your filter, it should make its way all the way to the end of your tank and then circulate back to the intake at the other end.

I know the look isn't ideal, but 2 hang on back filters really are a good solution for these long tanks. You could do some fun stuff like grow plants out of the filter so it won't look as ugly. If you go with canister, you can try lily pipes or even custom spray bars (not sure where to get them myself but should be available somewhere on these forums).
I would take the design step by step, especially as you are omitting some details that will radically effect your set-up. I am also taking into account that you would like the 'cleanest' / minimalistic look.
Decide on the tank first: 12Long and 60-P are 2 very different beasts, with 12L being the hardest of the 2 to set-up and run.


Consider the location of the tank: will it be on a stand with the utility space underneath and against the wall or will it be on a desk or a bar counter (like mine) visible from all sides? If it will be on a traditional stand, you have a lot more options with the equipment.
If the tank is in the 'open': all of the equipment will be on display and that would rule out in-line heater (like Hydor), traditional co2 set-up, most of the canister filters, spray bar, glass pipes, and so on.
Filtering
the 12L will be your first challenge.
If the tank will be mostly planted with carpeting plants, you might be able to get away with a single canister filter.

If the tank will be heavily planted with taller plants, you will end up with 2 filters, one on each end of the tank.
In either case, VIOLET GLASS JET (OUTFLOW) JP-1 13D (or similar) is what you will end up with. Consider that the outside bottoms of 'glass pipes' will come to ~2" of the surface the tank is on. Unless you can drill holes in the surface to connect them to the filter(s) underneath, your filter hoses would be visible.
If the tank will be on a traditional stand, then Eheim classic filter(s) are hard to beat. If the tank will be in the open, 2 x Finnex FX-360 (or similar) is pretty much your only choice of canister filters.
Lights
: will it have to sit on top of the tank or can you hang it? That will affected the options you have. Then consider the plants you want. More color = more light = more headaches. Another consideration is how you personally will be 'viewing' the tank. Shallow tanks are designed to be viewed from the top. That's one of the reasons why you pay extra for the rimless design. If that's the case for you, then you either have to hang the light or get a light fixture with adjustable legs. That narrows your options even more. For example: high light + suspended would rule out Finnex Ray 2 for me: a) not enough light b) you have to DYI the way to suspend it. If you mount Finnex on top of the tank, you will have to move it back and forth every time you want your hand in the tank. If you decide to get it anyways, do get the DS model.
I personally ended up with Hagen Glo 2xt5ho mounted on the tank. The Glo has height adjustable mounts that solve the issues above.
CO2:
if you have no other choice but to go with a 'mini' system, consider Fluval 88 - it works, it's reasonable, customer service is great ime, but most importantly, the refills are readily available. What if ADA's ship is stuck at sea? Your plants are dead. Otherwise, pay the price and go with 5# or 10# tank and get the usual regulator/solenoid/valve set up. You will end up there anyways, sooner or later.
Plants
: again, decide what 'look' do you want first. If you want forest/jungle/top-to-bottom/dutch look, there are tons of plants to chose from. Even though the tank is so shallow, there are still stems and swords you can use.
Enjoy the journey.
---
Courtesy * Integrity * Perseverance * Indominable Spirit * and Self Control
Tenets of TKD
Algae Grower
Join Date: Jul 2011
Location: Manhattan
Posts: 120
What a great post, thank you.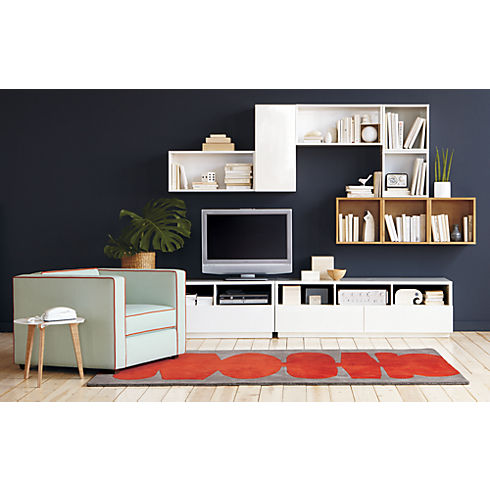 The tank will be on these white media consoles (it can support 170lbs). So anything that I can hide would be good. I also don't want the lights to be too high, want to stay minimalist!
I like carpeting plants and "open space" with some rocks so I'm guessing one single canister filter will be good. However, I'm not trying to save money or anything so if 2 is best that will work too.
VIOLET GLASS JET (OUTFLOW) JP-1 13D won't compromise anything in my tank?
Whats the best Co2 #5 setup?
Are there any Japanese brands for lights and filter that will work well with a 12L tank?
Thank you
ADA on the East Coast
is your ticket. They can set you up from A to Z. They are
sponsors
on this forum and Francis Xavier is a highly respected frequent contributor. Get in touch with him and he will take care of you.
Their filters look like industrial art and you can place one to the right of the cabinets, either in full view or hidden by a live/fake house plant.
'#' stands for 'pounds', i.e. 5# is a 5lb co2 tank. Based on the physical size of the filter you chose, you can select either 5# or 10# co2 tank to match. Get an aluminum one and polish it. Then you can put it in full display next to the filter - they will look like art, not equipment.
Touch base with
oldpunk78
and he will build you the best co2 rig the money can buy.
Given your furniture, you can easily hang almost any light under the wall cabinets.
Francis can set you up with a Bentley of planted aquariums, TPT members will help you learn how to drive it
Now
, you owe us a detailed journal so that we can all watch from afar and salivate.
PS: Your picture would have saved me a lot of typing and mumblings earlier.
Algae Grower
Join Date: Jul 2011
Location: Manhattan
Posts: 120
fyi, GLA said they are releasing new tanks with higher quality materials Decemeber/January.

I'm still parting things together. So much to learn about plants too.
Planted Member
Join Date: Aug 2012
Location: Ann Arbor, MI USA
Posts: 284
very cool room. Good luck with the project.
Algae Grower
Join Date: Jul 2011
Location: Manhattan
Posts: 120
that's not my room, i was just showing the 2 media consoles i have, side-by-side (thats the company's photo)
the left cabinet has a fluval edge, right one will have 12L..
Planted Member
Join Date: Aug 2012
Location: Ann Arbor, MI USA
Posts: 284
oh. I was like damn you Manhattan people are fancy. Maybe I AM a redneck.
Wannabe Guru
Join Date: Apr 2012
Location: United States
Posts: 1,748
Maybe a little off topic, but where did you get the stand at?
Algae Grower
Join Date: Jul 2011
Location: Manhattan
Posts: 120
Algae Grower
Join Date: Jul 2011
Location: Manhattan
Posts: 120
Quote:
oh. I was like damn you Manhattan people are fancy. Maybe I AM a redneck.
hahah
Wannabe Guru
Join Date: Apr 2012
Location: United States
Posts: 1,748