Algae Grower
Join Date: Jul 2012
Location: columbia, SC
Posts: 133
I'm getting rid of my goldfish to get new fish this weekend, suggestions on new fish?
---
I stopped in my new favorite mom n pop fish store today to get a few supplys and I'm not sure what to get. The owner said I can bring in my goldies and he'll find them a nice home. He showed me some panda corys (i think?) And some whiteish/clear small skinny tetra with a red/orange nose that i liked. I need something that'll get along with ghost shrimp and a mystery snail.
That tetra sounds like it could be a rummy nose tetra, very awesome and peaceful schooling fish.

How big is your tank? what kinda filtration do you use? plants?
Planted Tank Guru
Join Date: Jan 2010
Location: Contra Costa CA
Posts: 11,721
Also, what are the KH, GH, pH? Rummy nose are better in soft, acidic water.
What size tank? Might help people suggest a wider variety of fish.
I have guppies in my son's tank with ghost shrimp and purple mystery snails.
The snails haven't lost any antennae. Sadly, i cannot say the same about the ones in my tetra tank.
(make sure you pick up a heater since you are upgrading to tropical fish)
This is the first time I've had guppies in a tank, I was surprised to see that they come in such a large variety of bright colors. (i stuck with all males, don't feel like having tanks full of babies all over.
---
"A fish tank isn't a pet, it's a t.v. that you gotta feed."
Algae Grower
Join Date: Jul 2012
Location: columbia, SC
Posts: 133
http://i114.photobucket.com/albums/n...9/IMAG1069.jpg
55g with two aqua tec 30/60 hob filters. Lighty planted, mostly wisteria, some dwarf grass and some other tall skinny grass. Real rocks with gravel substrate with planting gravel under that. PH is 7.5 and KH is 4, I'm not sure on the GH.
EDIT: I put the heater I have in a few days ago cause it's been getting chilly, tank's sitting right at 77 degrees.
Oh you could put a loooot of stuff in there, It will depend what kind of fish you like but you can put so many diff fish in there. tetras, barbs, angels, rainbows to name a few.
If you liked the cories you could easily put 6-12 cories and maybe 20-25 rummynose. They both like larger schools and with a 55 g I would say go for big schools. You could also add a 'centerpiece' fish like maybe rainbowfish or an angel.
I may recommend more filtration, if possible. that way you can have more fish
I like glowlight tetras, that orange bar really shines under the right lights. I have a group of those, a group of black neons, and a group of cardinals.
---
"A fish tank isn't a pet, it's a t.v. that you gotta feed."
Algae Grower
Join Date: Jul 2012
Location: columbia, SC
Posts: 133
Word on the street is santa is gonna upgrade my lights and filters
If I only got a few fish, would they have babies? Would the ghost shrimp eat their babys? Would they have babies before santa hooks me up?
Either way these goldfish are outta here. They didn't mess with any plants till I put the dwarf grass in. They're like missbehaved dogs grabbing it with their mouths and shaking/pulling it.
If santa is feeling generous have him get you an eheim 2217
, add it to your HOBs with a lot of plants and you should be filtered pretty decently.
flying fox is a fun fish to watch, get 2-3 and they play around quite a bit. They will also clean off your plants and gravel a bit.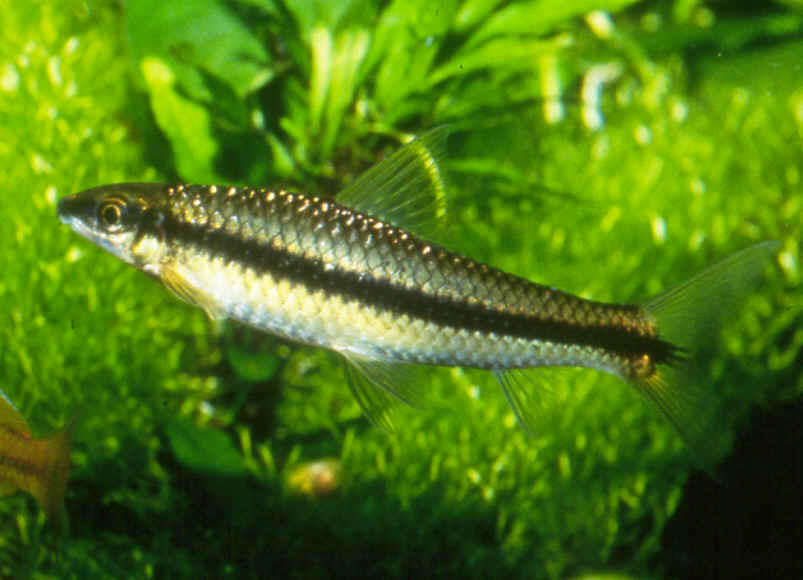 bleeding heart tetras get pretty nice looking when they are full grown and they don't seem to bother anything at all.
Roseline sharks get along with my tetras pretty well (they are a type of barb, but seem more calm, the younger ones even seem to pick at algae).
Rainbow gobies are pretty fun to watch, i saw one today holding onto my water return letting the rest of his body get blown around by the current.
if you stick with larger tetras (bleeding heart for example), a small school of pictus catfish would be fun, those are very active and usually only grow to 6" or so.
---
"A fish tank isn't a pet, it's a t.v. that you gotta feed."
Algae Grower
Join Date: Jul 2012
Location: columbia, SC
Posts: 133
I ended up getting:

3 koi angels
3 rummy nose tetra
3 flying fox
1 clown pleco

I'm gonna go in a few weeks and get more tetras and foxes. I also saw some that looked like the foxes but the stripe was an amazing shimmering blue. I'm gonna get a few of those.
Planted Tank Guru
Join Date: Jan 2010
Location: Contra Costa CA
Posts: 11,721
Angels will pair up and the third one will get harassed, perhaps killed. Very rarely will they 'pair' up into a group of three. They can pair up female + female, and be almost as aggressive to the third fish. They may be willing to eat shrimp.
3 of any schooling fish is not enough. At least 6, and this is a very low number. A dozen or more would be better. Rummy Nose are small enough to get eaten by the Angels.
Flying Foxes (
Epalzeorhynchos kalopterus
) can be aggressive to each other, and to other shark shaped fish, including Roseline Barbs. If you like the Flying Fox, but want several I would suggest the Siamese Algae Eater instead. Both species are large enough to eat shrimp. They tend slightly toward eating algae, though, and may or may not bother the shrimp.
http://www.fishbase.org/summary/Cros...-oblongus.html
Clown Plecos are neat little guys. Make sure there is driftwood in the tank. Many Loricariads will nibble some wood now and then, and some like more wood in their diet than others. I would think these are shrimp safe.
I think all these are snail-safe fish.
Algae Grower
Join Date: Jul 2012
Location: columbia, SC
Posts: 133
Thats what I have, 3 siamese algae eaters. The man at the fish store said people call them flynig foxes alot so thats why I called em that. I plan on getting more of everything soon. I bought a nice piece of driftwood and stuck it in the tank, the pleco seems to love it. I made the shrimp plenty of places to hide, hopefully they don't get eaten but if they do, oh well.