So Im revamping the 75g...
---
So as of now i have a planted 75g community with live beareres and a few loaches. I am about to change nearly everything!! Im going to replace the colored gravel substrate with a mix of seachem florite and eco complete black. also i plan on buying a 4x54w t5ho setup from coralife and running 2 bulbs most of the day and all four for only a little bit for a mid-day "burst" . I also plan on getting a semi autimated co2 setup from DRs Foster and Smith for around $110 should take 5lb co2 cylinders. While i do the substrate changes i plan on moving the livestock into a 35 and 20long while i redo everything. Also i think ill be switching from 2x HOT magnums to 2x aqueon 50/75 for ease of media changes. I was mostly wondering if theres anything im doing compleatly wrong in this "upgrade"? iv done some research on all the subjects to make my decisions just seeing if anyone had any real advice based on XP! Thanks for the help guys oh heres a few pics of the tank right now!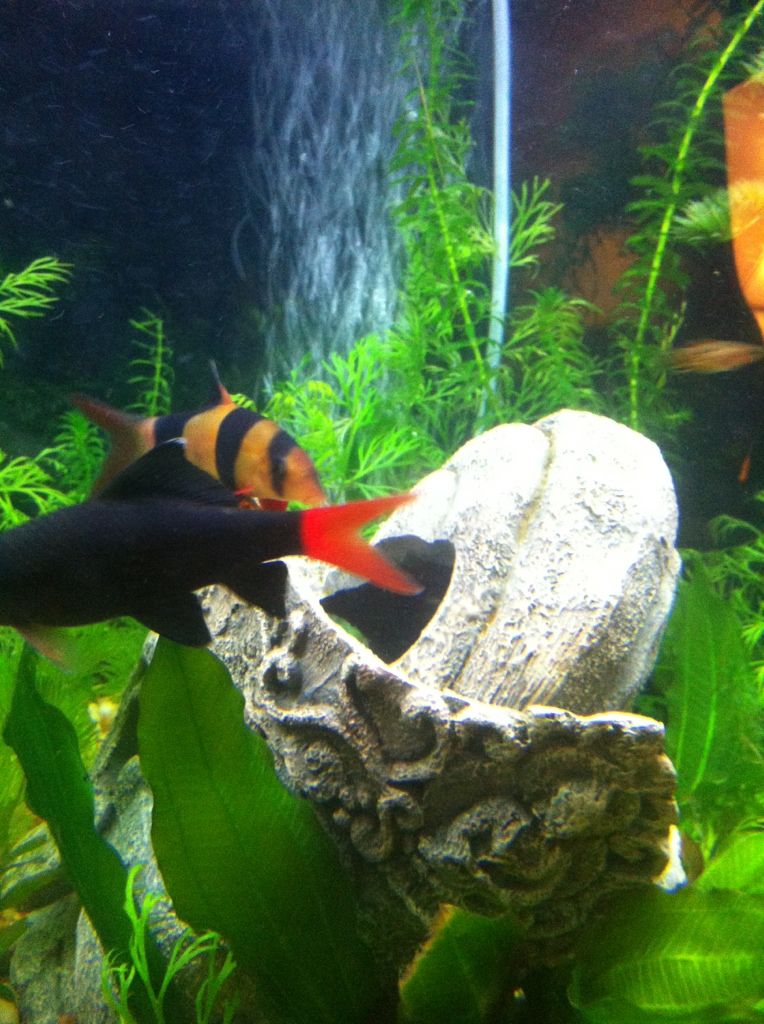 Heres the lights i plan on getting.
http://www.drsfostersmith.com/produc...8&pcatid=23758
Also the semi-automated system from them( currently on back order till November!!!) so I might have to find my co2 setup elsewhere
I was kindof excited to get it all from one place. So soon as the balls rolling on all the eq I'll start further planning on the actual build up. About my hard scape.. Any suggestions on how to arrange my driftwood? The pieces I have are pushing the size limit of my 75 even though the fish dont mind, I'd like a little more open space to be pleasing to the eye. So any help or suggestions are most appreciated!! Love the forum!
For the driftwood, you can always try and fit both of them together (kinda like intertwined together): one potential spot I see is if you take the driftwood on the righthand side and place it so the portion just behind and to the right of the blurred loach and java fern? (2nd pic) sits over that U/V-shaped portion of the driftwood piece on the left (far left of 2nd pic, just behind the crypt).
I don't know if it would even fit that way, but you could always move them around when the tank is empty to see what looks better. You could also put the two pieces of driftwood over to one side so that the other side is open for some long-stemmed plants.
The light may be a little much since the tank is only ~18-20" deep, especially for the low-light plants. I think 4 bulbs would be a bit much: you might be able to get away with just using a 2-bulb T5HO (depending on what plants are in there), or even a 3-bulb fixture. Below are some links to those fixtures (some people on here love the 3x54w catalina one) for you to do a little reading on before you drop the extra $100 for a fixture with an extra bulb and a couple LEDs.
http://www.catalinaaquarium.com/stor...oducts_id=1638
http://www.marinedepot.com/AquaticLi...FIT54U-vi.html
http://www.marinedepot.com/T5_Fluore...RTRFFE-ct.html
Another thing to look at is the bulbs that come with the fixtures: you don't need the marine bulbs (actinic) ... which I'm assuming you already know since your username has "reef" in it haha
Well my reefer name is mostly because my whole forum journey started with my first salty tank I got a few weeks ago a rsm130 very nice. But it also led me to use my phone as a forum machine. Long story short I actually plan on buying geisman bulbs along with the setup along with a little more substrate. How much should I get? I have 2 20lb bags of fluorite and a bag of black Eco complete. I was thinking maybe buying one more bag of the black and mixing them. I guess most of my questions are really how much of everything is too much for my tank? I plan on doing some heavy planting and going for high light specis, any suggestion? For now.. My Anubis is loving life though lol
Geisman are the best IMO. How ever with 4 of them you're looking at really high light. Although I have 4 t5 HO above my tank and I works wonderfully, I can keep all types of plants with that kind of lighting. My favorite type of plant is pogostemon erectus. As far as substrate, I just like to have a solid two inches, so that extra bag is worth it.
well i have everything ordered and on the way except the co2 setup. should be here by like next Friday. Coralife Lunar Aqualight HO T5 Aquarium Light Fixture 48" 216W for $246 pretty good deal from DRS F&S.So now.. i just need to find a different place to get a co2 setup.. at this point i might just start buying the parts separately. any specific all in one or separate parts list would be a great help and a source. probably be purchasing all that within the next week. as of now i know i need.....
1)a dual gauge regulator with silanoid
2) bubble counter
3)needle valve
4)diffuser/reactor
5) a 5lb botte from welding supply store somewhere
6) check valves, air lines, suction cups

ill probably run over a few of the threads here and make a christmas list for the co2 system i want. probably going to upgrade to a bigger digital controller. but in a tank with just random platy's and such is a ph controller even worth it??

ill also need to plan out my plant situation. i want to get rid of the amount of specis in the tank so i can have more unity also going to move the driftwood probably to one side and hide alot of the filters and such behind them.

one last thing. is there anything i need to worry about when im plugging in a 4x54w t5HO in a appartment socket? iv never had a serious light so sorry if its a noob Q. Thanks for all the help!!
Blah
I wish I caught this thread sooner...
I have (now in the closet) that light in 36" right over 40breeder - (and I have a bunch of other Coralifes on various tanks). The short story is that light will give you, at most, low-med light: reflectors and ballasts are basically j%#&$k.
No worries plugin it into a household socket (it actually has 3 cords), it will be just fine.
And I personally would go with more plants
---
Courtesy * Integrity * Perseverance * Indominable Spirit * and Self Control
Tenets of TKD
definitely plan on packing it with plants..
guess i shouldv went with the TEK light >.< oh well im sure it will provide enough light for me since its only a 75 and its a 4bulb
ill get more into my plant ideas later /yawn off to bed for now
BTW, that fixture comes with salt water light bulbs. I'm guessing you would want them replaced with fresh water ones.
I got two geisman aquaflora and two geisman middays so that should cover that problem
Decided to start a tank journal here
The 75g begins..
i figured it was more appropriate place for the actual tear down and build of the tank