I have local stuff for sale (Tanks/Lights)
---
I'm in Cornelius really close to the walmart. I can meet you in Beaverton or anywhere in between. I can deliver for $5 in gas money.

The 20 has sold

I have a 29 for sale. I'll have a 5.5 up at some point as well.



The 29 comes with:
Tank in good condition.
Factory lid
I upgraded the lid to have 2x23w CFL which has a much better color spread than the crappy 24" single t8 that it came with. I had the original t8 guts but I'm unsure where it made off to when we moved. If I can find it I'll letcha have it.
Aquaclear 70 filter
Aqueon 100 or 150w heater.
Enough Tahitian Moon Sand to cover the bottom with 2-3 inches.

Both tanks and equipment have been sanitized. The 20 gallon never had algae as long as I owned it. I ran the t5 with 1 bulb and it did fine. The 29 had dust algae but obviously it went away when I scrubbed the tank down.
This tank also comes with a custom plywood base. I had it on a sturdy nightstand that was 1" smaller than the tank (front to back) so we cut a piece of 3/4" plywood 1 inch bigger than the tank and wrapped it with plastic then wrapped it with some cool dark green fabric.

I'm asking $70 for the 29


I also have a Nano Type P light that I bought for my new nano. I admit, I love this light, but it's not enough side to side for a Mini M. It'd work great in a 12" cube. I have original box. I just got it like 2 weeks ago. I decided right off the bat it wouldn't work for me but my friends dog bit the box (it was empty) and so I couldn't return it because Aquatop requires "resaleable" condition so I'm asking $50 for it. You might say "hey that's the price it is now" .. no, they upped their price to $70 and so I'll take a hit if you want it.


I will take trades for the following:
Home Depot gift cards of the above amounts if you don't wanna deal in cash
Plants: Monte Carlo, Fissidens fontanus, anubias nana petite for my new project.
Finnex Planted + 16"
---
Last edited by Aurie; 03-27-2014 at

06:10 AM

. Reason: added info
Planted Tank Enthusiast
Join Date: Feb 2012
Location: USA
Posts: 692
You might consider post photos of those items so we can know what's look like thanks
Planted Member
Join Date: Dec 2012
Location: Portland
Posts: 201
I can put up pictures tonight. At work atm

Sent from my SPH-L710 using Tapatalk
Quote:
would anyone put that type p light over a spec 2?
i know i would have to mod the light or tank to mount it, but would it be too much light? too much spillover?
thoughts?
From the specifications that I see on the Spec I'd consider it.
I am putting it on a Mini M and finding that it lights below it just fine, it just doesn't have the left to right spread but it's 16 inches long. A spec is 7.25 x 9.25 x 10. A Mini M is 14 x 8.5 x 10
Here are some images of the light. The glass is dirty on the aquarium. I just have the hard scape in it on towels atm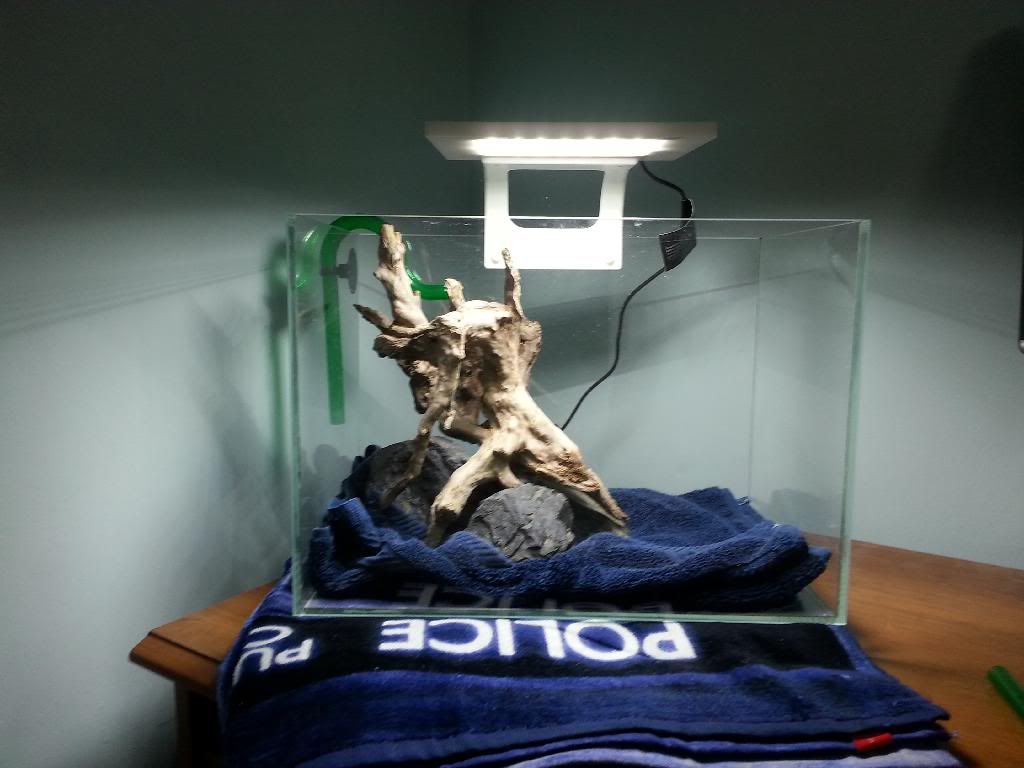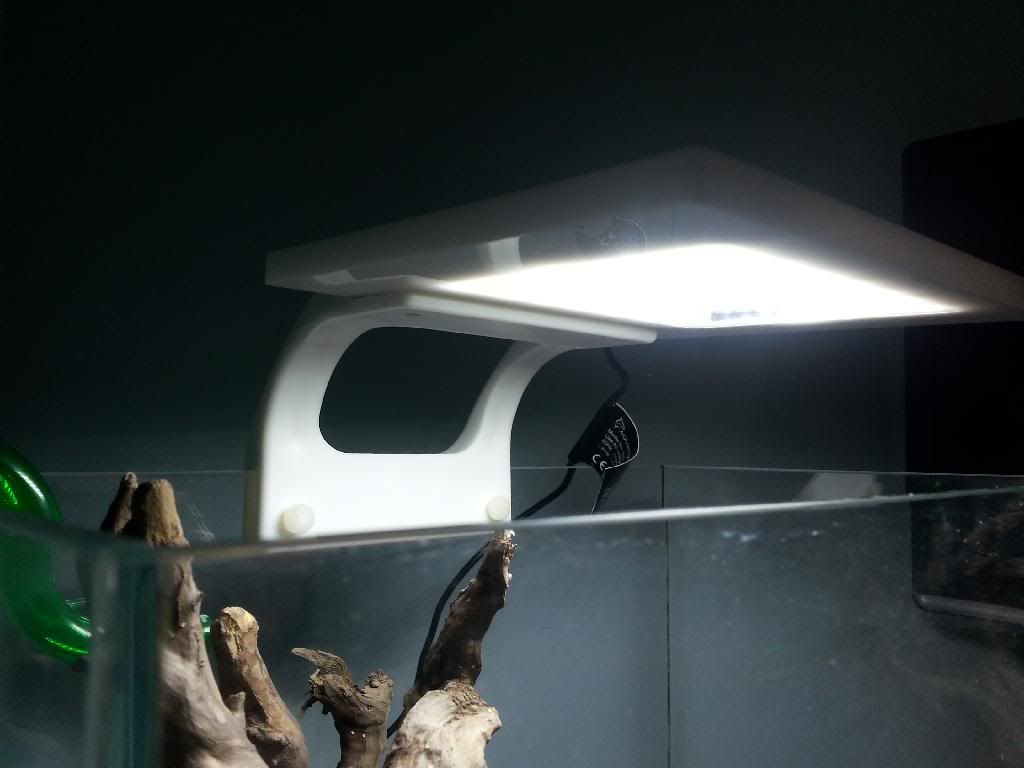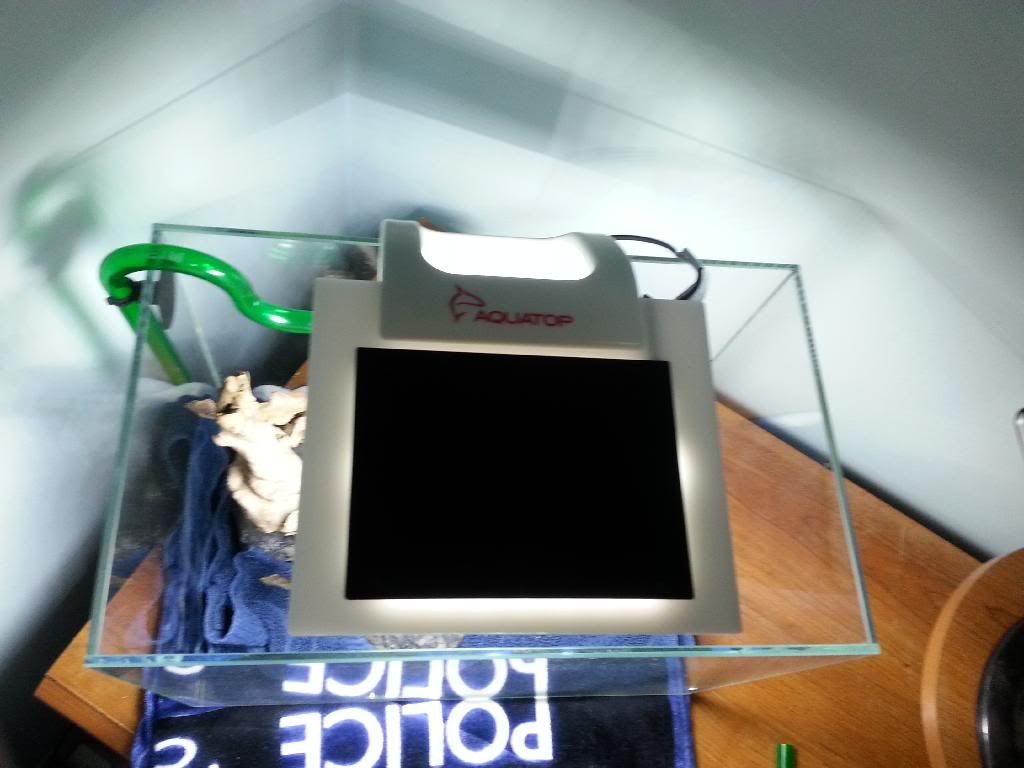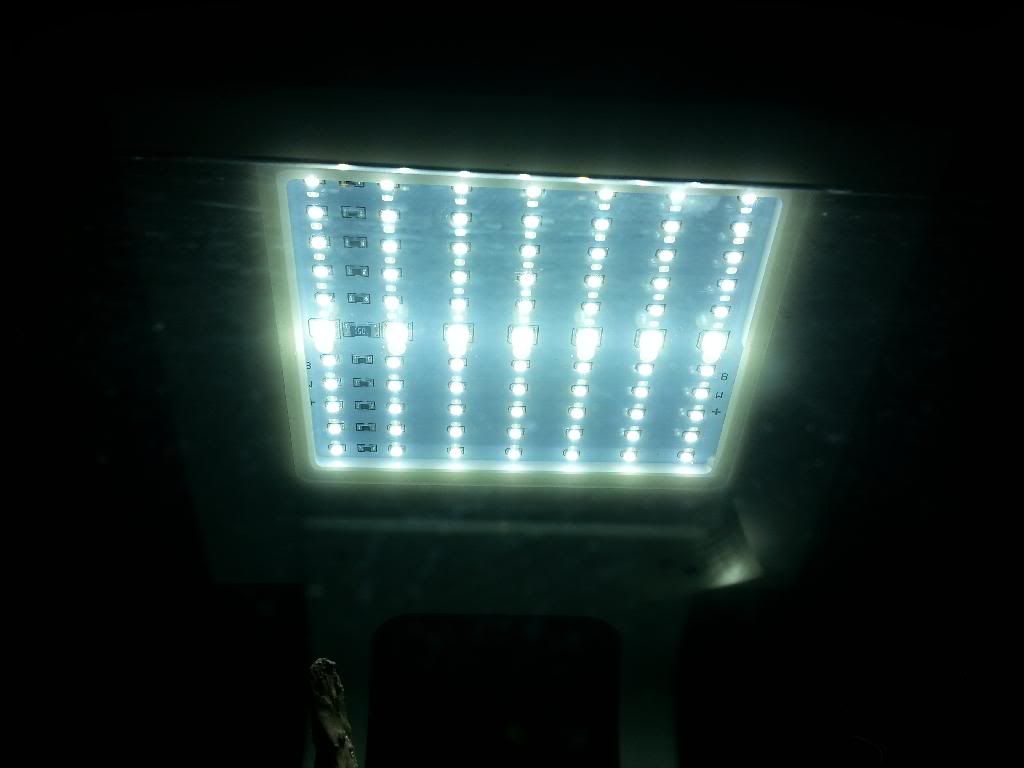 Yes, before anyone mentions it, Yes it's a TARDIS Towel .. I got it from a reddit exchange.
I realised that the 29 was dirtier than I thought so I"m in the process of cleaning it some more. I just sanitized the sand by rinsing it in really hot water and I added some bleach and now it's sitting in a 5 gallon bucket of hot water and 5ml of prime. The glass will be cleaned tomorrow.
Here is a picture from my AD on CL for the 20. I am selling it with an Aqueon Quiet Flow 30 instead of those 2 small junk filter.
Planted Tank Enthusiast
Join Date: Feb 2012
Location: USA
Posts: 692
Hi

How much for Coralife dual t5no 24" fixture? Does it has the legs?

When do you want sell your 5.5gal tank let me know details and i do interest too.
The fixture is this one:
Amazon.com: Aqueon AQE40203 T5 Dual Strip Lighting Hoods for Aquarium, 48-Inch: Pet Supplies
It's only 24" though
It has a small bubble in the clear plastic which doesn't hinder anything, but a bulb over heated and I changed out the bulb and it's been fine for months. It's about a year old.
If you'd like to snag it It's $20
I won't have the tank available till my Mini M is set up (which should be within a month hopefully) ..
Right now I have the fixture on my 5.5 but I am getting the planted plus soon.
---
Last edited by Aurie; 03-27-2014 at

09:03 AM

. Reason: .
Shameless bump

I need to get these things sold. They're taking up room that I don't have (house renovations)

Send me a PM if you'd like to come take a look.

I can ship the light for just a couple bucks.