Planted tank workshop in Bixby
---
Did anyone make it out to the planted tank work shop done by Bob Warwick at Petsmiths near 126th and memorial?
It was pretty good and informative. I couldn't stay for the whole thing but Bob is a freaking plant encyclipedia. The class got me so excited on a new planted tank I had to get one going today since I'm snowed in. I searched for everything I could find and I had just enough to get it started.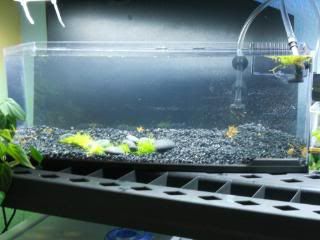 Here's the start. He gave me some riccia that has been infused with another plant whichs makes the riccia form a nice mat. For now I just have it held down by some rocks but I may tie it to some wood.
looking forward to meeting more folks into planted tanks near by.
BTW... Petsmiths has and is getting a lot of good plants and inverts.
Planted Tank Obsessed
Join Date: Mar 2009
Location: Oklahoma
Posts: 401
Hey hey welcome to Oklahoma site!
No sorry i didnt go that one, is there a website of their event schedules?

Btw nice tank, whats the spec on it?
It was a really fun class and I think I have a new addiction now!!
Check out petsmiths.com or something. Just google it and you'll find it. You can get on thier email list. I'm teaching a paludarium/vivarium class on the 19th of this month and he does one or two classes now every couple months just on aquatics marine and fresh so far. Well the vivariums will be on dart frogs.
Yeah, the little tank is coming along.
Here it is today
It's a desktop tank from petco. Maybe 8gal. I run a 501turtle filter on it. It has a 65w CF light. It has just black silica pebbles as substrate and planted with riccia.
Filter. I wanted to use the overflow box to house the intake tube but it wouldn't refill fast enough and the filter kept suckin air. So since it was glued on I left it be thinking I might use it later and just ran the intake tube down the side. Kinda messes up the clean look I was going for but oh well. I'll give myself some margin for this being kind of a starter tank.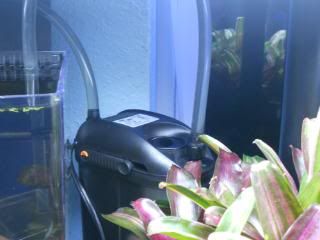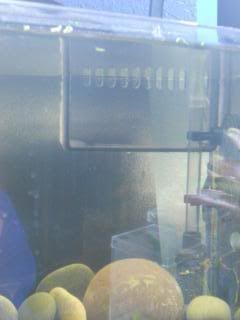 Here's the riccia. It's embedded with another plant tangled through it. I don't know what and can't see it but was told it's what Amano uses to get riccia to mat and I believe it is also carnivorus????
---
Planted Tank Obsessed
Join Date: Mar 2009
Location: Oklahoma
Posts: 401