rock collecting?
---
Anyone found any good places to find some nice rock for scaping close to the metro area that wont mess up my water chemistry? And where can i find an acid to test the composition of the rock?
I live in Estes and have found some excellent granite, quartz and schist in the Big Thompson Canyon and also in the Route 36 canyon between here and Lyons.
---
37 gallon community; 10 gallon S-SS CRS; 2x10 gallon guppies; Specialties: Japan blue guppies (wild type), Ginga sulfureus guppies, Blond platinum LS guppies with purple mutation.
Non-aquatics: Off-track thoroughbred racehorse; 2 Maine Coon-type cats; 2 fluffy house rabbits; 60 orchid plants.
12G Rimless Club
I go to the Cherry Creek river (Cherry Creek bike path), between Cherry St. in Glendale, all the way to the Cherry Creek Damn in Aurora. It's where I've gathered some of the rocks in my tanks, but most importantly I've found some really sweet natural weathered driftwood pieces.
I know someone will say "why would he give up the area we can find driftwood, he's crazy!!!", yeah well I'm a generous person, and my tanks have everything "nature/natural" stuff they need. So why not let other people know where to find this kind of stuff, and saving them lot of money, especially with the driftwood prices for small ass pieces at local fish stores...... :/
Here's just a couple driftwood pieces I've collected for 1 of my 55 gallon tanks....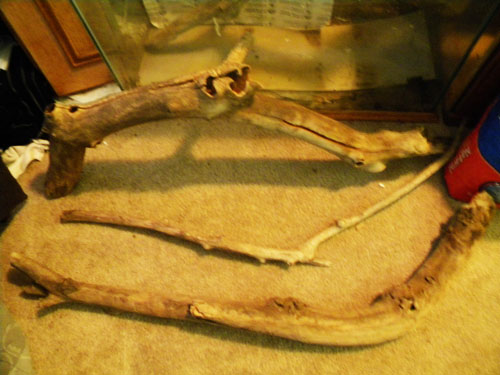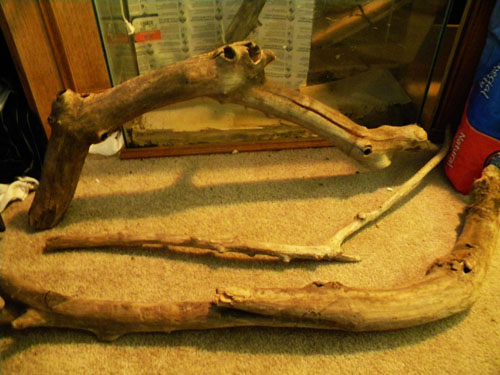 ---
45g Long - High Light Planted Tank / 30g - Plant Grow Out Tank / 100g Tank - currently resealing
Thanks! I don't live far from there. I might just check it out tomorrow...