Poor sick Java. Advice?
---
Otay, here goes a long story to fill you in on the details of whats been happening to the plant. In the beginning November I moved and took the water down to the bottom of the tank. After about 30 minutes I filled it back up and everything got put back in. Mind you the water was dechlorinated when I put it back into the tank. About three weeks later, I moved out of that place and into another. I work at a pet store so I put all of my fish and plants in a tank in our backroom while I got my life sorted. About 3-4 weeks later I started my tank back up. It had been sitting in my garage the entire time with hardly any water in the rocks, so I am not sure if any of the bacteria survived. After setting everything up about 2 months ago I brought my plants home with my little fishies. The plants had just been floating in the tank so most of it looked like it was starved and unhappy. The Java Fern looked fine. Now about two weeks ago I added Black sand from Carribsea. Then I rearranged the tank and added two pieces of driftwood. After that I decided I didn't want the Java attached so I removed it from the rock it had been attached to for years and trimed the rhizomes and tied them together before I tied it to the driftwood. Now here we are, I have been adding Leaf zone for a week and and Flourish for a month. I just put Co2 on the tank about a week ago. I think it might be because I moved it but can anyone tell me exactly why the leaves are dying off?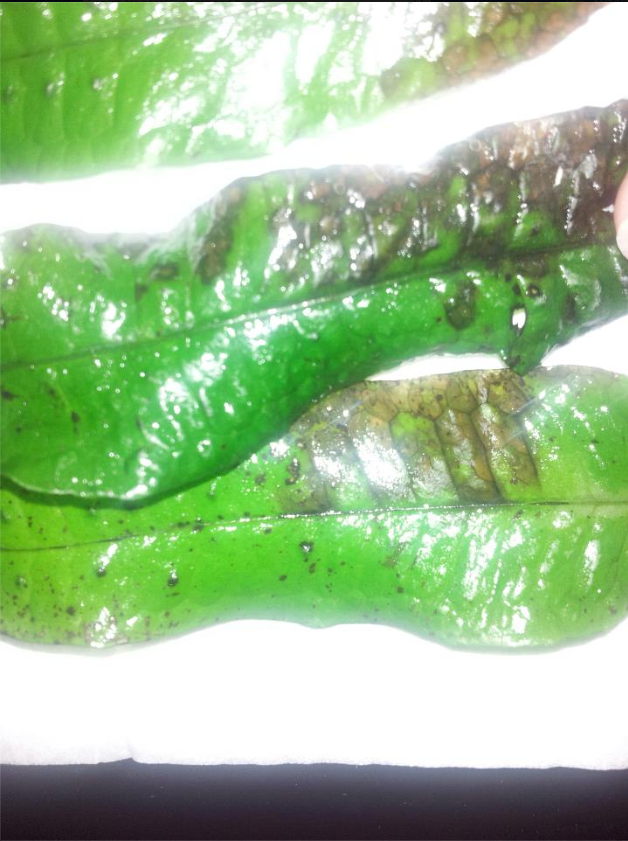 Planted Tank Enthusiast
Join Date: Jun 2010
Location: Marietta, GA
Posts: 864
new environment. This may include change of light position, water flow, nutrients, co2 and the list goes on. If the rhizom is still healthy, it will bounce back and put up new healthy leaves.
---
Proud 39th Member of the RAOK club!
Rhizomes look dandy, no issue there.
any other input? like how to make it rebound as quickly as possible.
---
Last edited by thelyzardiam; 02-17-2013 at

10:28 PM

. Reason: adding a thought