How many watts are your lights?

Good thing you put your assistant for a size comparison & same with the soda bottle.

I left my lights on for at least 60 hours but I didn't have any growth like that.

Other than the 100 plant stems in my tank, there's no other inhabitants.

I'll fill it with my bettas after I'm done partying this weekend.

Anyway, do you have any current photos of your entire tank? The two photos make me curious to see what your setup looks like now.

The pictures I've seen in your gallery of the 60+ tank are from 2009.
from what i have been able to tell, it takes a few weeks before the plants start changing the way they grow. at some point they get stuck in a vegetative state where they constantly grow, usually in slightly different ways than they do with a normal photoperiod.
for instance, a plant that normally grows very dense leaf clusters will grow incredibly leggy, or vice versa.
anyway, i have been lazy with taking pics of the tank because i have neglected it to the point where i couldnt see clearly through the front glass.
before i cleaned the glass, before the massive trimming.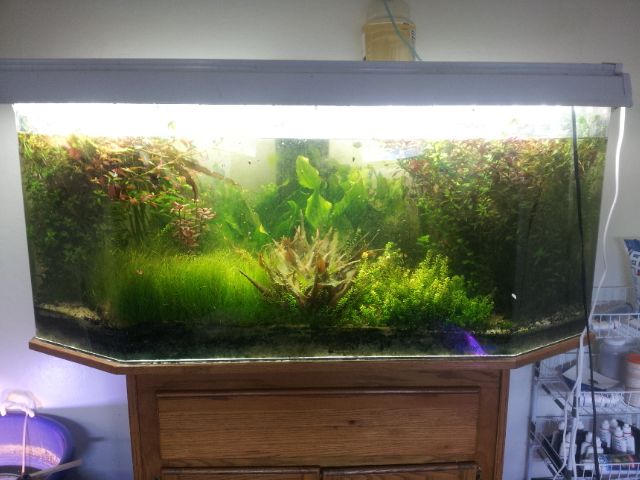 after i cleaned the front and after the massive trimming.
this is the tank on november 25th. it was still recovering from the move across the country.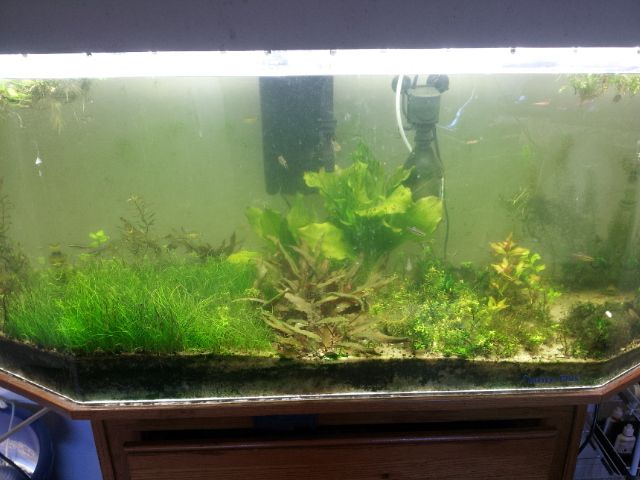 september 23, right after i filled it back up with water after the move.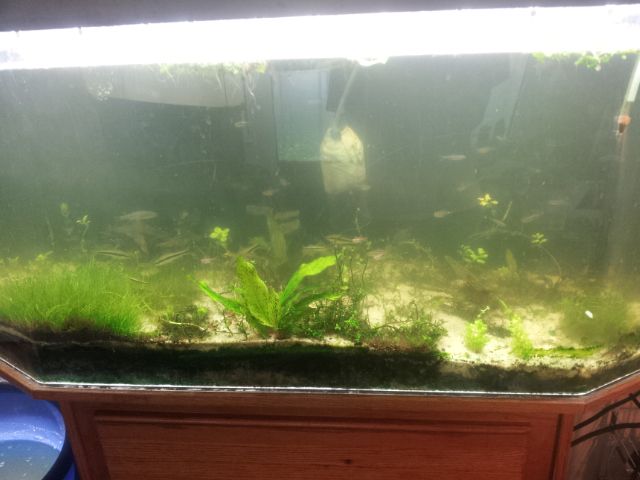 the day before the move:
during the move. had i room to turn the tank sideways, i would have been able to save more of the plants i think...
just before the move, at the beginning of october: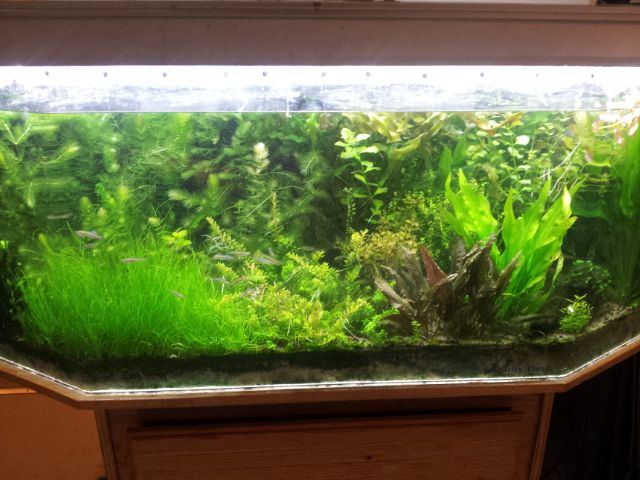 the lights are just 48 inch dual bulb shop lights from walmart. there are two of them on the tank, for a total of 4 bulbs.
Thanks for the updates, really like the plant in the middle, looks like a cephalopod.

Hopefully once get the lights on my squared away I can have a luscious tank in a month.

Curious about the stand. It can support the weight of a 60G tank? The angled parts doesn't seem like it would be strong enough.

I would comment more, but I have to head out to run errands before the next snow storm arrives.
the stand was made for the tank, so i guess its fine.
it hasnt failed yet... although i would LOVE something a bit more attractive...
almost forgot, i added a bottle of DIY CO2 in november. it lasted about three weeks, and then i kept shaking it up after a few weeks to gas off what was left. i really need to get it recharged...