Planted Tank Obsessed
Join Date: Jul 2012
Location: Olympia, WA
Posts: 457
DSM HC yellowing/melting...
---
lighting- marineland double bright (12 hrs)
substrate- amazona new)
i've been misting with water from my crs tank.
ro water remineralized with fluval.
ph-6, tds-180, kh-1, gh-5, only ferts is light seachem flourish.
top completely covered with saran wrap and just air it out once a day.
so i haven't been keeping exact tract of time, but probably around 3 weeks into my DSM.
i'm assuming i have too much water so i've slowed down on misting and have been starting to let it dry out some to see if that helps.
any thoughts on what i could be doing wrong? i'm also seeing lots of growth so maybe its a normal amount of melting?
below are some current shots of my DSM i just took.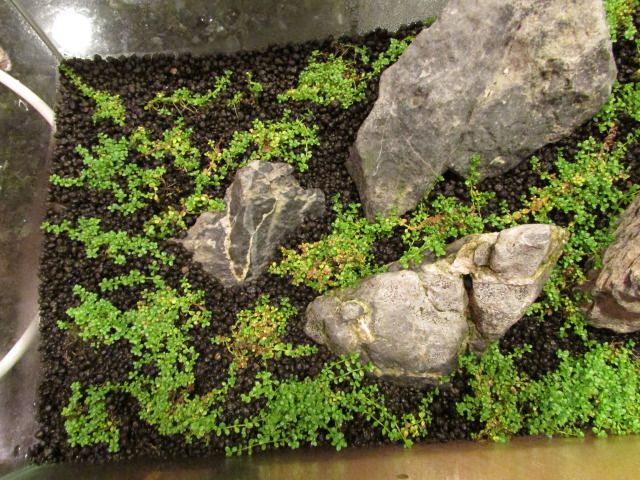 Planted Tank Obsessed
Join Date: Jul 2012
Location: Olympia, WA
Posts: 457
you've got it right..too much water..nothing else..
---
Abhradip Choudhuri
Good judgement comes from experience, and experience comes from bad judgement.
Few of my works
Planted Member
Join Date: Dec 2007
Location: LA Mirada, Ca. USA
Posts: 170
Turning yellow
---
I had a recent post involving the same concern. Not as much
yellow as yours, but I thought it might be due to temperature.
If your room is too cool, then the humidity may not build up enough,
and the temp in the tank cools down. I put some plastic over my tank
setup and created a tent, so the warmth of the lighting will increase
the temp. under the tent. I don't know if this is the answer but I
thought I would try it.

Jeff
Planted Tank Obsessed
Join Date: Jul 2012
Location: Olympia, WA
Posts: 457
thanks for the answers. i'm continuing to dry it out some and hopefully will have good results.