Planted Tank Obsessed
Join Date: Mar 2012
Location: nj
Posts: 442
Tubed Anubias from Petco.
---
There's been a lot of threads lately about tubed plants from Petsmart and Petco so I thought I'd post a pic of this Anubias I got from Petco yesterday.
I've had luck with all the plants I've got in the tubes. It's a nice alternative in the winter when you risk having plants freeze during shipping if you.order them online.
I have all the tubed plants i bought yesterday in this little ten gallon grow out tank in pots with organic dirt and gravel.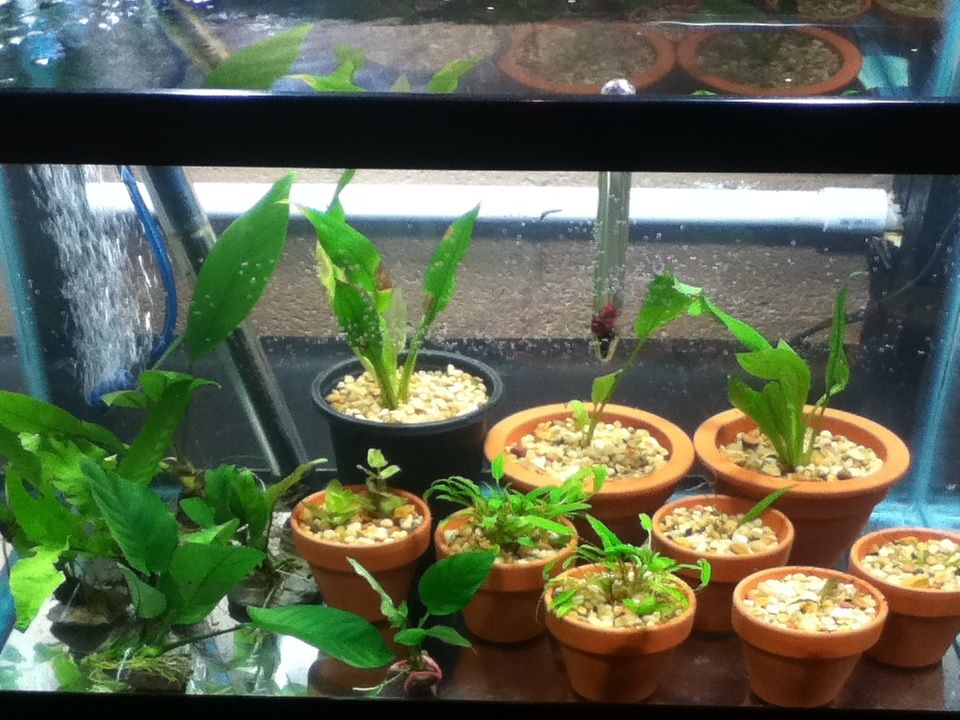 Planted Tank Enthusiast
Join Date: Aug 2011
Location: LaPine, Oregon
Posts: 605
That anubias looks good. Have you experienced any melting with the leaves since they were out of the water? My petco sadly never carries them, but both my petco and petsmart have been carrying more crypts and anubias in little pots inside of the tanks. It's nice to see!
I've got a petsmart tubed anubias and it's the nicest one I got. No melting at all it just took a long time to adjust to being submerged. Now it sends out new leaves faster than any other that I have. The one I got from live aquaria looks like butt. Just give it time to adjust.
Planted Tank Enthusiast
Join Date: Sep 2005
Location: North NJ
Posts: 718
I got 2 anubias tubes one from Petco and Petsmart.

The one from Petco was a congensis with a yellow whitish rhizome and all the leaves melted but 2 months later it's more green and sprouting a new leaf.

The one from Petsmart was green and never had any leaves melted and looks like your picture.
Planted Tank Obsessed
Join Date: Mar 2012
Location: nj
Posts: 442
I haven't experienced any melting yet. Two weeks ago I bought green crypt wendtii in a tube from Petsmart and none if it has melted. I'm pretty impressed with them all!
Ive actually bought a majority of my plants from petsmart. Ive had success with al of them really except dhg but that really has nothing to do with the quality of what they were selling.

As for my anubias, I have bought anubias nana, congensis, and afzelli all in the tubes and they are all doing great. I attached my congensis to a higher branch on my driftwood and the roots have actually grown long enough to root themselves in the substrate. Very pretty to look at. All three plants are very healthy and producing new leaves.
Planted Tank Obsessed
Join Date: Mar 2012
Location: nj
Posts: 442
Update some of the Anubias leaves have turned yellow and are melting. I trimmed them off, I attribute it just from going from emersed to submersed.