Planted Member
Join Date: Nov 2012
Location: IN
Posts: 254
Nitrogen deficiency or ?
---
For two weeks now I have been EI dosing plantex csm+b, K2SO4, and KH2PO4 with the 50% water change at the end of the week. I wasn't dosing KNO3 because my nitrates were staying around 10 ppm less than a week ago. I tested today, found nitrates at 0 ppm, and dosed the KNO3.
So, one stem of rotala has new growth with stunted and wrinkled leaves, and none of the other plants show any problems. Is this a result of the lack of a nitrogen source or possibly a calcium deficiency (only other one that seemed to fit)? Last time I tested, GH was roughly 3 dGH.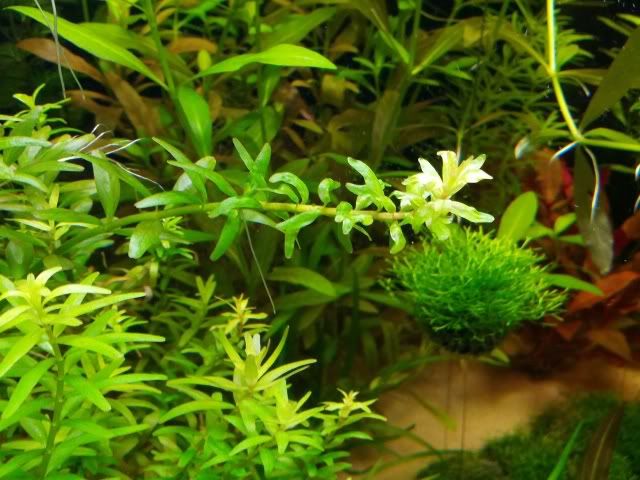 My first bet is the low GH, not N.
I would raise it to ~6 using baking soda (look up how much you need per gallon to go up 1). There are also several versions of GH Booster available on the web.
---
Courtesy * Integrity * Perseverance * Indominable Spirit * and Self Control
Tenets of TKD
GH was magnesium and calcium. Baking soda is sodium and carbonate.

You could try dosing some Epsom salts, that is magnesium something. Could research calcium, I think there is something you can buy at HD that has calcium, plaster of paris maybe? I happen to have calcium carbonate I used in homemade dog food, sure doesn't dissolve well though.

My Rotala was stunted and a bit of GH booster perked it up. Your plant isn't stunted though. What is the nitrate level?
Baking soda increases the kh, it does look like an no3 issue, I run my gh at 4. Maybe dose a little gh booster


Sent from my iPhone using Tapatalk
Planted Member
Join Date: Nov 2012
Location: IN
Posts: 254
Thanks everyone. I'll have to search and see what I can find for a source of calcium, or I'll just order some GH booster. The dosing of KNO3 brought my nitrates back up to 10-20 ppm from zero.

The growth is pretty fast, so if it is a nitrogen deficiency I should see a difference soon. It just seems odd that only one stem has this problem.
For calcium, a lot of people use Prestone Heat ice melt. Yes, even reefers. For magnesium, use Epsom Salt.
Algae Grower
Join Date: Oct 2011
Location: Alaska
Posts: 99
Hi adam!
I responded over in your journal.
---
Courtesy * Integrity * Perseverance * Indominable Spirit * and Self Control
Tenets of TKD
Per that article:
"Calcium chloride also does the trick safely and inexpensively, but calcium chloride is not readily available in local stores. But you can buy it from chemical supply stores. "
Prestone Heat (in fact, all those beaded white ice melts) are calcium chloride. Prestone is used because it's been determined to be relatively pure. I use Ball Pickle Crisp Granules, because it comes in sane volumes and I rarely need to use it being that I live in liquid rock Upstate NY.