ok i have to do a pic update i am totaly shocked just look at the time stamps on the pics to see how much its growing
im not sure yet i thought there was one baby plant starting but i see 2 one on each side of it. its hard to see but still
Wannabe Guru
Join Date: Jul 2012
Location: Virginia Beach
Posts: 1,571
Algae Grower
Join Date: Aug 2012
Location: KY
Posts: 87
Oh my! I so want one of these
Planted Tank Nation
Join Date: Apr 2012
Location: Oak Park, IL
Posts: 888
that is awesome, and btw i really like your columbian tetras!
thanks ive had them almost 2 years and started with a group of 7 now have 15. bad part about havin that many is a 55 is a tad to small for them
Planted Tank Obsessed
Join Date: Sep 2012
Location: Florida Panhandlle
Posts: 341
oh! now I love mine even more! that is amazing!
this crinum is about 2 yrs old and i used miracle grow organic potting soil with a pool filter sand cap. each layer is about 1.5 inches deep. and my light is a cheap $10 shop light from walmart i think its from lights of america. and i use GE daylight bulbs in it that are 6500k. i dont think the lighty cycle is to important cause half the time the light stays one for a few days and then off for a few its never a normal light cycle lol. but the tank does get direct sunlight or at least pretty bright indirect light cause its on my bar between the kitchen and dinning room so lots of natural light as well
ok so didnt end up with seeds last time but its at it again. has been blooming for a bit over a week now and they look like they did better budding this time no deformed plants. on a side note i belive the flower stock is comming up from the middle of the plant and i have noticed about 4 babies off to the sides of it now with a row of leaves on the out side of them maybe to protect the baby plants as the develop. here are a couple new pics. i think there are 3 blooms this time as well. i also noticed that a new bud does not open till the one before it starts to die not sure why that is but kinda cool and the flowers last a good 3 or 4 days each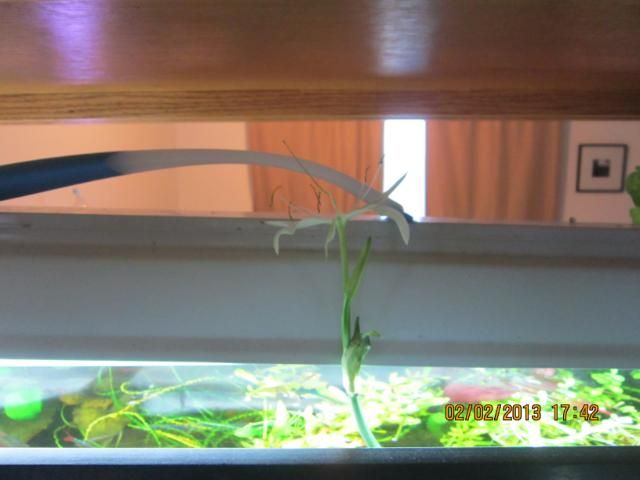 Wow....the blossoms are beautiful. Thanks for sharing.
Maybe if you cut the flower stalk off, itll make more babies..=]
I do it with my aponogeton plants, thier always sending off flowers!
i dont really want more babies, as the huge mother plant is slowly dieing with each new flower stock that comes up. there are at least 4 baby plants around the main one in the tank. the one that sent up the flower stock used to be huge probably as big around as a fifty cent piece but the leaves are no where near as nice now with all the little ones growing. i probably need to pull them and divide it but that would me a huge mess in the tank. still cool to see the flowers and they look better this time than they did last time. i think there is one more flower left to open on the stock so we shall see if i get any more baby plants. ha i might have to start selling some off if i get any more of them any one want a crinum lol