Algae Grower
Join Date: May 2012
Location: Canada
Posts: 28
Help with emersed setup
---
After BBA reaked havoc on a lot of my anubias, I decided to take them out of the tank and try to grow them emersed. I threw in some crypts too for the experiment.
I set them up in a 30g tank. Couple of inches of water on the bottom heated to 78 and an airstone so that it doesn't stagnate. I used gardening trays with a potting soil, dolomite and potash. I poked holes in the gardening trays so that water would be able to suck up through the soil. The trays are resting at about a cm in the water. I've got a glass top to block the moisture in, but there is a slight gap at the back due to the wire & air tube. The light is one 25W T8.
Most of the anubias started with one leaf or none (just the rhizome). For those that had leaves, they are turning yellow and dying. The crypts are melting.
I'm new to emersed so not sure how to do this. Any tips/guidance would be really appreciated. Anything I can do to make this a better setup. Thanks.
Also, I really want to grow my anubias so that there are more leaves. The goal is to get it all bushy so that I can put it back into my 120g. Given my goal, should I even be growing emersed? Or should I try to grow them in a "plant tank" submersed?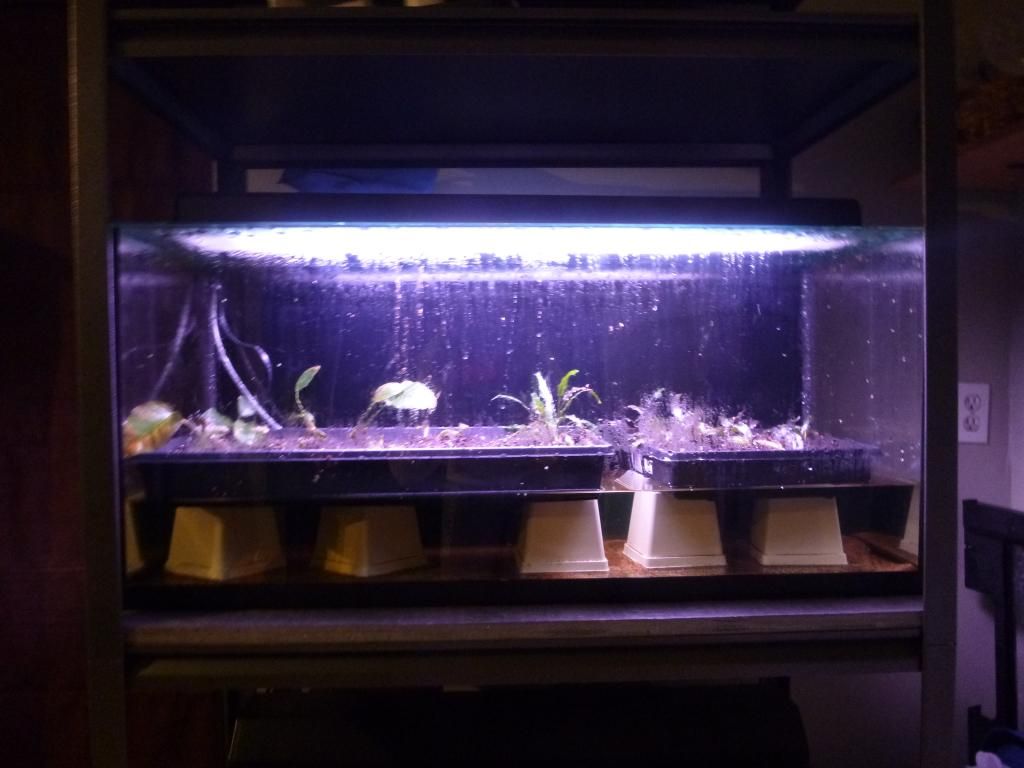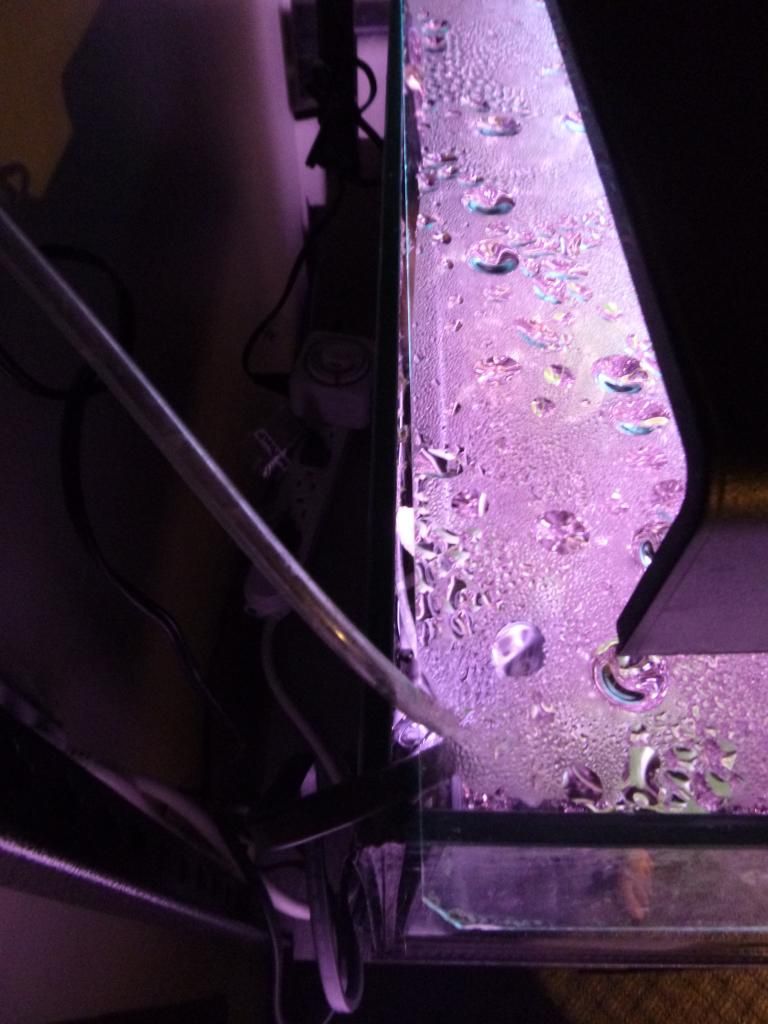 ---
Last edited by karawr; 02-13-2013 at

02:33 AM

. Reason: extra info
Lots of ammonia and gunk from new soil burned them possibly? Or they are shocked and transition for growing in air. Stiffer/ thicker stems should show up as well as thicker and possibly rubbery textured leaves in some plants. Is there a lot of chlor-ine/amine in your water and did you treat the potash for chlorine? It is KCl correct?

Plants can often handle a whole lot more of the stuff than fish/shrimp... But I don't know how much is too much.

Toss in some Ludwigia or something to see if it grows. If your tank is as humid as it looks it should start turning into a weed in about a week.
How long have you had your setup? How long do you have your lights on? And what kind of potting soil did you use? I use supplemental fertilization with my emersed growing trays I have no problem growing crypts and other plants into weeds. Also, most submerged growth will melt away while your plant is transitioning to emergent growth. Anubias don't really care about being converted to be honest if the humidity is kept up.
---
RAOK Club #77|The Fraternity of Dirt #112

Cryptocoryne farmer
Algae Grower
Join Date: May 2012
Location: Canada
Posts: 28
Okay sorry I am new to plants so don't know all the jargon yet...

I do not believe my water has a lot of chlorine/amine but to be honest I haven't tested/don't have the tests.

I used muriate of potash 0-0-60. I added this in (and dolomite) because it was what I used to make MTS. The potting soil is pro-mix potting soil and it said it can be used in terrariums (though that sometimes can mean nothing at all!).

The setup is about 1~2 weeks old. I leave the lights on about 10 hours a day because I read in emersed you should leave them on slightly longer. Is this correct?