Algae Grower
Join Date: Oct 2012
Location: Wichita, Ks
Posts: 18
90g Paludarium Build
---
New here, First post in fact, so forgive my noobish post.
Hope its not too pic heavy, and I don't know how to resize photos
Also sorry for the poor picture quality, all these were taken with my Ghetto Droid X
I've lurked for years for whenever I needed plant advice, or anything of that nature.
This is the tanks previous Incarnation as a paludarium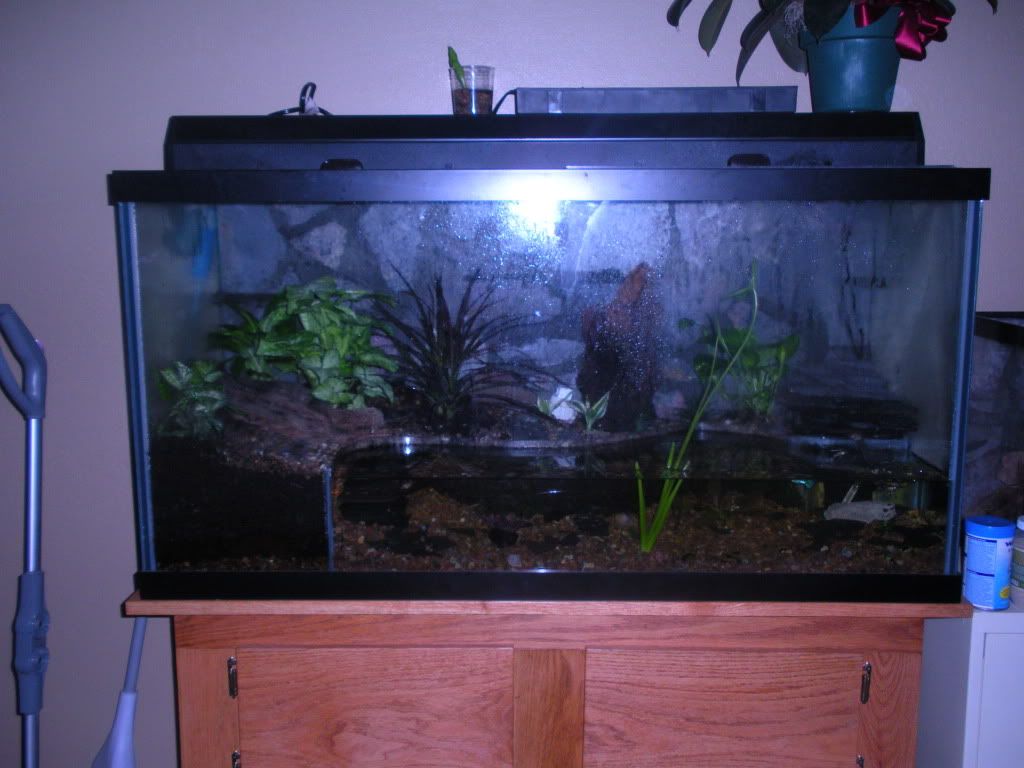 It later turned into a full on Vivarium
Here it as it sits now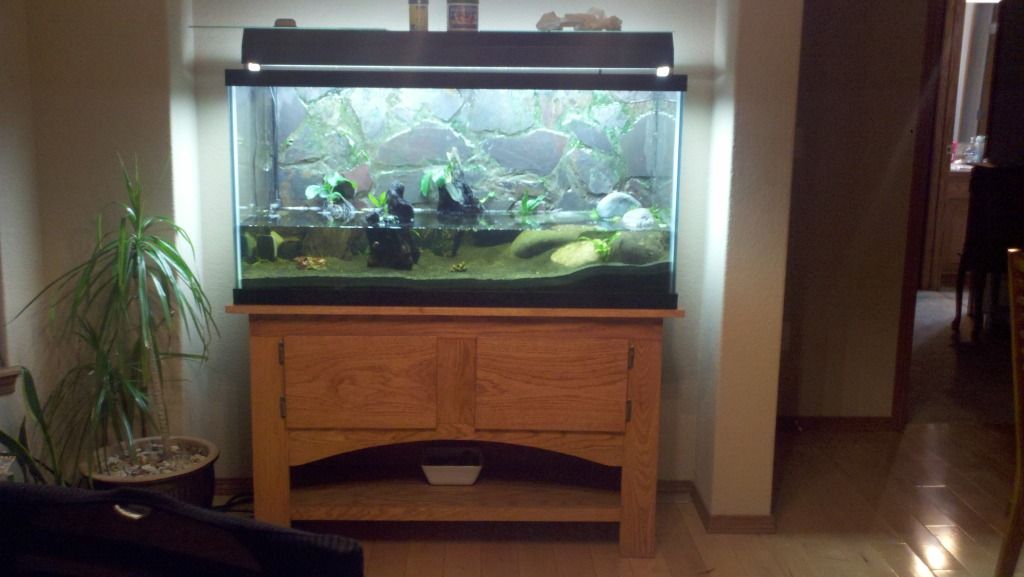 Anyway, heres the build so far.
Basics:
90G L: 48 W: 18 H: 24
Has 9" of water in it. so by my math about 30gallons of water. Lets call it 25 to account for driftwood taking up space as well as the river rock.
Hardware:

Azoo 1200 pump (Comes through a foam filter at the pump, pumped via 1/2" cpvc through a drip wall system that constantly keeps the back wall covered in a "sheet" of water.) Also exits the drip wall into polishing pads hidden behind the piping for extra bio.
Here you can see the Filter setup prior to it being installed at the top of the tank, and painted black to hide it.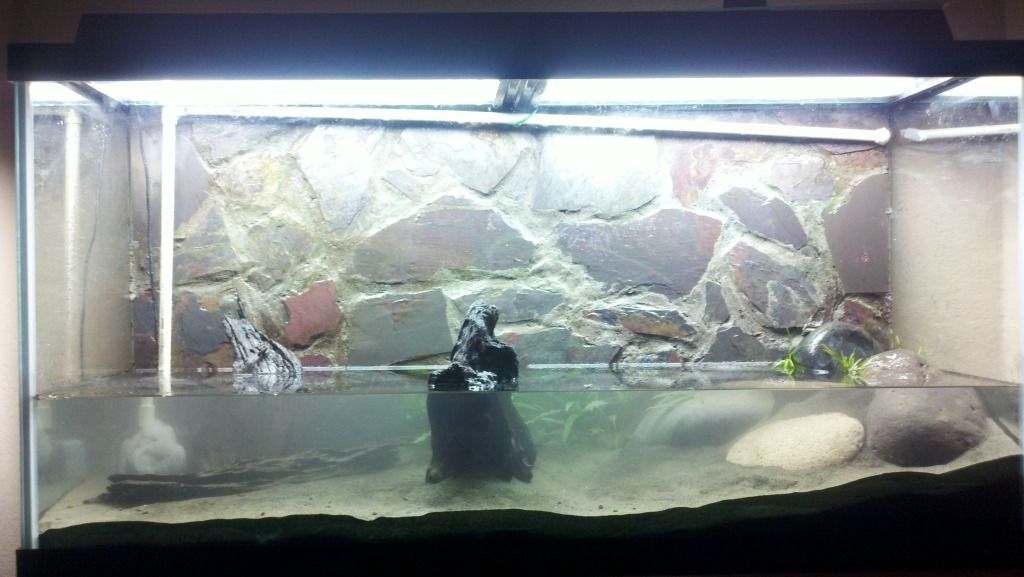 Light fixture with 3xt8 6000k bulbs
Substrate/ Scape (if you can call it a scape) :
Assorted Manzanita Driftwood
Assorted River rock
Substrate is Black Blast Blasting sand from Menards (washed heavily)
Has some osmocote plus under the Plants, inserted as fertcicles.
The background is natural slate tile that has been broken up, siliconed in the back, then grouted in the gaps.
Shows the slate fairly well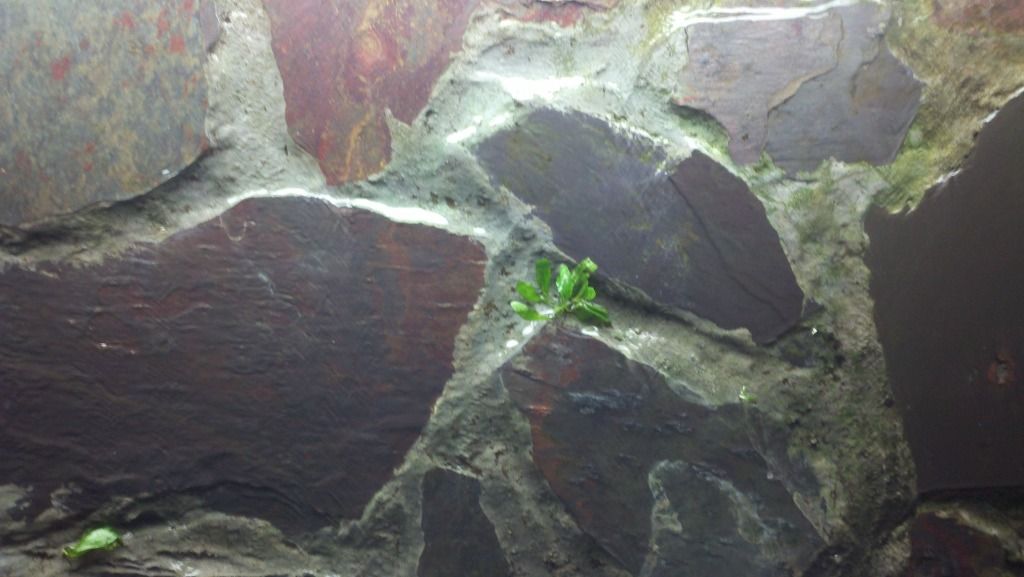 Livestock:


2x Julii Cory Cats (Sold as Julii at Petsmart, not sure if they are false or true) I will be getting 2-3 more. Started out with 3 as I know they like to school, but sadly I lost one.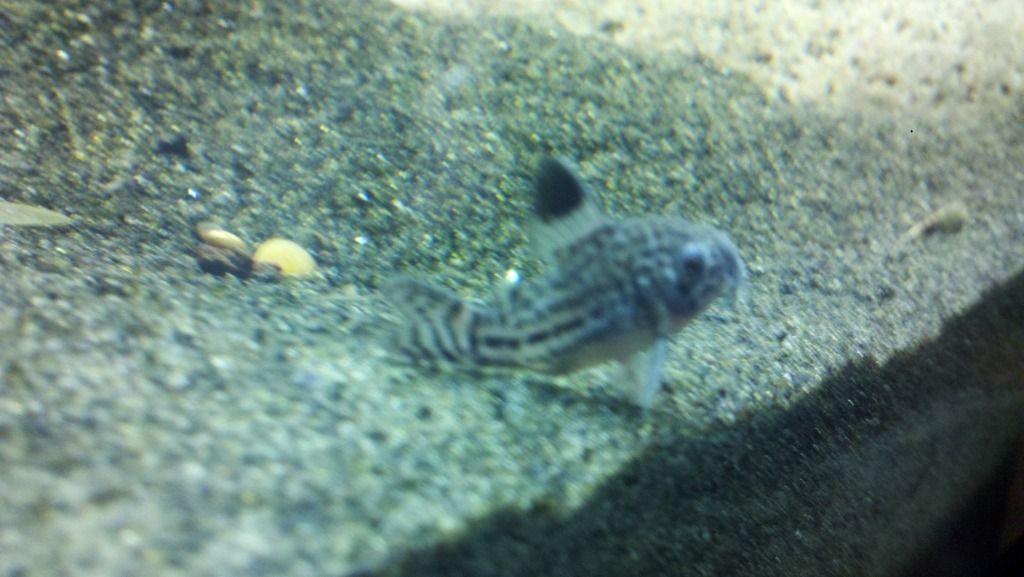 2x Guppies. 1 male, 1 Female. As well as assorted fry.
4x Otos
4x Nerite snails (2 zebra, 2 Tiger)
Otos and Nerites hanging out in the old tank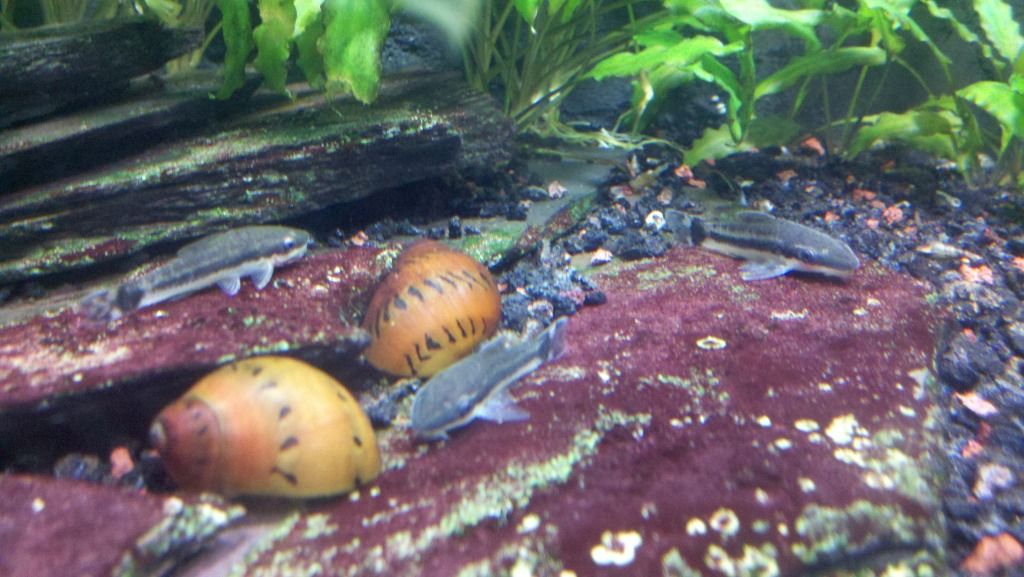 And Approx 20 Mts. Considering removing these once the the tank is up and running.
Thinking about adding firebellied newts or something else that ventures onto land.
Plants:
Dwarf Hairgrass (bought at petsmart in a lil package as emmersed, planted as emmersed, Hopefully it will make it)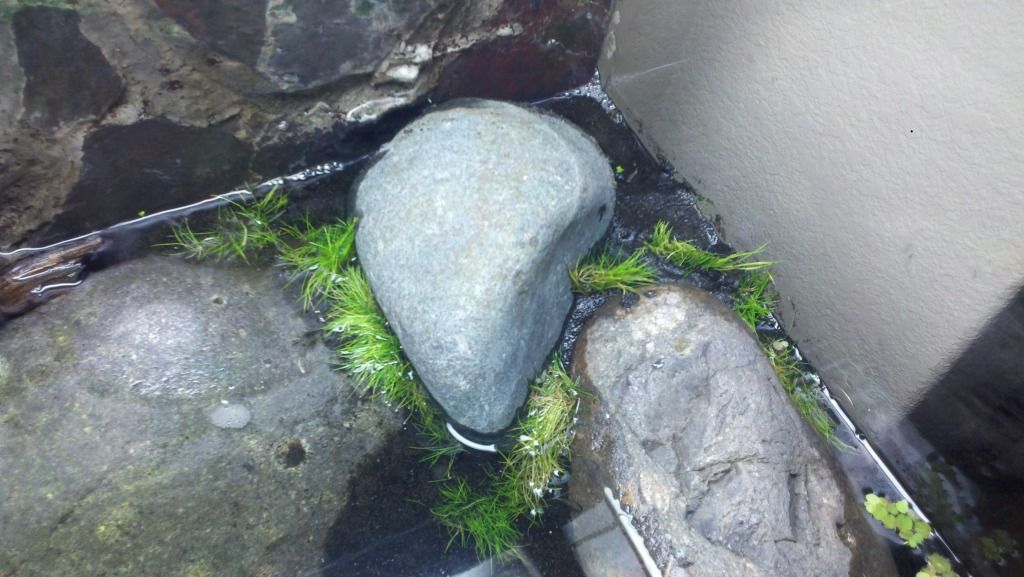 2x Anubis ??? Nana ( They don't look nana to me.. they are rather large, again bought as emmersed and placed so the wall keeps them constantly wet)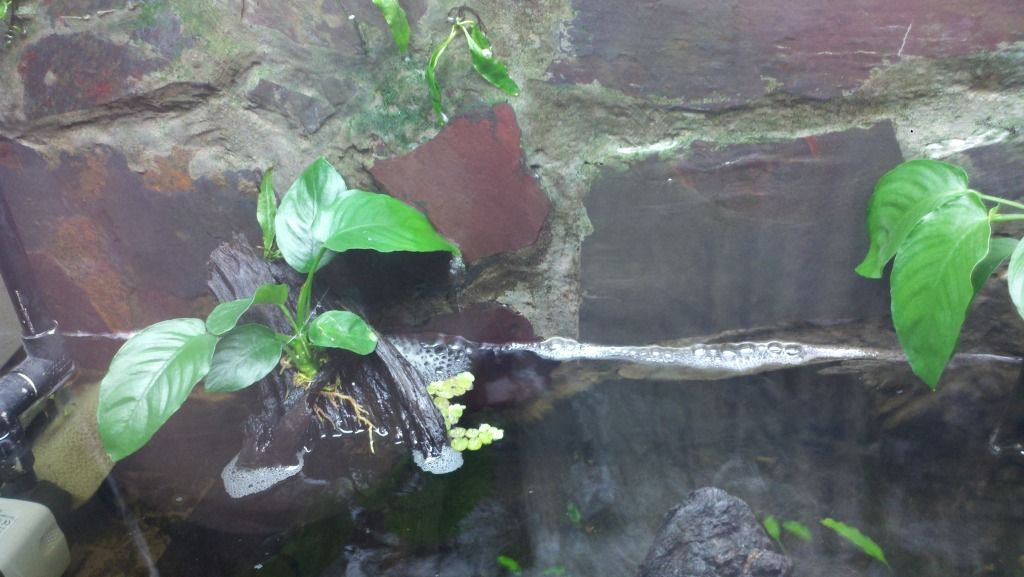 1x Anubis nana I know for sure, lost all but one leaf in the transition to emmersed still hanging on and that leaf is growing quicker than any anubis I've ever had.
2x Large bunches of Java fern, broken into about 15 "starter plants" in 2-3 leaf pieces of rhizome. Attatched to the slate and driftwood both above and below the water. All seems to be doing well. Only had a few black tips so far.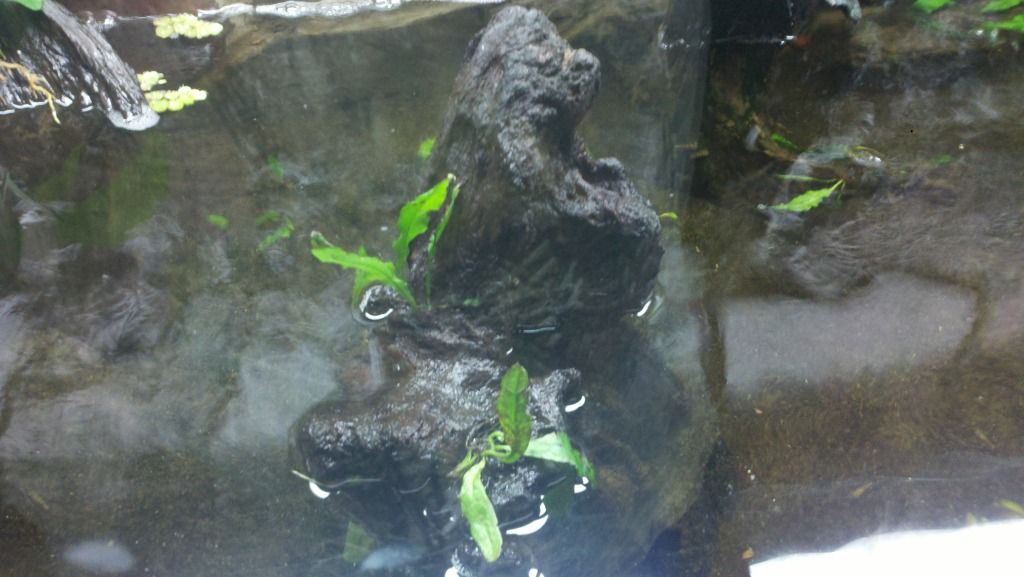 1x Banana plant. It lost its leaves in my 10g a long time ago. Hoping it will come out of it. If I lose it or don't see any activity in the next few weeks I will replace it. I would like to encourage it to grow to the surface of the tank.
1x Dwarf lily (red) Already sending out new leaves, most were lost during transplant, These plants are so fragile! I want it to grow up to the surface eventually.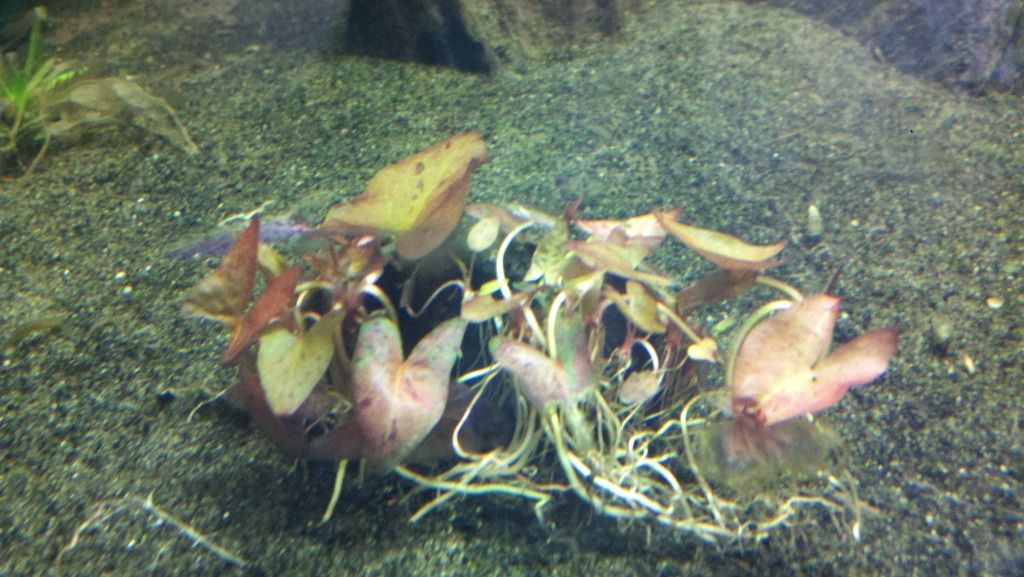 1x Unidentified Plant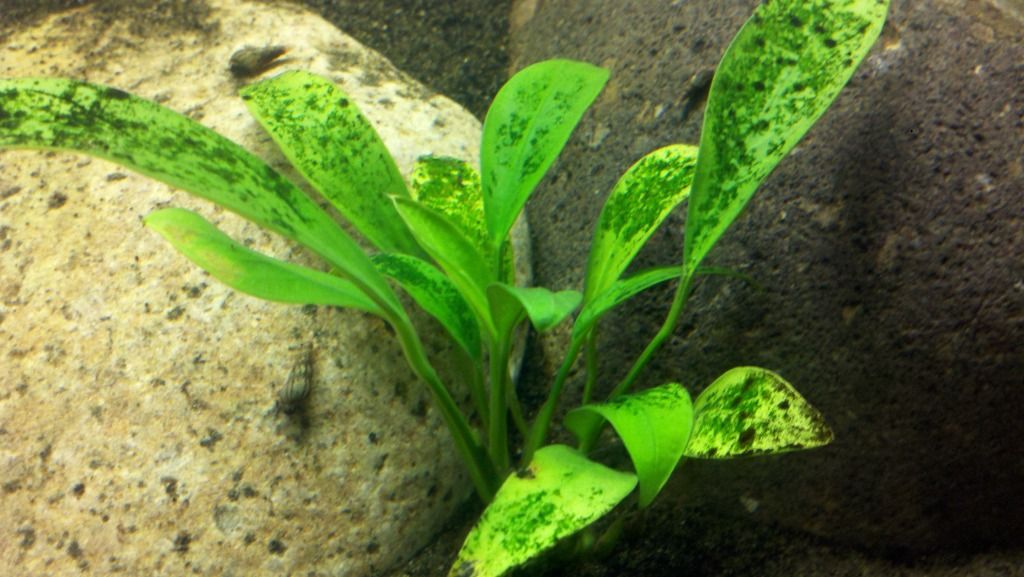 10x Starter Clumps of Crypt Wendtii Green. They of course melted to nothing when transfered, trimmed away as much as I could or thought I could, already have some with 2 leaves (1 week since transplant)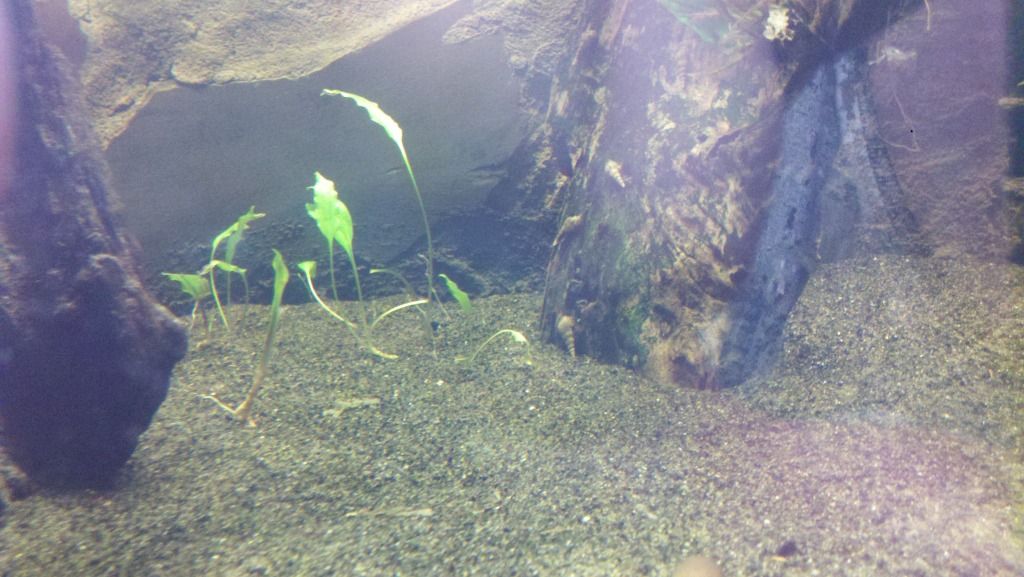 4x Italian vals. They also melted but I see some sprigs of life taking shape!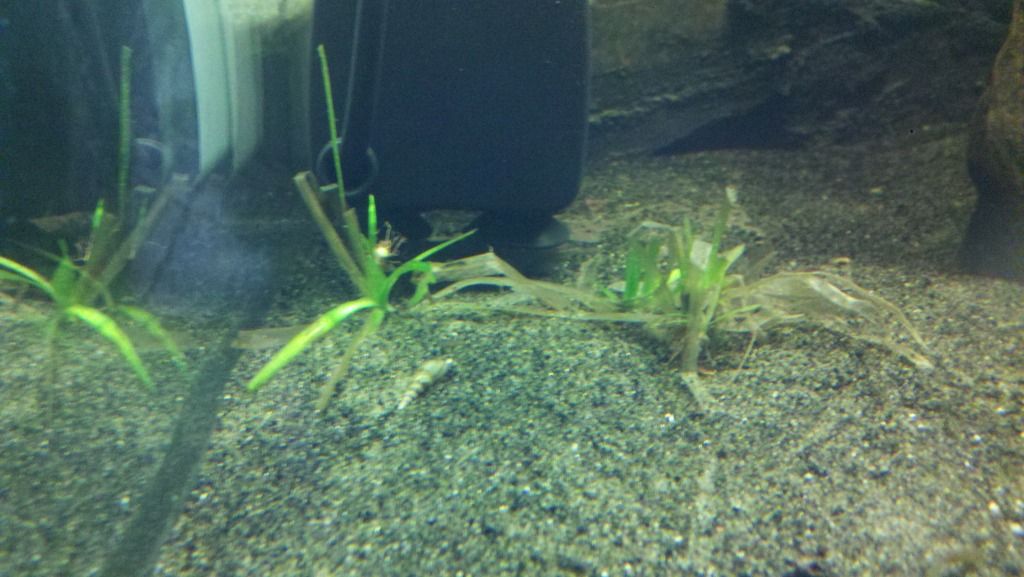 4x strands of Java moss, each about 6" long. I draped them on the grout on the back wall. I would love to see it fill in on the grout and highlight the slate (think old stacked rock wall).
The 10g I took down to donate plants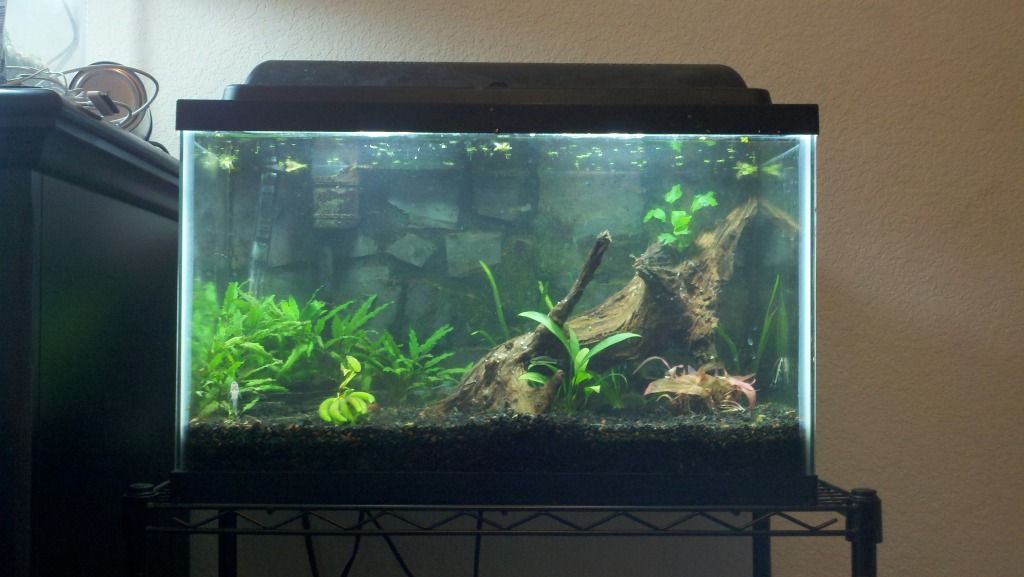 Questions:

Livestock:
My aquarium averages about 84* daytime, and about 74 Nighttime.
What all kinds of ampibians could I house. I really wanted Fire Bellied newts but I understand they need much lower temps daytime. Are there any "warm" newts that are docile and smallish?
I plan on eventually giving away my guppies and getting some black bar Endlers, will they do okay in this setup?
Plants:
None of my plants are "showy" I want something that can grow on that back wall and not die due to the water constantly pouring across it.
I've considered Tillandsia however they need to dry out or they will die, most broms that I know get too big. I was going to throw an anthurium siliconed to the back wall but I realized that it would be too wet.
Any suggestions for a nice showy plant? Something to bring in some color but not get too out of hand on that back wall.
I really want something that is red, and easy to make red. Something that I can carefully silicone to that back wall and have it take off.
I'm also looking for something to fill in that back corner of the land but don't want it to overshadow that hairgrass too much. Although as my light is in the center of the tank depth wise it would probably still get enough.
I thought mangrove at first but as my tank is covered it would for sure outgrow its habitat soon.
Would another moss be better at filling in the grouted area then java?
If at all possible I would have it be something less filamantous (Is that even a word) and more vivid green, more like a Lichen you see on old rocks out in the woods or pasture. Any thoughts on something like that?
As always! Any crituiques (I know I am a horrible speller) thoughts or opinions are always greatly appreciated.

Hopefully this will grow into a nice tank! Thanks for all the future support in advance!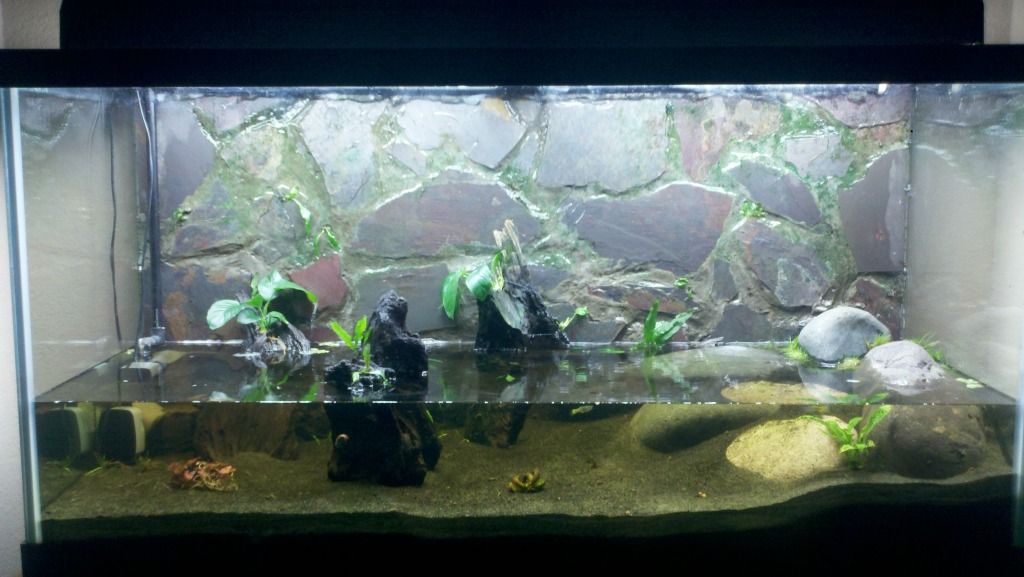 ---
Last edited by Platinumflamepyro; 10-24-2012 at

04:30 AM

. Reason: Added more information
Algae Grower
Join Date: Oct 2012
Location: Wichita, Ks
Posts: 18
Bump.

Was hoping someone would have some suggestions.
Sorry, i just saw this. I'm not sure about newts, and what their requirements are. What is your humidity level? That's going to affect plant choice. I really need to look at this from my computer. Pics are small on the phone. First thing i would do is split the crypts up to give them some room to grow. I like to give mine a 6" round area each. That way they can spread out. I have a few other ideas, and i will post them tonight. I didn't want you thinking nobody cares
Algae Grower
Join Date: Oct 2012
Location: Wichita, Ks
Posts: 18
My humididty, I don't have a way to test it to be honest.

It is very high, the tank is constantly having condensation on the walls so that isn't an issue.

I think that back wall being covered keeps it fairly wet in there.

As for the crypts. I spread them out to about 3-4" apart between each plant, and the dwarf hairgrass I also planted on a roughly 1x1 grid, I pulled it apart today into smaller clumps to do so as I've heard it grows better this way.

Thanks for the reply!
Algae Grower
Join Date: Oct 2012
Location: Wichita, Ks
Posts: 18
Hey fishes in Philly. Just read up on your build.

That first pic I have is when my tank was setup for a Whites Tree frog as well.

He was a great lil pet!
Which one did you read? My first viv or my paludarium build? Because my white's moved into the paludarium. Since you've kept frogs, you know the importance of keeping humidity stable. Grab a temp/humidty unit from petsmart. But go digital. Exoterra makes a slick one for about $25 and i use them in all my vivs/palus. Did you do any research on fire bellied newts? I'm not sure, but wouldn't they require more of a land area? As far as the plant question, there are smaller sized broms. A neoregelia sp would stay relatively small. Depending on what the humidity is (you didn't think i'd given up on that did you?) You could go with a nice carnivorous pitcher plant, like a nepenthes species. Some stay small, but others can get some massive pitchers on them. Otherwise, i would check out either black jungle terrarium supply, new england herps, or josh's frogs. They should have a plant you are looking for. You can also add plants that will grow emergent as well. A bacopa species will grow out of the water and grow little flowers. So will lindernias and some species of hygrophilia. And one suggestion, have you thought about planting one of your crypts in the land mass? It will actually grow differently from the submerged ones.
Algae Grower
Join Date: Oct 2012
Location: Wichita, Ks
Posts: 18
I believe it was your first viv build. Had a central waterfall.

I will grab a humidity setup soon.

I've done quite a bit of research on fire bellied newts. They are mainly aquatic and only rarely leave the water. Theres a fair amount of land over there, and a fair amount of places on the wood they could crawl out if need be.

Theres actually about as much land area in that tank as there would be in the entire bottom of a 10g which according to many sources can hold 4 newts with a land mass of 1/4 land to 3/4 water.

As I only want to house three newts I believe this should be sufficient, although more research will be needed for sure.

I've considered Broms, I've considered Orchids, I've considered crypts on the land area as well, though I would want something that stayed red.

However my main concern with having something on that wall is that it is covered in water 100% of the time. Not sure what plants would work in that besides a type of java moss/fern/or other moss would be?

I'll go research those plants you have recommended! Thanks!
Algae Grower
Join Date: Oct 2012
Location: Wichita, Ks
Posts: 18
Well I picked up a rosette sword, and a brazillian sword today.

Replaced the banana plant with one that had leaves.

Also picked up 5 really cheap red cherry shrimp, the LFS said they got them from a lady breeding them to feed her Angel Fish. $1 a piece

The java moss is starting to grow! The hairgrass hasn't keeled off yet, and the giant duckweed is growing new leaves.
Algae Grower
Join Date: Oct 2012
Location: Wichita, Ks
Posts: 18
Well I picked up 2 Julii Cory Catfish to make my existing 2 a little happier hopefully.

The cherry shrimp are still kicking...I'm leary of them as they seem to be finicky from what I hear.

I also picked up some bacopa Carolina! Spread it out in front of the rocks on the right side, hopefully it will grow out and fill it out.

Then I put more on the left side hopefully that side will fill out and hide the filter even more.
Algae Grower
Join Date: Oct 2012
Location: Wichita, Ks
Posts: 18
Well I figured it was time for a little picture update.
Heres the most recent FTS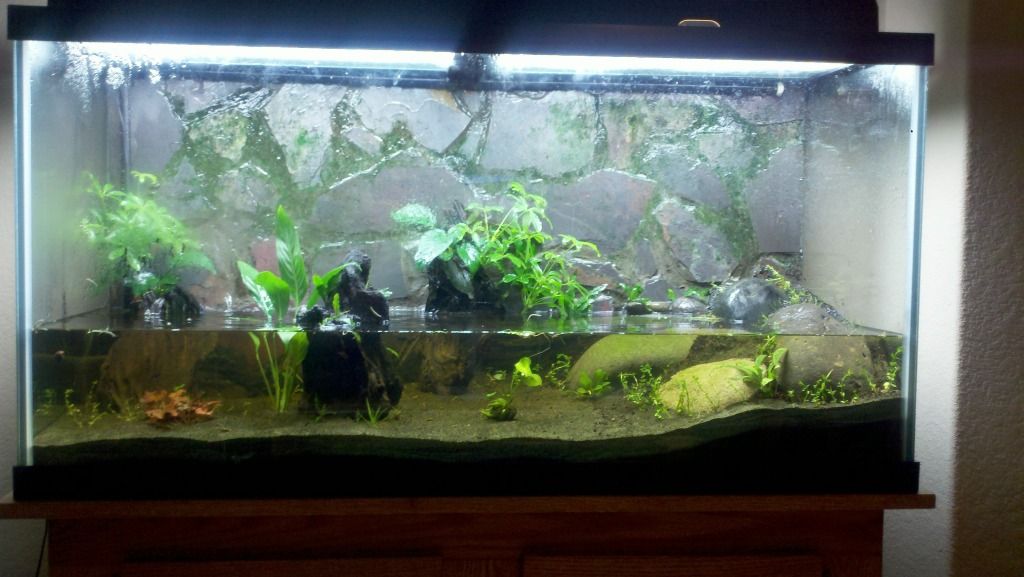 Not a great shot but heres one of my new Red Cherry Shrimp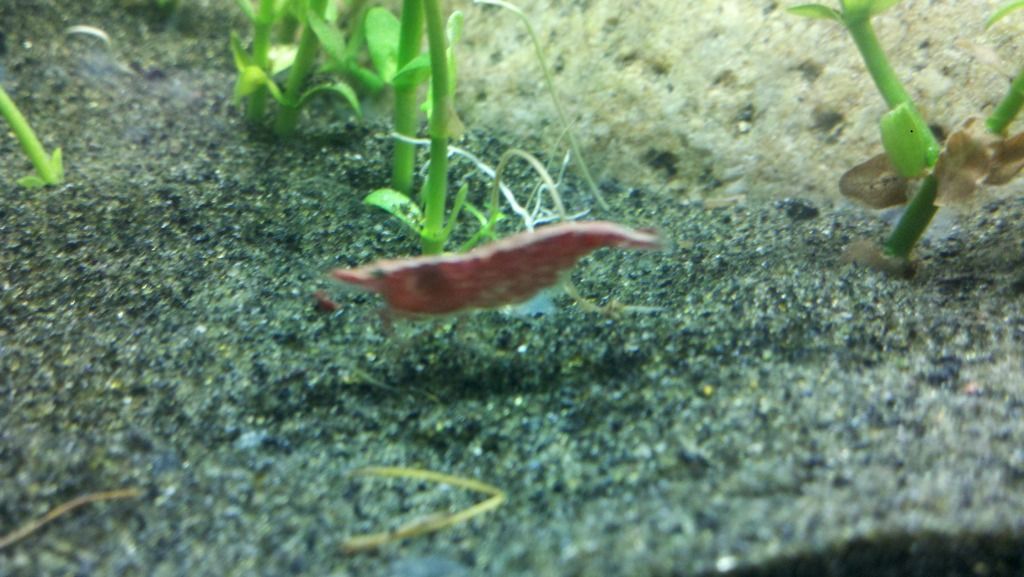 Heres another Red Cherry shrimp hiding behind the new bacopa, hoping the bacopa will grow out, fill out, and then eventually grow out of the surface as I've heard it does (Thanks Fishies In Philly)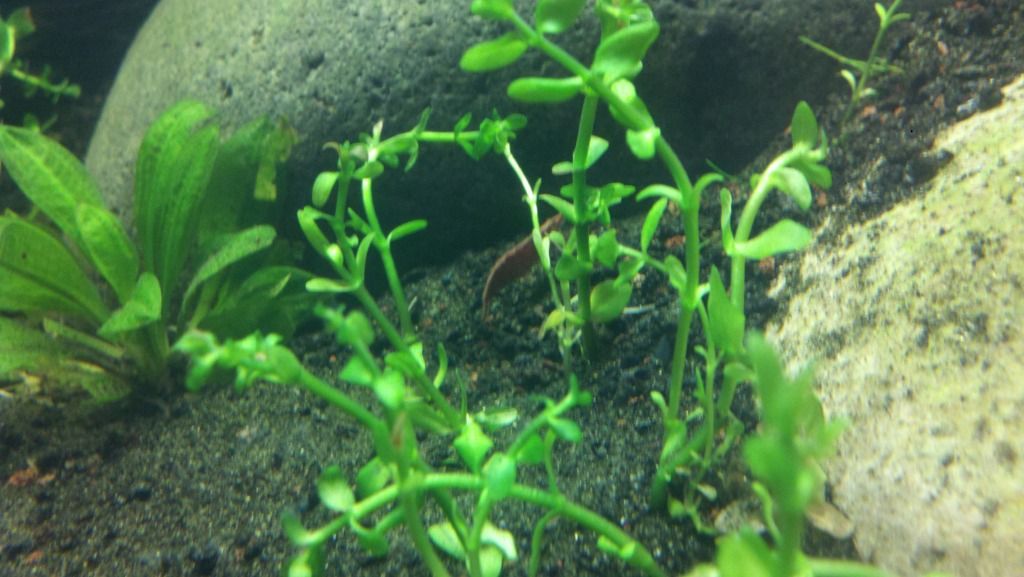 The Anubis is still looking good! Added some Schefelera, we'll see if I can keep it trimmed enough to keep it manegable.
The Red Tiger Lotus is really taking off! Some new big leaves, don't mind the dirty sand... it desperatly needs cleaned.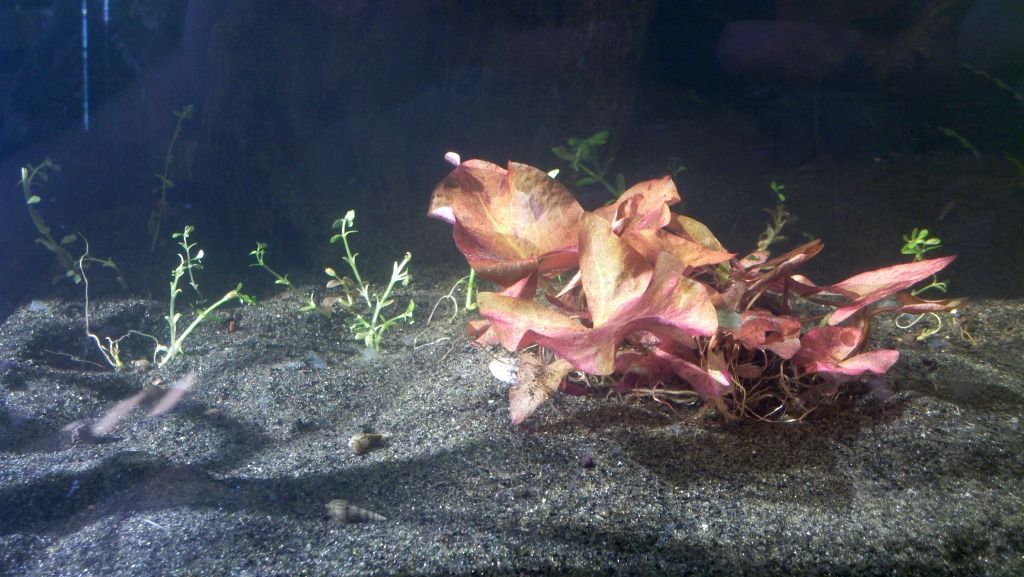 A shot of the Bacopa Carolina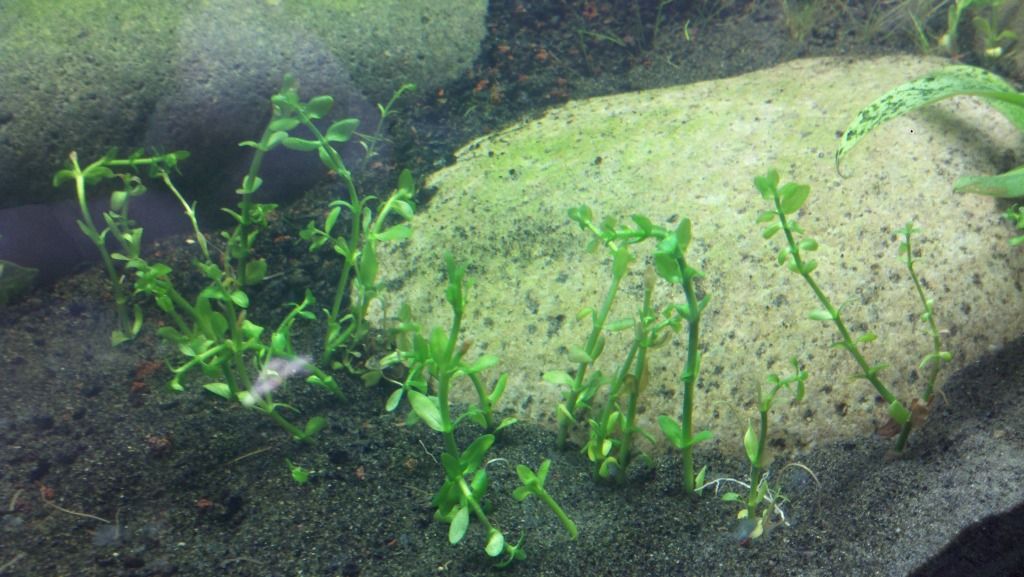 New Rosette sword, Not sure if its one of the ones that will get red in it or not. Time will tell!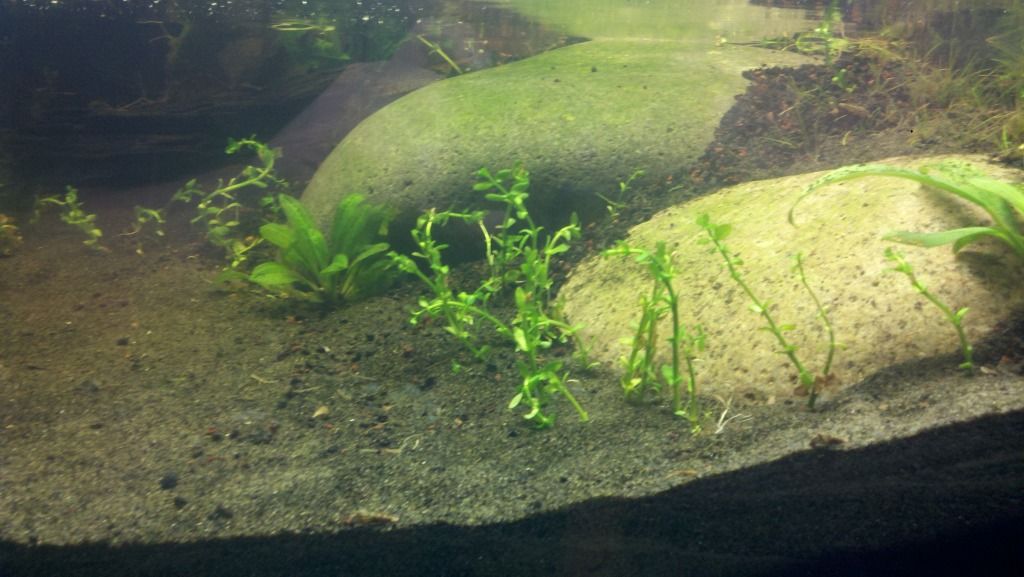 Well theres the progress for now!
More to come I'm sure!
Algae Grower
Join Date: Oct 2012
Location: Wichita, Ks
Posts: 18
Well, since absolutley nobody in town had Fire Bellied newts I went ahead and ordered some online!

Ordered three of the little guys and 2 Horned Nerite snails.

Ended up being cheaper than buying them in town anyway even with shipping!

I'll have resident pictures within the week!
Algae Grower
Join Date: Oct 2012
Location: Wichita, Ks
Posts: 18
Well here are some resident pictures
Heres my three Fire Bellied Newts (tank has been running at 74* so they should be happy)
Purchased these from Bobs Tropical Fish, great to deal with!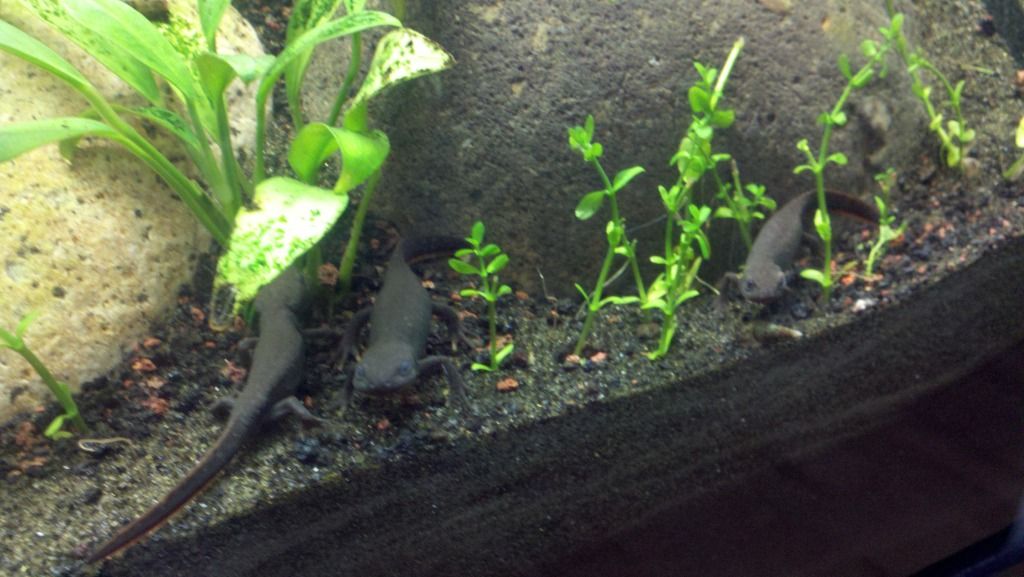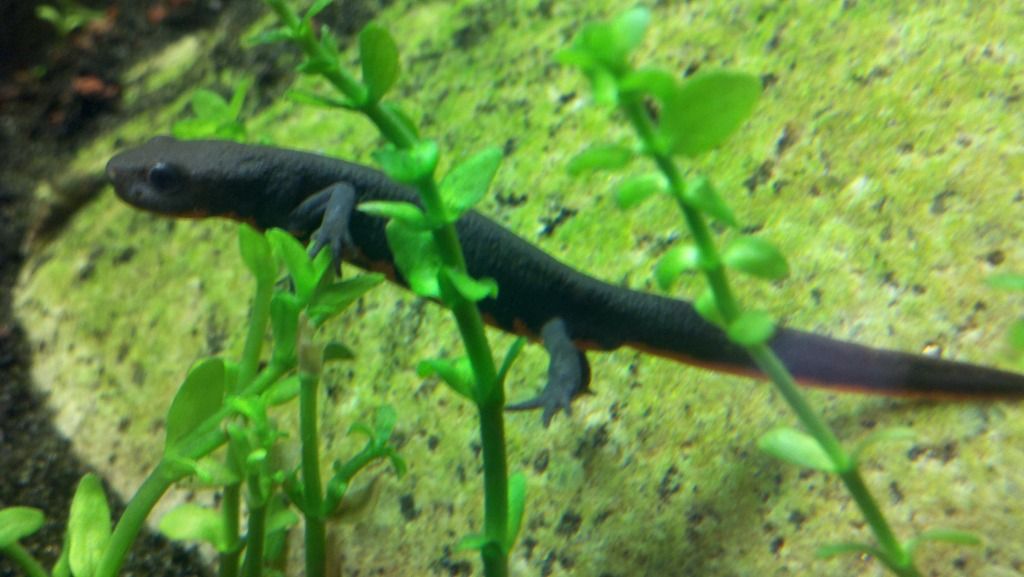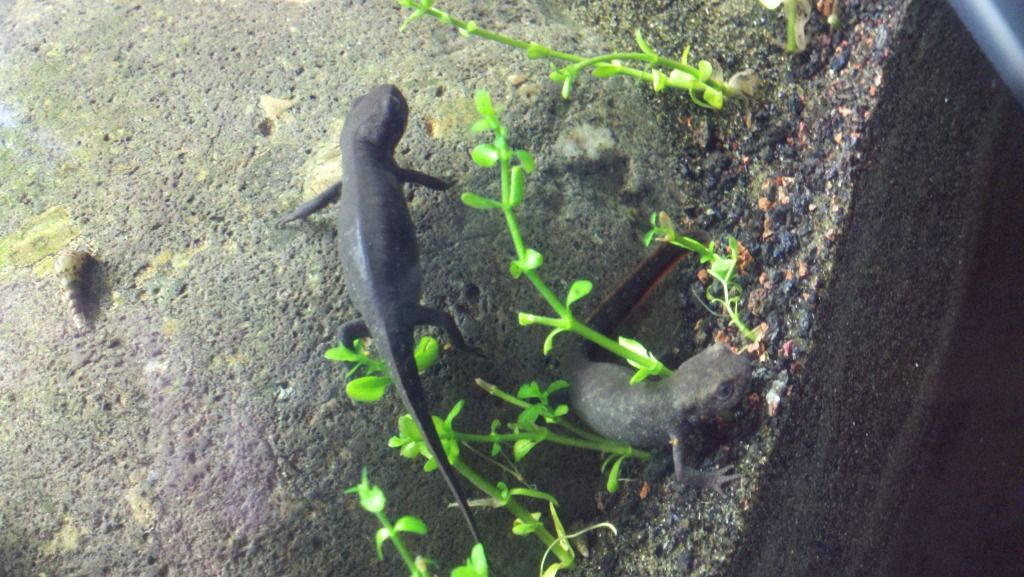 This guy has a little abrasion above his eye. Hope it heals up soon!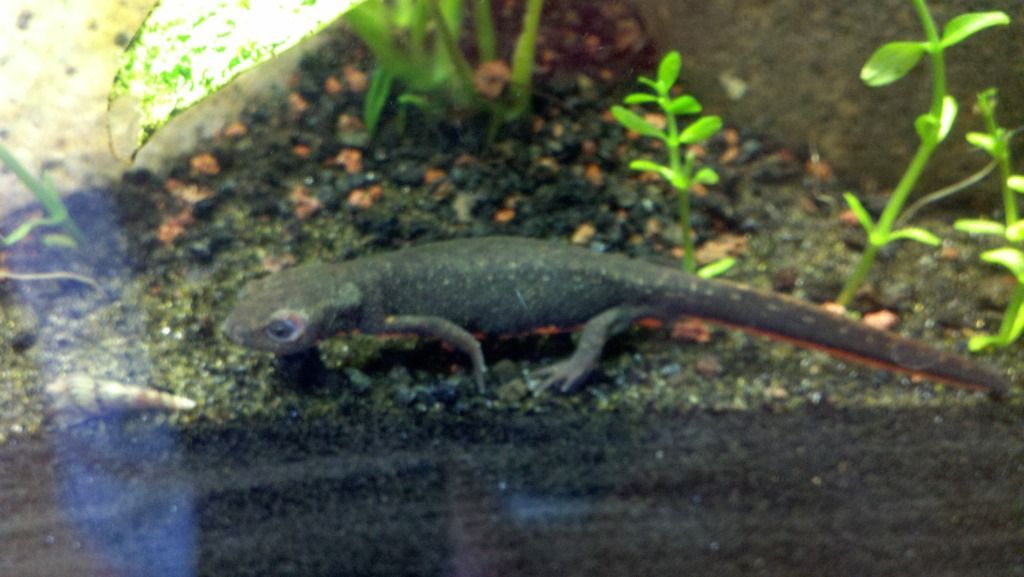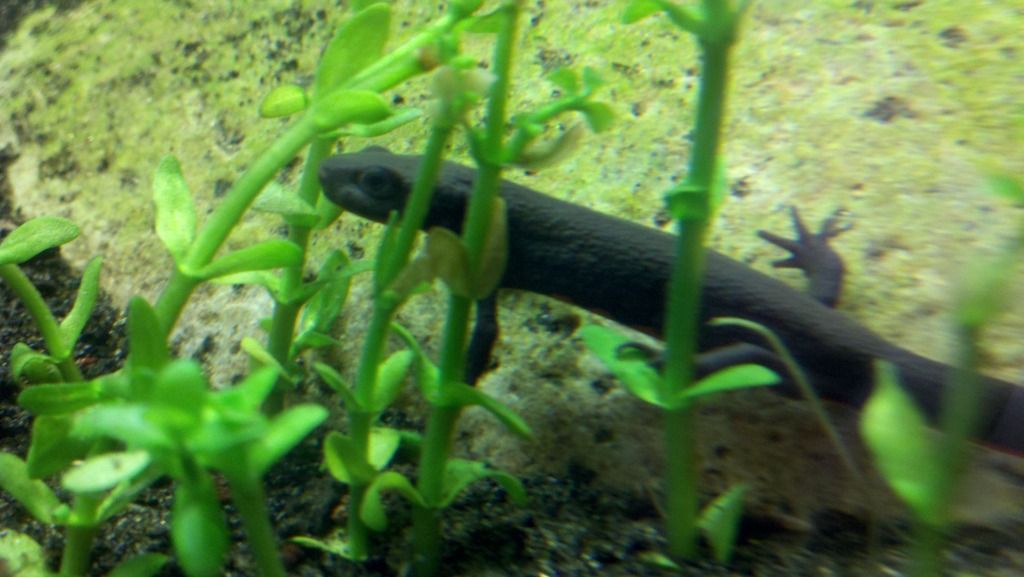 Getting them out of the package!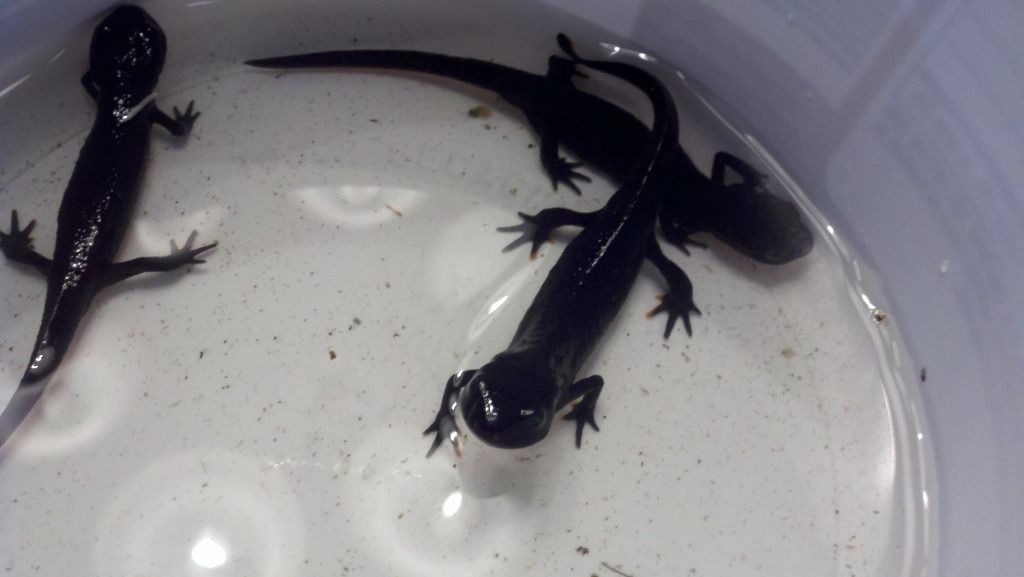 Planted Member
Join Date: Jun 2010
Location: Kansas, USA
Posts: 266