Custom Hex Tank, and 90g (Pic heavy)
---
I forget the size of my Custom Hex Tank Setup. Its roughtly 30g or more. 12g of water in the setup. 24in + 30inch dual bulb NOT5s, 2 - 24in T8 strip lights. Home built under gravel filter runs on a maxijet303 pump running through the background to the waterfall. Handmade 3d background is GS foam.
Dario dario, micro-raspora erythromicron, Garra Flavatra, Dermogenys pussilus
Assorted Crypts, Tiger Lotus, Riccia Fluitans, chain sword, HM, wisteria, bacopa, glosso. bamboo.
90g Amazonia Paludarium. Still in the testing phase. Not a true biotope.
Discus, Angelfish, aequidens curviceps, neons, red eye tetras. corydoras julii - Click the Picture to see Video.
90g Video
---
Last edited by Politikz_Amore; 09-24-2012 at

11:12 PM

. Reason: fixed links
awesome, awesome, awesome! did you grow that riccia in it's place? or was it grown out in another tank and placed there? i've never been able to get it to grow well emersed. and just out of curiousity, is the "clamshell shape" at the bottom of the tank concealing the ugf? i only ask because it is the only thing in the tank which doesn't look natural.
The riccia is attached now but it was brought in healthy from a club members planted tank. I would say it took at least a month to really notice it spreading. Decent lighting is important. Using a mistking helps a lot. I run pressurized co2 on the reservoir as well just because i can.

The curve shape is plexiglass with gravel siliconed to it. it is concealing the ugf/pumpbox on the right, and the left side also contains a layer of soil below the eco complete were I have planted a group of crypt rizomes.
ya know what? i am a dummy. i was looking at the bottom pic as i was writing that and completely forgot that it was covered by plants in the updated photos.....lol
90g Riparium - Pic updates.
It's tough to get pics of the lower tank due to stained water, and low light.
I do have a few Tiger Lotus, and other Lilies that are starting to take off.
is that water lettuce or frogbit on the water in the 90 gal?
Im looking for something to provide shade to the water of my tank since my Oscar hates light. I have some frogbit, but it's very small and barely covers anything.
It's Dwarf Water Lettuce with Indian Water Fern (water sprite)
mixed in along the back. Both do work great as floating shade
plants. The large fern on the left side of the tank is just resting
on a rock pile to keep it in place.
90g Riparium update - Dwarf Water Lettuce has been flowering for the last two weeks or so. This is the first time it has done so in my tanks.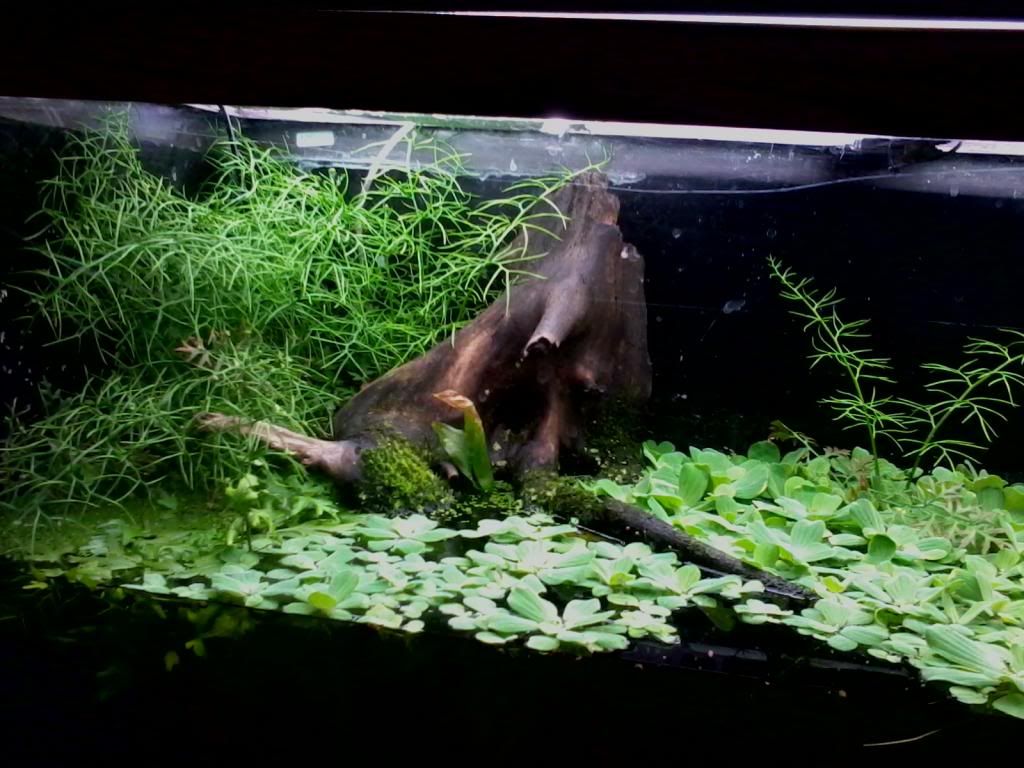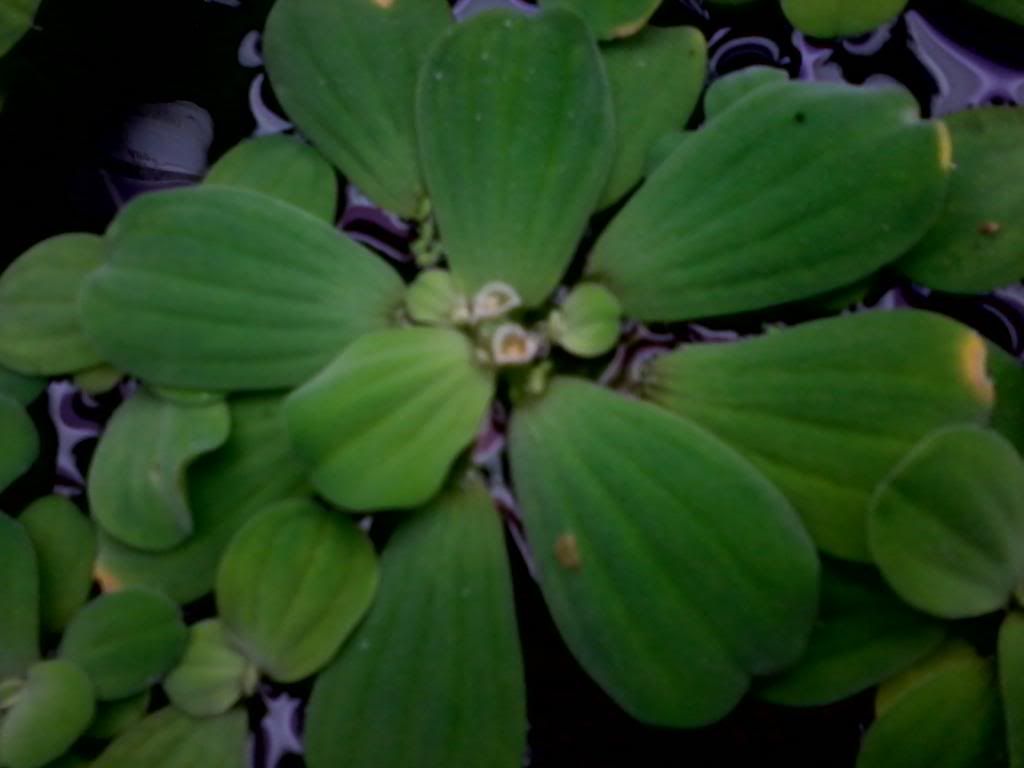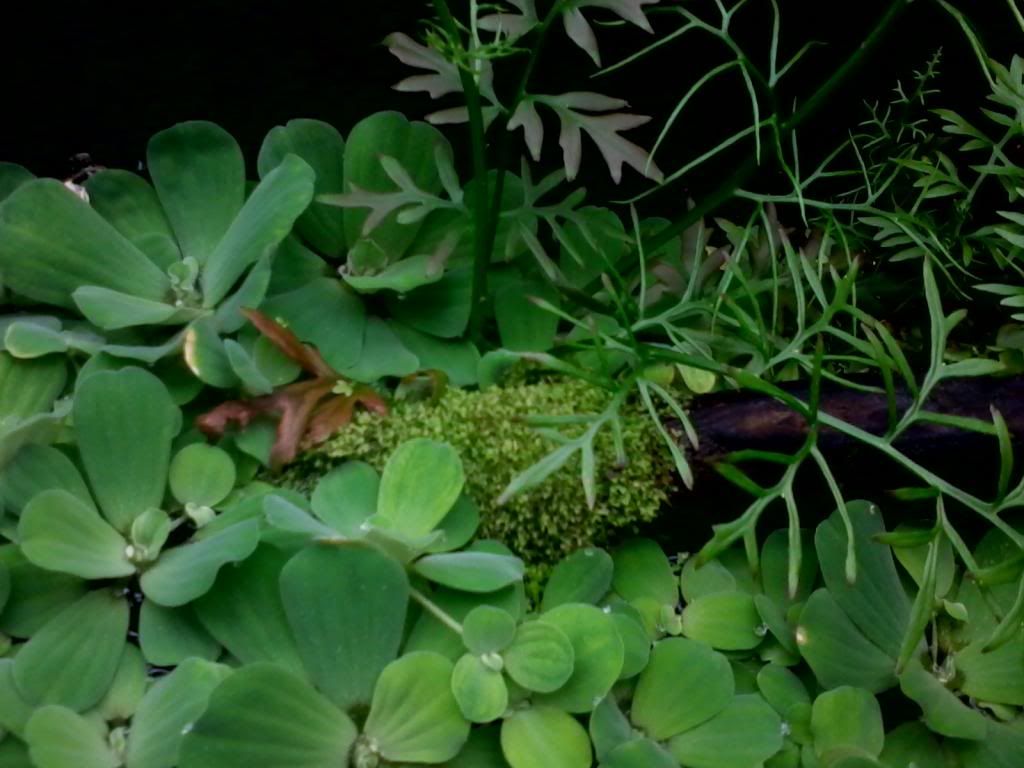 Your tanks both look amazing! I love the Riccia in the hex tank - it's so very happy and lush looking!
Thanks for sharing, love the 90gal, but both are very nice.