For plants Ill suggest water lilies. They can cut down algae with a bonus of flowers. For marginals, creeping jenny and bacopa. Floating, water lettuce and trapa natans.
Here are a few pics of the dig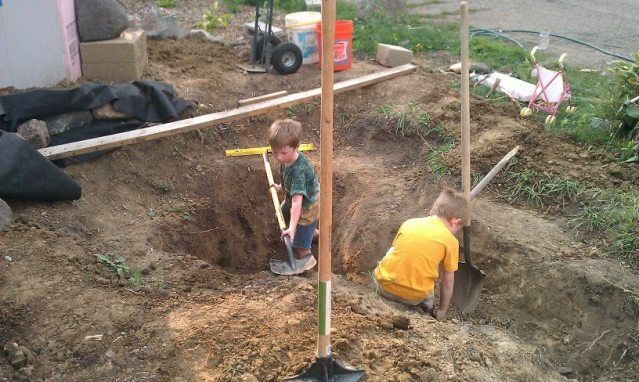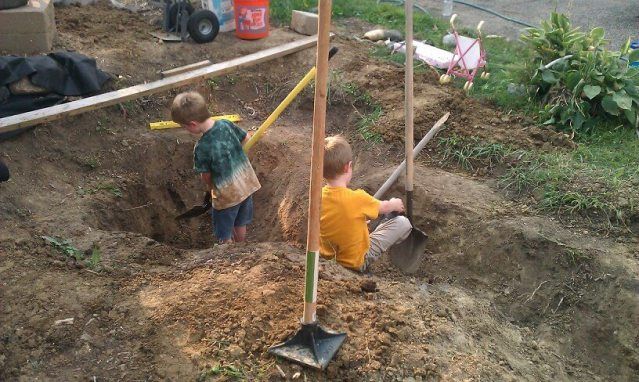 I lined it with old carpet off of Craigslist, and a billboard tarp. The Structure in the back will be a cascade on one side and a river on the other. I will fill with pea gravel and plants to soften the edges as well as work as the filter.
The tarp was huge, I ended up with a 20x60 the smaller tarp 14 x 48 would have barely fit so I figured the extra would be a good call.
It is 17 mil thick and very strong, it was easy to cut. It does not strech at all.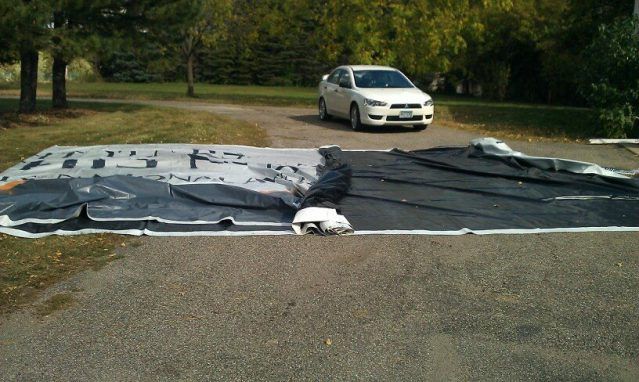 Newbie
Join Date: Oct 2012
Location: Mojave Desert, CA
Posts: 4
Just finished making a 1000 gallon koi pond. I love my koi and worked my butt off making a nice big house for them and ultimatley want to make a 6000gal pond. Got just about everything used off a guy who was moving and quitting the hobby. We were EXTREMELY lucky. The equipment is the expensive part and if you want your pond clear and fish alive you have to get all the parts to make it work. I started with the equipment so I knew how much to dig and how much pond liner to buy etc.
When starting this process unless your hiring a professional TAKE YOUR TIME. Don't rush any process. We did all plumbing, electrical and hardscaping a 3 ft tall above ground brick perimeter and 4ft tall waterfall inside.
Look at pictures of peoples ponds find out what design you want and will be happy with such as waterfall ? places to put plants? ground level? above ground level? The 1500 gallon koi pond on the link below will walk you through pretty much everything you need to know.
My pond has 2 water ins (1 jet that can have an aerator to hook up to it for more oxygen in the hot summer and 1 waterfall, not just for looks but circulates and aerates water). 2 water outs bottom drain to suck the sunken debris and makes it easy to empty if needed and a skimmer that is aparently a pool skimmer but works). all ins and outs are hooked to jandy valves which I recommend because it allows you to adjust the water flow on ins and outs as you want them and can turn off waterfall/jet/skimmer/bottom drain individually if you want.
This is the best resource I have found describing elements for a koi pond.
http://www.calponds.com/Pond-Constru...s-sc-7375.html
Algae Grower
Join Date: Aug 2012
Location: orlando
Posts: 82
That digging crew is too cute.
Planted Tank Obsessed
Join Date: Sep 2012
Location: Florida Panhandlle
Posts: 341
if you have more liner then I suggest going as large as the liner allows (with in reason of course ...dont cut yourself short!) seems everyone always wishes they went bigger fter the pond is done.
for a pump think about an out of pond pump, in the long term much more cost effecient and easier to work with. dealing with an in pond pump is a pain in the tush!
the folks here are wondeful and will happily answer questions and chat ponding /plumbing with you. Steve knows his stuff! you wont find better people anywhere
http://www.highdesertkoi.com/
Wannabe Guru
Join Date: Apr 2012
Location: United States
Posts: 1,748
cool, I would like to build my own pond someday too,
How many GPH do you need for a 2' cascade and a 18 inch wide river to look right
Planted Tank Obsessed
Join Date: Sep 2012
Location: Florida Panhandlle
Posts: 341
you need 100 gph for each inch of a sheet of water fall,
so for an 18 inch wide fall you need at least 1800 gpr.
I would also estimate your pond's volume ahnd try to turn the pond over at least once per hour
Planted Tank Obsessed
Join Date: Sep 2012
Location: Florida Panhandlle
Posts: 341
ps... love the work crew! I am all for child labor! lol!
---
All matter is merely energy condensed to a slow vibration, we are all one consciousness experiencing itself subjectively, there is no such thing as death life is only a dream which is an imagination of ourselves. Bill Hicks
~~~~~~~~~~~~~~~~~~~~~~~~~~~~~~~~
ua hua's 90 gal. high tech
ua hua's 5,000 gal. water garden
Planted Member
Join Date: Jun 2010
Location: Kansas, USA
Posts: 266
Your pond is looking good!
That pump should work great, it is a nice size for what you want.
If you want to go with a filter, this is one of the best DIY filters out there
http://www.koiphen.com/forums/showth...t=s%2Fg+filter
, and this forum has info on everything. In the spring there are a lot of growers that have pond plants very cheap!
One of the best filter plants for a pond is water hyacinth, they do best if you put them on a gravel or dirt substrate.
I would go with goldfish and not koi, they will eat or kill every plant you have sooner or later.
One thing you need to make sure you do is make the liner edge well above the rain water runoff line, I made this mistake and had to redo it!
Building a pond is a lot of fun!
Here is a pic of my water hyacinth I started with five and in two months this is what I got.
They have a wonderful bloom to!
Fit BMX Please keep me in mind when you are splitting plants in the spring, I would love some of those!

I am using a bog filter, I will have about 20 ft2 surface area about 2' deep filled with pea rock. I should be able to have a bout 2 inches above the water level and I am looking for some ideas for plants to place there. Pics would be a bonus.

Thanks,
-Matt