Quote:
I just sent you a PM ThinkTank.
Zefrik, I like your container. It just needs more plants
Yep, currently working on getting more plants. Everything that I put out there at the moment dies because it is too hot. This is not a permanent thing either so I cannot really insulate it. Trying to find another easy cost effective way to cool the pond.
Set up a tub yesterday
Added a Canna and some plants from my tank. Couple large ramshorns also. Heat wave just broke here so i'm hoping for the best.
Planted Tank Guru
Join Date: Jul 2011
Location: Gone
Posts: 5,993
Quote:
Insulation around the tub would be good too. Dirt is a good insulator....
Very good point. Dirt/the earth is also a very good heat transfer/regulator. Lay anything warm on the ground and the earth will have a cooling effect. My Whiskey Barrel is on concrete pavers sitting on dirt.
The other major aspect is photoperiod. You need enough for good plant grown without boiling the water. Mine has filtered sun from dawn to 11ish, them full Sun until 2pm.
We had a week of high 90's & a few 100+. Surface water was 86. I have my plants raised on bricks with a plastic grate shelf. That created a "cave" the water at the bottom was noticeably cooler. My school of Cherry Barbs are a thriving and the zipper loaches are fat.
Planted Tank Guru
Join Date: Jul 2011
Location: Gone
Posts: 5,993
Oh, something simple as an umbrella can drastically reduce the heat. A favorite summer time outdoor dog show trick.
---
Last edited by DogFish; 07-21-2012 at

12:43 PM

. Reason: Remove conjuction
Planted Tank Obsessed
Join Date: Jan 2012
Location: Inland Empire, CA
Posts: 417
We bought some cheap on-sale wood from home depot, with a little bit of light shade cloth. Temps here can reach the 100's and so on hot days we just roll out our little lightweight frames and place it over the little container ponds we have. Water temp on a 100F day with a shade out runs about 80-82F, but I have had the water hit 90F with guppies/mollies in them and they haven't seemed to suffer too much.

They eat all the bugs. I actually noticed a decrease in bugs since we set the ponds out. They land in them and drown and the fish snap them up. We don't feed the fish to encourage them to eat all the bugs, but if we notice not many bugs we might feet them a day or two.
Planted Tank Guru
Join Date: Jan 2010
Location: Contra Costa CA
Posts: 11,721
A wall of brick that is just one brick wide, stacked up the narrow way is not very strong, even when it is mortared. It is only 4" wide (most bricks are about 3-1/2" to 4" wide).

To make a retaining wall out of brick, but not use mortar stack the brick in a way that each brick points toward the center of the barrel, then put the next course slightly closer to the barrel and keep on stacking them that way.
Each course overlaps the other so that one brick sits on top of two.
To see an idea about this google 'shaker round stack' (it is about firewood).

Another way is to make a double row around the container, but include some courses lined up parallel to the barrel and some aiming in toward the center. Again, each course is slightly closer to the barrel than the course under it. And, again, overlap the bricks so that as much as possible one brick sits on two.

Another way is to use something else besides mortar that can hold them together, but is easier to remove. Expanding foam can do this. In either of the layouts I suggested there will be gaps because square (well, rectangle) bricks don't make circles really well. Fill those voids with foam. Careful, though, it really expands and can push the bricks out of alignment!

Another option is to make two boxes, one inside the other. The outer is only half the height of the barrel. This terracing will make each wall hold up only half the height of soil. I would still build this in either of the stronger manners suggested.

All the ideas here are intended that the enclosure will be planted. The evapo-transpiration from thriving plants will help cool the soil and the whole structure. If you choose a few plants that are hanging over the pond then there will be a bit of shade, too.
I bought one of those 20 gallon tubs ($6.99) at Lowes. Done this two summers now. No filtration, no insulation. Temperatures outside were around 105 - 110° F for two weeks. Normally 80s - 90s in the middle of the summer. Fish and shrimp do well. I use guppies for mosquito control and it's helped a lot, but there are still some around. Just a few water changes in the beginning. I don't leave it set up in the winter, though. I bring in the plants and fish for the cold months.
The one thing I didn't expect was having hornets and wasps coming to gather water to make their nests. They won't pester you if you don't wave at them, but they do frequent it several times a day. So look out for nests being built in your area! Last year hornets moved above our porch because of the easy access.
Here is my "pond"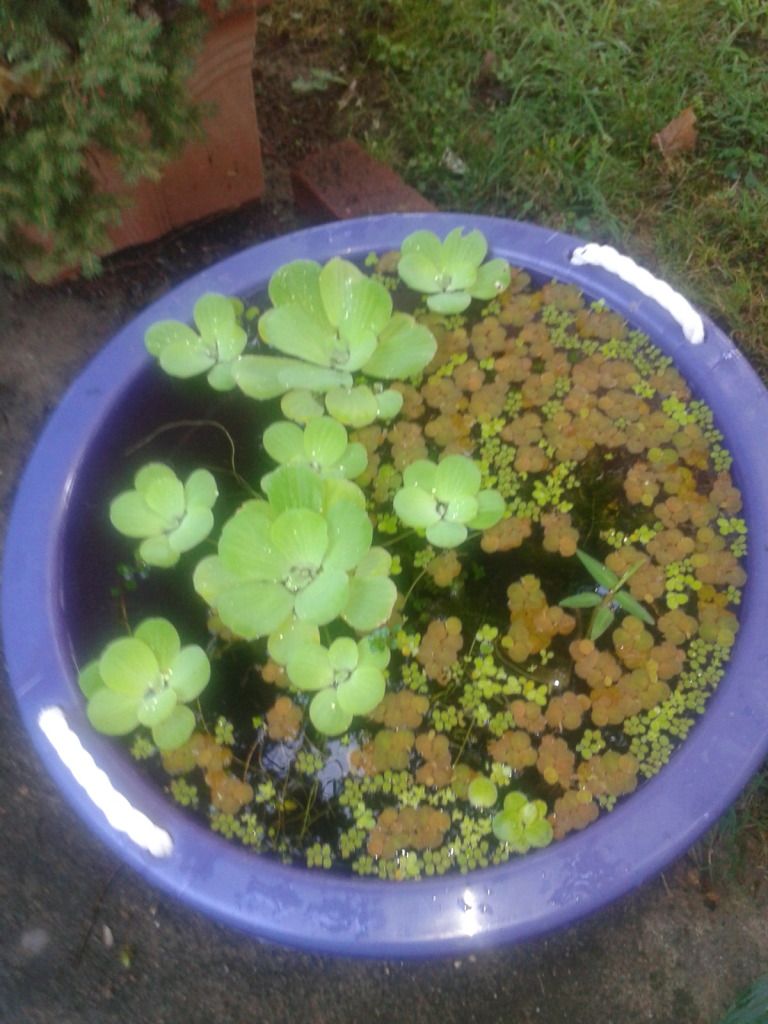 ---
Without Algae, death of mankind would be inevitable.

Planted Tank Guru
Join Date: Jul 2011
Location: Gone
Posts: 5,993
Yes, the Hornets love my Whiskey Barrel Pond. They are getting quiet good and landing on the small water lettuce and getting a quick drink and back to the nest.

You are correct just ignore them and they keep to their business.
I'm using the exact same plastic tub for the last 2 weeks. I haven't checked the water temp but its very warm to the touch. I have snails and cherry shrimp that have survived the heat so far.
I'm working on an enclosure for rectangular tub now. I decided against stacking bricks (didn't like the way it looked).
Planted Tank Guru
Join Date: Jan 2010
Location: Contra Costa CA
Posts: 11,721
There are many other materials that could be used to confine some soil around the container. No matter what you use you can grow plants in the container that will spill over the bricks (or other material) so partially hide it.

I have a greenhouse/fish room and the pond (about 75% sunken) is a LOT cooler, more stable temperature than any of the tanks. The tanks on lower shelves (not in direct sun) are cooler than the more exposed tanks.

I will highly recommend sinking these ponds/containers as much as you can, and provide some shade through the hottest part of the day. If you cannot sink them, then build up around them with stone, brick, block or anything to hold some soil against them. That is how I did it with my pond in the greenhouse: about 6" is buried below the floor, and most of the rest is enclosed in a stone wall with soil against the pond.

I also highly recommend going with the largest possible pond that you can. The larger volume of water is more stable, both temperature and chemically.