My first attempt..
---
Just thought I'd post a pic of my first attempt at water gardening. I made it a few years back out of an old planter. Its not that complex or fancy but I was quite proud of it. It eventually cracked after a couple of seasons. But as you can see, my dogs would drink out of it on a warm day!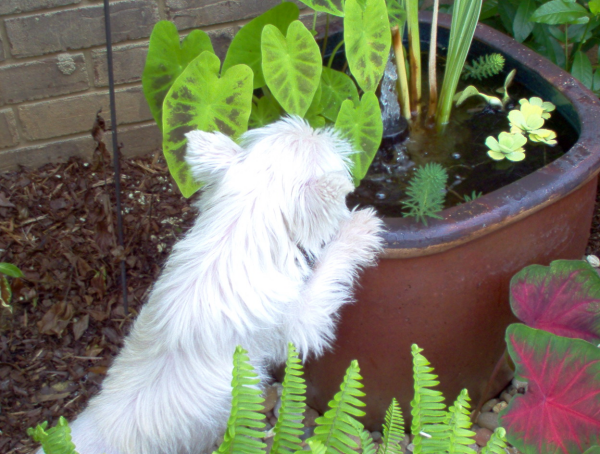 Algae Grower
Join Date: Dec 2006
Location: mcallen, texas
Posts: 80
great!
---
looks good nice and tidy.. what do you have in there? do you have rare plants?
I'm sorry I don't really remember. I think the plants on the left where some sort of a hybrid black elephant ear that I was given a starter of from another gardener so it might have been rare. The others I think were just aquatic plants from Lowe's or my local nursery.
Algae Grower
Join Date: Dec 2006
Location: mcallen, texas
Posts: 80
are there any updates so far.... how has it progressed for you?? check out my thread and see my pond
Exact same thing happened to me! Had one that looked a lot like that but then one winter it got really cold and cracked, nice while it lasted though.
Planted Tank Guru
Join Date: Jan 2010
Location: Contra Costa CA
Posts: 11,721
Small, feathery thing is Myriophyllum, Parrots Feather. It could fill the surface. Stems under the water.
Yellowish leaves, low on the water, right is Pistia stratioides, Water Lettuce. Thrives in warm weather. It also can fill the surface. Makes dense rosettes. Roots hang down into the water.
Tall, grassy thing could be any of several plants, one of the water Irises, perhaps. There are other possibilities.
The wide leafed item does look like one of the African Mask relatives, or maybe an ornamental Taro.
Outside the pond, red leaf is Caladium. Grows from a bulb, and can be kept indoors or out in mild weather.