Wannabe Guru
Join Date: Oct 2009
Location: Virginia
Posts: 1,055
Help me with this algae please!
---
I went away for 2 weeks and came back to this!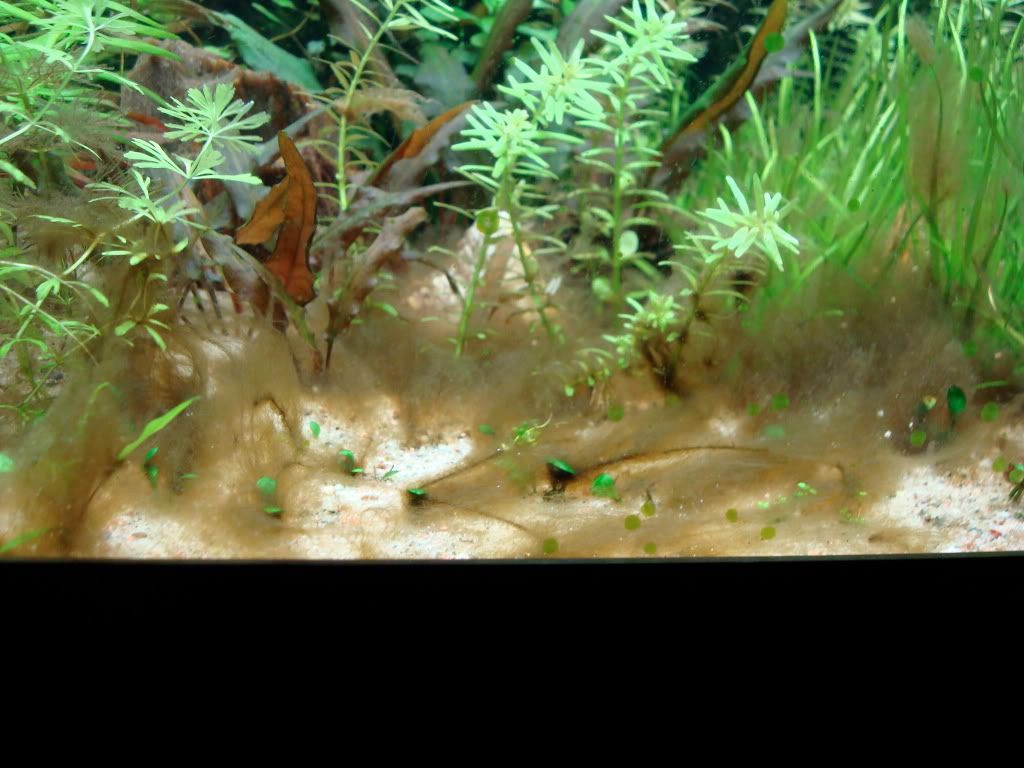 I tried researching, but I couldn't even figure out what type of algae this is. What caused this?
Here are the parameters for the 2-week period that I was away:
Tank: 48x13x18.5 (47 gallons)
Lighting: 108 watts T5HO for 5 hours/day
CO2: 2 bottles DIY, set up the day before I left. It looks like they stopped producing before the 2 week period was up.
Fertilizer: 2x per week N,P,K, trace
I'm so frustrated. You can also see some green spot algae there, too. Can you help me figure out what caused this algae, and how I can get rid of it?
Thanks
Wannabe Guru
Join Date: Oct 2009
Location: Virginia
Posts: 1,055
Thanks for the link. I'm still unsure about which algae this is. Rhizoclonium? For the hair/thread/fuzz algae, the article says that they're green, while rhizoclonium can be brown. Is that right?
The Lack of Co2 & the fact your lights were still running did'nt help, I'm sure.
To start with manually remove as much of it as possible. Do a water change or two, get your Co2 cranking & test your water, Nitrates etc. see what your lacking or low on, dose accordingly & give it a few days & see what happens.
Spot treating with flourish or tank blackouts maybe an option after that.
---
Algae Architect....Yes! I have Algae, but it's all very tasteful...
Wannabe Guru
Join Date: Oct 2009
Location: Virginia
Posts: 1,055
I'm definitely going to remove as much as possible today and do a 50% WC. I'll test nitrate before and after the change (to confirm results). Then we'll see if it comes back! Can anyone confirm what type of algae this is?
I don't know what it is (sorry) but had it (exactly the same as your photo including sand substrate) in my 10g snail tank last year. It grew on a clump of java fern and on the filter sponge. Cleaned off easily with a piece of airline tubing used as a syphon (pulled right off and out the tube) and disappeared after about 3 weeks of keeping after it and seems not to be returning. Only thing I did was tighten up on my water change schedule.
---
The Fraternity of Dirt
If at first you don't succeed,,, keep kicking it
RubberSideDownOnTheLanding,
2-75g planted, 5-55g planted, 5-20g planted, 110g w/30g sump, 8-10g,
Refugium,
doghouse/newbie
2012 update adding table top pleco pans & a 90g (Nutz)
Wannabe Guru
Join Date: Oct 2009
Location: Virginia
Posts: 1,055
Thanks, that certainly helps. It's also consistent with the fact that I was away for 2 weeks, so no water was changed during that period. That's all fixed now :-) I hope the algae will clear up!