Planted Member
Join Date: Jan 2013
Location: USA
Posts: 259
Help ID & get rid of algae
---
Hi,
Can anyone I'd the brown algae in the photo? It is plaguing my tank and I want to be rid of it.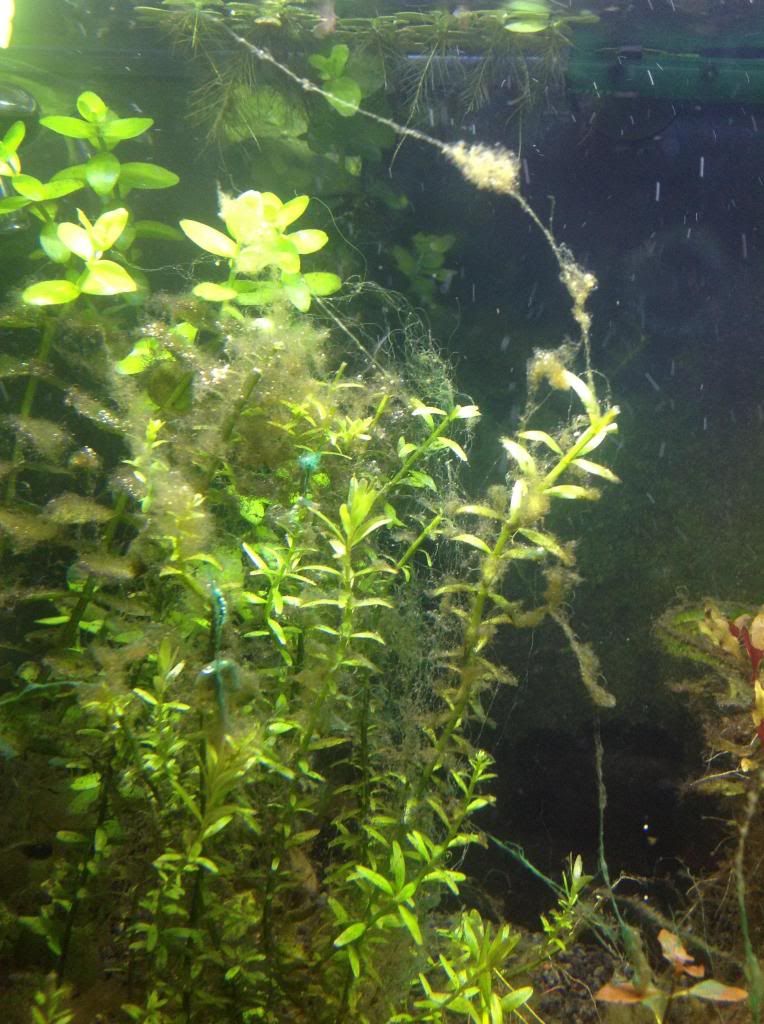 I rescaped a few weeks ago, completely draining my tank and switching out my gravel to eco complete. Before the rescape I had some green hair algae on some plants, but this brown stuff is way worse.
40b tank
Finnex fugeray on 8hr a day.
Does ei but on a reduced scale for now
Problem started before co2 but I now have a co2 system that I start 1 hr before lights on and stop 1 hr before lights off.
Looks to be Rhizoclonium to me. Check out the stickies on the top of the Algae subforum.
---
All matter is merely energy condensed to a slow vibration, we are all one consciousness experiencing itself subjectively, there is no such thing as death life is only a dream which is an imagination of ourselves. Bill Hicks
~~~~~~~~~~~~~~~~~~~~~~~~~~~~~~~~
ua hua's 90 gal. high tech
ua hua's 5,000 gal. water garden
Planted Member
Join Date: Jan 2013
Location: USA
Posts: 259
Ok it does look like the pic in the first link, but the description of why it occurs doesn't make sense. It says low flow, lack of maintenance, low co2. I do 50% wc every week, pressurized co2 where drop checker is lime green by end of day, and the algae grows right in the path of my power head and actually waves in the current.

Could it still be rhizoclonium and what would you suggest to get rid of it. I have been manually removing it a few times a week.
It looks like there might be some staghorn mixed in there as well? But it looks like Rhizoclonium to me too.
First things first I would reduce the lighting!
Clean that up as best you can manually. Takes a while but do it. If you got more plants add em. Rhizo is pretty tough, but blackout will hurt it back. I got rid of it recently using blackout + manual cleanup. also, possible get a powerhead to add more current, possibly debris is getting lodged in the rhizo and settling on leaves. A bit of current will help blow it off.
Planted Member
Join Date: Jan 2013
Location: USA
Posts: 259
Thanks for the replies.
I will try to get params tomorrow if I can.
Today I noticed a good chunk was gone off my driftwood. I wonder if my amanos started eating it or what made it go away.(Do amonos eat this?) I added 12 amanos a few weeks ago. 2 for sure died the day of/after adding. I never see the other ones but have seen a few molten shells lately so some are for sure still alive but i have no idea where they hide. Also, I did clean my cannister a few days ago so maybe that is helping?

I am upping my dosage of excel from every other day to every day.

Have some plants on the way so plant mass will be increased soon.

Hopefully can test and post params tomorrow

Thanks for the replies so far

I would like to avoid 1 2 punch unless the situation keeps getting worse. I just want to find the right balance.