Need help identifying algae
---
This stuff has been slowly taking over my tank, need some help getting rid of it and also figuring out what is causing it. I am running pressurized co2, 3 shop lights, dosing EI, 12 hr photo period. Tank is 10g
Fts (about a week ago)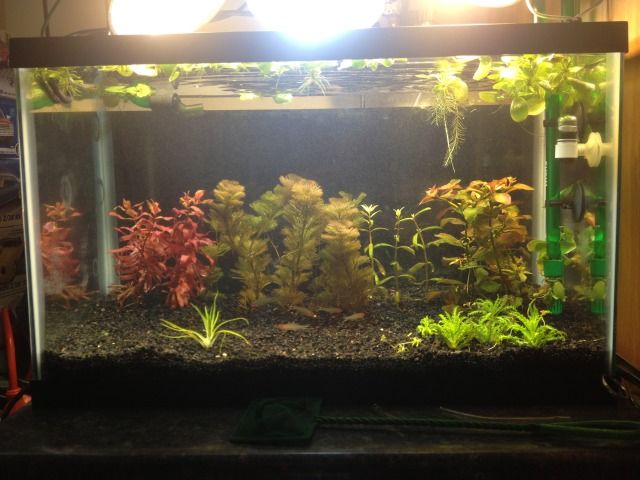 Algae
Tank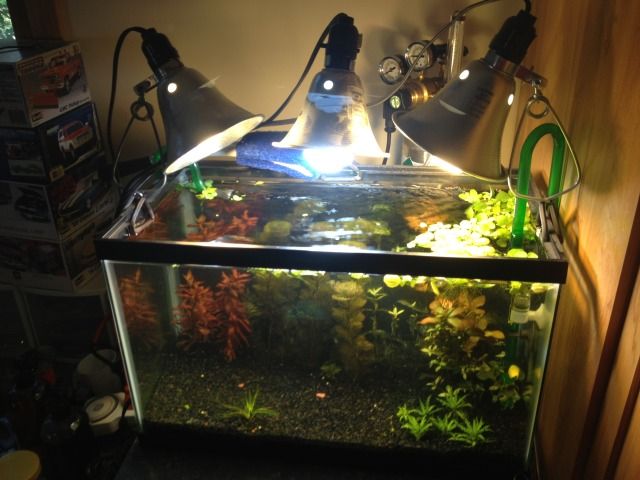 Shorten your photoperiod, 12 hrs is a long time. Shoot for 6-8 hrs and crank that co2 up some.
Shortened to 6hrs, and dipped plants in h2o2. Should I also try adding more plans to absorb more nutrients?
How often are you doing water changes and how much are you changing out at a time? You could add more plants if you want to, did you get a chance to increase the CO2 yet?
thats some fuuuzzzzzzz algae! it collects like MAD on my driftwood but a stock of 5 ramhorns and it cleared right up!
It is from toomuch light and too many nutrients and tends to ramp up within 2 months of having set up a tank Ive found. It just means you havnt balanced out nutrients vs need yet. Like said, more Co2 and less light! also check your ferts make sure you arnt over dosing!
I have to check ferts, I'm dosing from the root medic pump bottles (1 pump each macro and micro). I cut back the light to 6 hrs and upped the co2 slightly. The h2o2 killed some algae, but not all of it I just did a water change last Sunday, 50% to get some co2 out of the water (gassed the fish). I was planning on 25% every weekend from now on.
Reduce that light some. You can always increase the light later on once you have balance. Water changes are a great way to help during algae battles. I usually do one every other day when algae is really bad. Only happens though in the initial tank phases. Adding more plants will help turn the battle toward plant favor.
I actually got an algae bloom when all that stopped was ferts while I was on vacation. It's a balance really- keep your plants happy and your algae dead is tricky. For me it was keeping the lights the same, upping the co2 and ferts. The plants grew like mad and algae only grows on dying leaves.