Diatom problems
---
I have a planted 10 gallon set up since mid April.
Since then I have been experiencing diatoms/brown algae.
I added a golden algae eater about a week ago. It cleaned the glass and plants but now the substrate. It died about 4 days ago due to a power outage in my community so the diatoms have returned a bit on the plants especially my rotalas and moss.
I'm using a sponge filter for filtration and I am running two 14 watt 5000k cfl light bulbs for 7 hours a day. I have my co2 set to 1 bps/secondand dosing ferts(potassium,nitrogen,phosphate,iron, I have excel but barely use it)
Extra info: my tank is located outdoors. There is sunlight that shines about 8-9 feet away, so low indirect light is present
What would I do?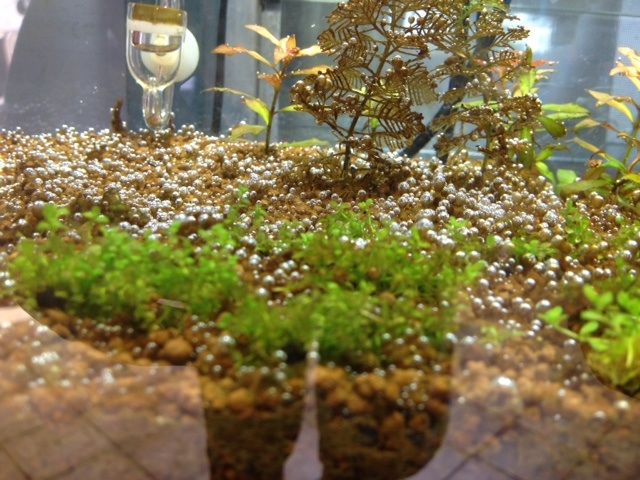 ---
ADA Mini L #Aquatic Junkie
ADA Mini M
Do a 3-days blackout for 72hrs straight, and get some amano shrimps & otocinclus for diatoms. And another 3-days blackout next week.

If u want to improve a little on the water clearity and future diatoms, getting plain hbh aqua-pure polyfiber pads that can be cut to fit a hob filter, just replace with a new piece once a week or 2. It works for me.
Diatoms are always present in a newly set-up planted tank and will go away in a couple of months. To help speed up this process, add some otocinclus affinis and a few amano shrimps.

It's horrible to look at but the only way to remove it is manually either by yourself or via fish. Blackouts very rarely work with diatoms as they thrive on any light conditions. There's no harm in trying a blackout as long as you have some otocinclus in there so that they can eat the diatoms quicker as you are not providing food during the blackout.

Do small water changes every 2-3 days does help a lot whilst brushing off as much of the diatoms as you can.

It would also help dosing Flourish Excel.
---
Dan
Planted Tank Enthusiast


80L Opti White heavily planted open-top tank: JBL CristalProfi 1501e containing a range of filter media; EI dosing; pressurised CO2 with Lily Pipes and Surface Skimmer; Finnex Planted+ LED Light. Neons, Embers, Pygmy Corys, Amano's and Oto's ..and I'm in love with it.

If I have helped you or require further information / advice, then please do not hesitate to drop me a message!
Newbie
Join Date: Jun 2013
Location: New York
Posts: 4
Excel, time, waterflow, water changes, cleaning. These do go away, I had this issue with my 37G.
Blackout is what did it for me. I get small blooms anytime i uproot a bunch of stuff but its controlled by my otos and shrimp.
I have two otto fish and they barely did anything compared to what the golden algae eater did. Lol.
your diatoms are bubbling when excess lights are on, otto probably don't wanna go near those brown bubbles. lights out will get rid of those bubbles.
Low flow, low oxygen, limited planting and excess phosphates/silicates lead to diatoms.

GFO media will grab out all of the phosphates, manual removal with PWC will handle the rest in time.