So much BBA BSA and scaring :((
---
so i have been keeping a beautiful 75 gallon planted for some time now and in the past few weeks/ months it has almost compleately gone to crap >.<
there is a persistant amount of the BBA or string algea thats mostly grows on the ends and bottoms of the leaves of my plants..
also the Black spot algea is almost exclusivly on the anubis leaves.
its gotten so bad that i am considering just throwing away every plant!! even my ruffle plant iv had for probably a year now
the water sprite i have no sadness about throwing away its pretty messy and ugly sometimes anyway but my anubis!! noooo!! it has about 10-15 leavs all covered in black spots
its so sad..
im assuming the cause of all of this is too much light, too little co2,and probably too many nitrates from my fish ect..
WHAT SHOULD I DO!!
couple more things..
my 75g has a 4x54w t5HO coralife light, a fluval 406 can filter, simple gravel substrate, and no co2 atm >.<
- As soon as i can find the time i plan on changing the substrate out for seachem florite and some eco-complete black...
- also i have a dual gague 2 stage regulator, and a whole post reg assembly.. selonoid, NV, Bubble counter, check valve. the only thing im missing is a apropiately sized difuser for my fluval 406 hose sizes and the part that connects the regulator to the post body assembly..
I do 50% water changes weekly on sandays, i was using seachem iron and comp ferts but iv vut back some since the algea outbreak...
any help/advice on this whole situation would be greatly appreciated.. i dont want to throw away ALL my plants
(
thats ALOT of light for no co2. id back to down to 2 bulbs and start adding co2 as soon as i could. Excel dose daily on top of that.
---
There are 2 types of people on this forum. Those that have algae, and those that lie and say they don't.
Planted Tank Obsessed
Join Date: Mar 2008
Location: ARDMORE PA
Posts: 460
i have bin haveing very good results from removing the plants and letting them sit in raw tap water with peroxide you can do that with a around 25 peroxide 75 water mix for 1 hr alge will turn red and die in 1 days time. or you can cut the plants very low and let them grow back idk about cutting anubus but most other plants it will work
to get my co2 going i need to solve these few obsticles maybe you guys can help
im searching around as we speak.. i need........
to connect a ProStar Platinum Model PRSP5013 dual stage regulator (female out) to my Burkett 6011 solenoid valve (female in) with some kind of reducer/bolt but i have no clue where to start as far as sizes and materials...
the less dificult issue is the difusion... the fluval 406 uses an odd sized hose so ill need a bigger inline defuser the one i have is a GLA in-line CO2 atomizer sized for 1/2"... i think i need a 5/8" or something...
after i have those few things ill just need to go pick up a tank and assemble the whole setup
thanks again guys for the replys..
p.s. btw i did cut the lights down for now.. the plants loved it at first then the algea took over and ruined the fun..
heres a link to all the EQ in question from jhunt(the seller) before i bought it
http://www.plantedtank.net/forums/sh...d.php?t=193750
What fauna do you have? Because if you get a Siamese Algae Eater, they will eat every speck of BBA in your tank.
---
RIP 50 gal... Starting a new 12g Edge; next year comes the 90 gallon!
Planted Tank Obsessed
Join Date: Mar 2011
Location: Davis, CA
Posts: 358
It looks like you may have many potential issues contributing to algea. I am not sure c02 will solve all your issues.

As suggested above, it seems you should drastically reduce light as a primary first step.

In addition, I see the only filtration you are running is a fluval 406. I run this on my 50g, with only ~33g of water, and I still find it to provide insufficient circulation in a heavily planted tank. A simple circulation pump, like the koralia nano's, might help with oxygen and nutrient distribution.

I also see you are using simple gravel substrate. This is tough for no c02, and your water column dosing will be important. Unless you tested your macros, I'm not sure reducing dosing was the correct course of action since you have no nutrients in the substrate. You could consider root tabs for the substrate.

I wouldn't give up on the hardier plants, like the anubias. As noted above, there are various treatment options to remove algea from plants described in the forum. You could try one of these once you get to the root of your issue.
---
Last edited by wheatiesl337; 02-01-2013 at

12:45 AM

. Reason: spelling
CO2 and circulation, reduce light and spot treat with excel.
contact maknwar or bettatail on this forum for a nything related to co2
---
There are 2 types of people on this forum. Those that have algae, and those that lie and say they don't.
Well its taken quite a bit longer than i had expected to get my co2 up and running but its officially all together and working.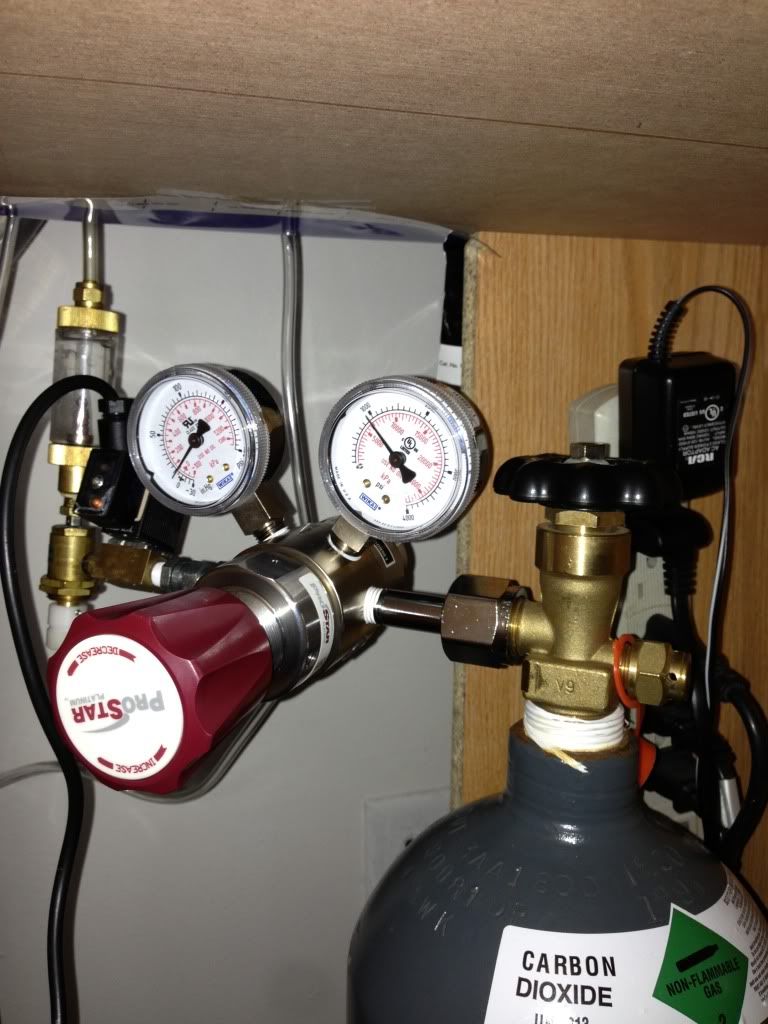 As far as my algae goes.. there's still a lot of bba and some new slime algae on my driftwood. The hair algae is all gone from what i can see. Since then i have greatly reduced the amount of livestock in my tank( all the livebarers got transplanted to my moms) but i plan on restocking in a slightly different direction soon( more loaches, corys, not sure else).
The bba that's left is mostly on the anubias still and some holes in my ruffle plant(might be the loaches). But in the past few days of running co2 it has started to turn reddish in a few spots and i hope it clears up nicely in the next few weeks/months. I also plan on dose excell to help with the progress.
As far as the substrate goes.. its really hard to find a 90g cheap or at all in my area haha! and i really don't want to put all my substrate into a scratched up 75 that isnt show quality at all...
ill keep updating as the algae clears up
---
Last edited by RedseaReefer; 07-18-2013 at

11:36 PM

. Reason: added pic