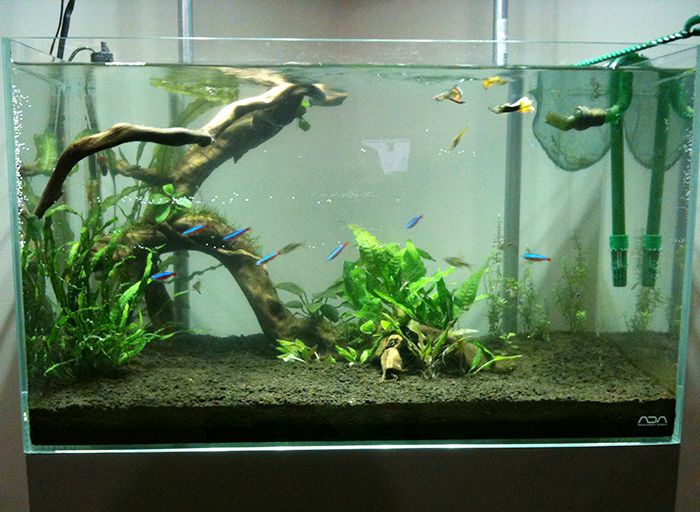 Did it! Pulled out a hand full of old rotten roots... what a mess. Looks much better now after a bit of rearranging.
I know you are having a hard time acquiring healthy plants but that's what you need. Lots of them to get it going, then scape when you have all the plants you like. I forgot how hard it was to get things going a first. Now I throw away more plant clippings monthly than you have. Make slow adjustments and just fight it out you got the right idea.
Planted Tank Obsessed
Join Date: Sep 2012
Location: TX
Posts: 474
I think you would benefit from anything that is faster growing (like stem plants, possibly floating plants) and feeds heavily from the water column, then as the rest of your tank fills out and becomes (relatively) more demanding for nutrients you could eventually remove them... but for now you will continue to struggle to battle algae because most of your plants are slow growing and heavy root feeders.
Read back through the thread - local selection is terrible and it's too cold to buy plants right now (and I can't use the American SnS due to cross border import laws). It sucks. I was looking for some hygro difformis (wisteria) but Petsmart didn't have any for some reason, just cabomba and dead crypts

I will check out another store next week. I wish my rotala would grow, and there's a couple stems of bacopa in there too, but all the leaves melted off and nothing's growing on the stems. Looks like the cyano melted my last little bit of l. repens too...

In other news I found pond snails in the tank, lots and lots of little ones, but i also found quite a few empty shells, so, I think they're dying before they can get any bigger, which is a good thing I guess.
Quote:
In other news I found pond snails in the tank, ********** I think they're dying before they can get any bigger, *******
While it's a good thing to dodge having pond snails how they are dying should be a concern. Those things are the cockroach of the aquarium world!
Makes me wonder if you have really old copper lines for the supply water. Reading this morning I would suspect something in the source water being whacked causing the problems.
---
The Fraternity of Dirt
If at first you don't succeed,,, keep kicking it
RubberSideDownOnTheLanding,
2-75g planted, 5-55g planted, 5-20g planted, 110g w/30g sump, 8-10g,
Refugium,
doghouse/newbie
2012 update adding table top pleco pans & a 90g (Nutz)
Dunno, could be, nothing in this rental suite has been updated from the '60's, including my windows, electric, maybe water pipes too... I have had pond snails in my tanks for a long time, got them with some RAOK plants probably 6 months ago, but I never saw them in my 60-P till now :/ Maybe I just wasn't looking...
Remember when I said I had no big snails? Look who I found today!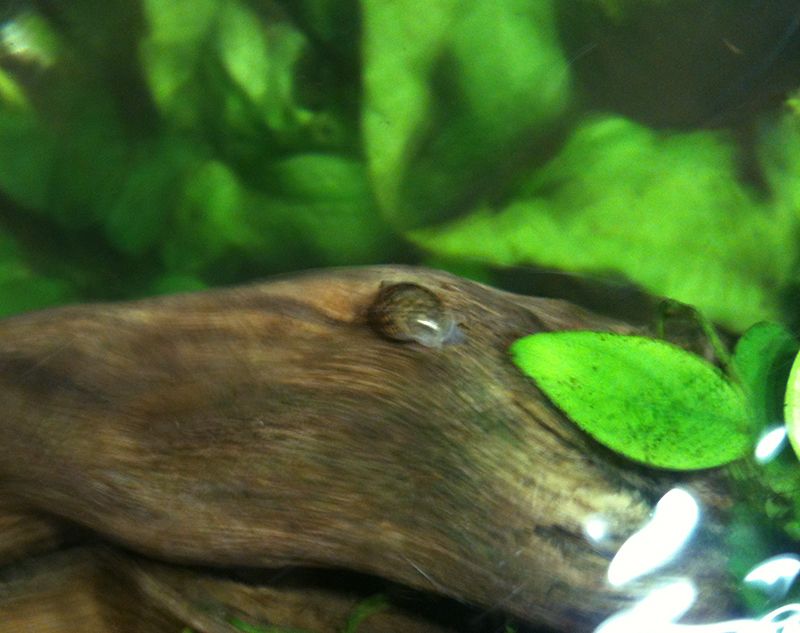 Tank looks good, not much change, but NO CYANO!!! I am pretty happy. A step in the right direction for sure
Hows the tank coming? any updates?