Planted Member
Join Date: Jan 2009
Location: Canada
Posts: 172
ugh, ID please!
---
So, this appeared on my Java Ferns last night, seemingly out of nowhere. My husband thought it was "cute" saying "Look, this little plant has all kinds of cute new leaves"... except, when I looked, I saw fluffy looking little algae legs. Anyone know what it is? Here are two pics: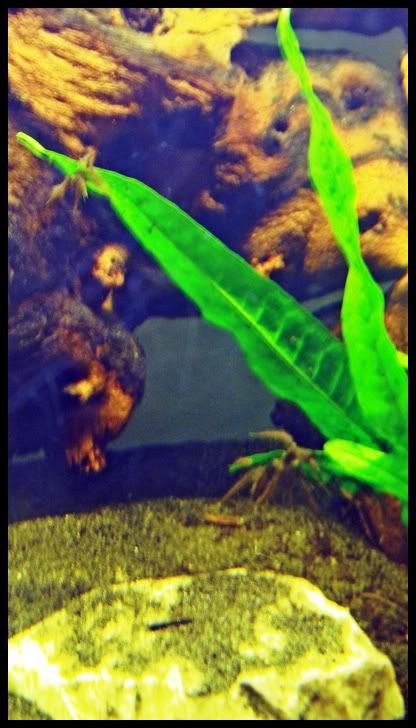 I took one of the stems out and pulled the algae off, it removes fairly easily but it does cause some minimal damage to the leaf. I noticed when I ripped the pieces off there are little green stem like parts that are at the base of the algae where it connects to the plant... I'm not sure what it is. If anyone can let me know it'd be appreciated
also, what can I do to get rid of it? Will Otos eat algae off of plants?
I can't see the pics well, but that's how java ferns propagate. They look like babies.

Sent from my LS670 using Tapatalk
Planted Member
Join Date: Jan 2009
Location: Canada
Posts: 172
OH NO I'm a MURDERER!

Why does it get roots on the top of the leaves? What a dumb plant (I'm trying to make myself feel better here lol)... what am I supposed to do with these roots? The fern doesn't even have roots in the dirt as far as I know, it was just stems when I planted it!!
BABY KILLER!!!

Lol, for some reason java ferns like to sprout baby plants out of their leaves (particularly on the tips). When they get too heavy they either fall off and float around until they attach to something, or weigh the leaf down so far that the roots grab the soil and it breaks off then. Pluck em off without breaking the new growth and tie them down to something to grow, or just leave them. I personally just leave mine alone most of the time, and only pluck them when they start to look like the leaf has tarantula legs.
Planted Member
Join Date: Jan 2009
Location: Canada
Posts: 172
Ugh they're such ugly babies though lol :p But I do feel bad honestly... BUT I didn't pluck 'em all
I guess its a good sign when the plants start makin babies... I'm hoping it is anyway
---
Check out my Journal!
**My 75g Newbie Build!**
They are called "daughter plants." It's how most ferns propagate.
Yup, they're a good thing, and if you have the patience, you can grow lots and lots of java ferns!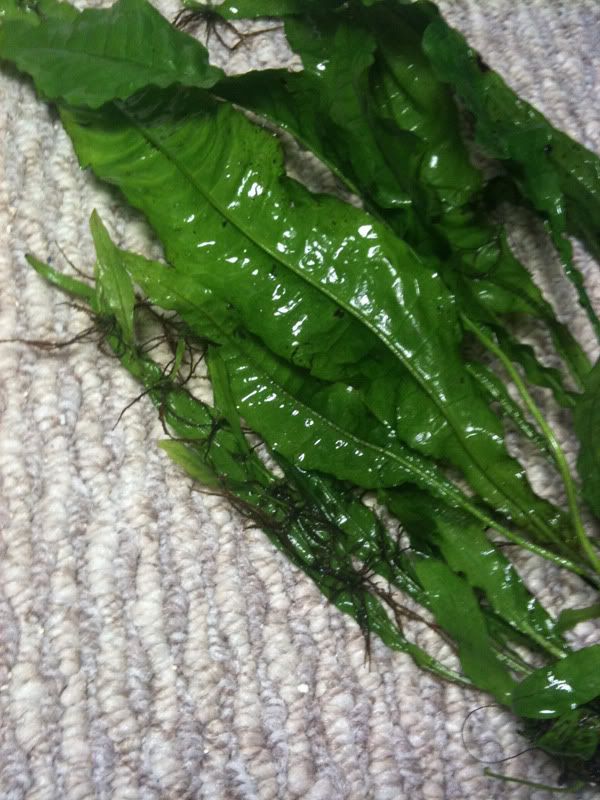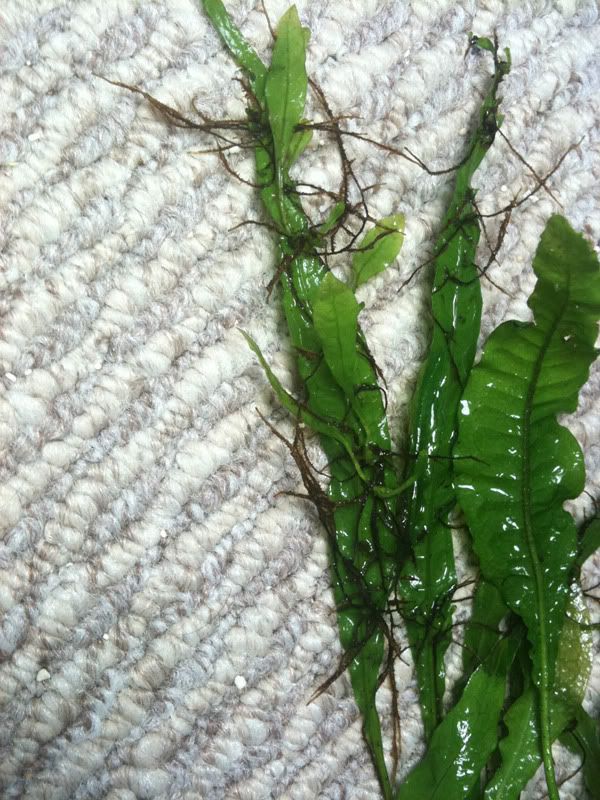 That's mine
You can see new leaves on the rhizome AND new leaves on the old leaves. It's a mad baby maker, but they grow so slowly it doesn't really cause much problem.
PS don't bury your java fern - the rhizome will slowly rot away and the plant will die. Instead, tie it down to a rock or chunk of driftwood with rubber bands or thread, and it will eventually attach itself.