How to black out?
---
Please excuse the newbie question. I have some black/dark greenish algae in the tank. Its not bushy, its not hairy, its not slimy. I done a few tries where I haven't turned the tank light on for days, but its still had room light. So now I want to try a "black out". Do I just put a blanket over the tank? Will that bother my betta or shrimp? I put a couple layers of painters tape over the bottom where the algae is growing in the substrate to hopefully help that too.
Any other tips?
Algae in the substrate against the glass
Algae on the leaves and the filter
Planted Member
Join Date: Aug 2011
Location: Greeneville, TN
Posts: 263
Throw a thick blanket over it for three days. How much light do you have and for how long? A blackout will only temporary fix the problem.
---
SunSun Pimp #57
I didn't have any blankets, but just wrapped it in tinfoil. I feel bad for my fish and the shrimp, it has to be black dark in there!

Usually we turn the tank light on before school (8:30ish) and then at bedtime (9-10ish) so its probably getting too much light. We have a timer I can attach, what is a good light span? The bulbs aren't anything fancy, just aquarium bulbs (I'll see if I can find the specs to be more specific).
---
The Fraternity of Dirt
If at first you don't succeed,,, keep kicking it
RubberSideDownOnTheLanding,
2-75g planted, 5-55g planted, 5-20g planted, 110g w/30g sump, 8-10g,
Refugium,
doghouse/newbie
2012 update adding table top pleco pans & a 90g (Nutz)
ottos will clean that up for you
and the algae on the glas, you can clean of with a magfloat or a little sponge.
I use black garbage bags to black out + overdose excel.
---
IBC and Shelve Aquaponics
Show your aquaponics

125g Breeding group Tilapia
2x 75g+ 40B Tilapia outgrow tanks
20H Philippine blue Angelfish breeders + fry
20L CPD and Shrimp tank
10g Apisto Gibbiceps
Bengal: Meisje
Savannah Cat: Kimchee
Though there are many ways to black out, a popular one at the moment is Four Loko. As I don't think it would be good for the fish, I'll second the suggestion of black garbage bags.

Just note that this is more of a band-aid then it is a fix. If you do the blackout without getting to the root cause, the algae will likely come back.
garbage bags are second best only to a dark heavy blanket if you have them of course.
Don't forget to do aggressive water changes and clean the filter media afterwards to remove the dead algae. Good luck!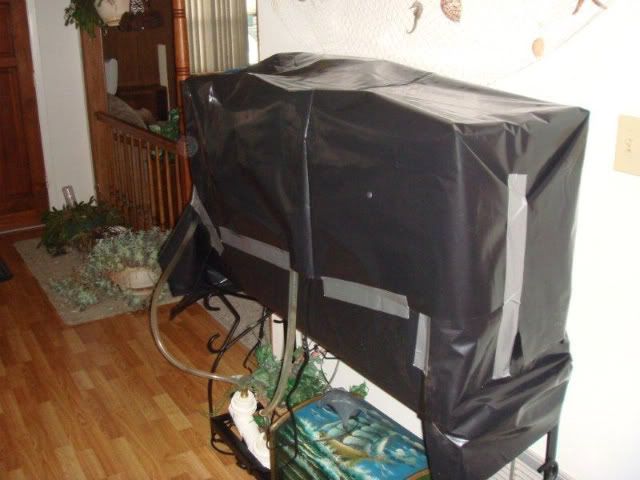 4 days
---
The Fraternity of Dirt
If at first you don't succeed,,, keep kicking it
RubberSideDownOnTheLanding,
2-75g planted, 5-55g planted, 5-20g planted, 110g w/30g sump, 8-10g,
Refugium,
doghouse/newbie
2012 update adding table top pleco pans & a 90g (Nutz)