Brown algae/filamentous algae... am I taking the right steps?
---
My 6.6gal betta tank was doing great there for awhile but has recently exploded with brown algae. It's been set up for a month or so now? So it's fairly new tank I suppose. I also have this really weird, brown, slimey stringly algae that is attaching itself to the tips of my plants. (Kicking myself for not grabbing some pics before I pulled most of it out)
I did some research and am going to try changing a few things and see if that helps but I wanted to make sure I was taking the right steps...
- Decrease light cycle from 12hrs to 8hrs (or will that even make a difference? I have a 15w 6500K bulb.)
- Stop using liquid fertilizer (I also have root tabs, which I will leave in)
- More water changes (50%, twice a week)
The tank is filtered and kept at 82 degrees. The plants I have are: anacharis, dwarf HG, baby tears, some crypts. I don't use Excel or have any CO2. (I'm not interested in getting a CO2 setup, but I could get some Excel if it would help?)
I plucked out as much of the stringy stuff as I could without disturbing the plants (it's really wrapped itself around some of them), and am going to get something to scrub the brown algae off the glass today after work.
I have a nerite snail but he pretty much fails at life... barely moves and definitely doesn't help with the algae problem. Should I get another one? Or is there a better type of snail for this? I can't really make any permanent fish additions to the tank because of it's size and the fact that I have a betta. I'm hesitant to add any shrimp (also because of the betta), but I don't think they really eat much algae anyways?
?
Planted Member
Join Date: Mar 2006
Location: Modesto,ca
Posts: 240
Its hard to tell what your light intensity is since your tank is so small. I'm not sure you really need c02 with that much light. However c02 will definetly help. I wouldn't recommend excel since it might melt your anacharis. For like 5 bucks and about 5 minutes work you can make a diy yeast based c02 rig. Do a search for yeast based c02 on this site. What filter do you have? proper flow and filtration are important for algae control. What ferts were you dosing and how much? I wouldn't completely stop dosing because that is not going to get rid of your algae, and you will just starve your plants. Lowering your light period will help but it won't fix your problem. Nerite snails are as good as any other snail for algae you can probably put a couple more in you tank.
I wouldn't stop fertilizers through the water column. Other than that, you are taking the right steps. This generally will collapse on itself and then new tank will be established. You could lower the temperature to 78 or 80. I know bettas are generally thought as warmer loving fish, but they will do fine at 78 and the algae won't grow as quickly. Higher temperatures, faster growth.
Thanks for the tips! I will lower the temp, didn't even think of that and you are right, bettas do fine in the upper 70's (my other betta is kept at 76, until I can get a better heater for him
)
I'll start using the liquid fertilizer again... I'm using the Flora Pride by Tetra (5ml each water change)... I know it's not the best, and I can switch to something else if it would be better for the algae problem. I'll also pick up a few more snails. I need one for my other betta's tank anyway!
The filter is just the one that came with the tank,
here's a link
. It seems pretty powerful, I had to baffle it for my betta with a plastic water bottle to redirect the outflow and it still seems to create a pretty powerful flow, just more like at the middle level of the tank than at the top if that makes any sense.
I will also look more into the yeast thing, I have read some of the articles on here and considered it, but didn't think I would need it with such a small tank.
You are welcome! The reason I wouldn't stop dosing, especially since you are using such a weak fertilizer, is because this will often hurt your plants and in turn cause more algae problems because weak plants are susceptible to algae.

For now, I'd stick with the method you are doing and wait a few weeks. You may see you don't need co2 or more ferts than the ones you are using (tetra pride and root tabs). I am thinking you might now. Also, if you don't want to use co2, look into Seachem Excel. It is a great alternative and with a tank that size, a small bottle should last months if not a year.

That is a nice little tank. I like it. Have you cleaned your filter lately? That can help clear up the algae.

However, the algae you are describing is quite normal to new setups and I wouldn't be surprised if you wake up one day to just seeing it retreating on it's own. IF it isn't getting any better in a month or your plants aren't doing well, then I would look into changing more.

Patience is the hardest part of the hobby.

By the way, I just looked at your tank, and it looks really nice. Appears to be maturing nicely. And Ammo is gorgeous! Welcome to TPT!
Thanks again! It is a really nice little tank, I'm very happy with it. Haven't posted pictures recently due to the algae invasion!

I'll keep up with the liquid fert then (and I definitely plan on getting something better when that runs out). I may try Excel, my anacharis isn't doing so hot anyways. Probably wouldn't hurt to clean the filter too. Patience is difficult! :P
Planted Member
Join Date: Mar 2006
Location: Modesto,ca
Posts: 240
Nice betta I miss my halfmoon.
Ah yes, patience is the hardest part of the hobby for me and others struggle as well, so you are in good company. Post pictures of the tank at it's worst. That way, you will be proud of how far you've come. You should see some of the disasters I've went through. They don't call me the Algae Queen for my green thumb.
Alright, you asked for it :P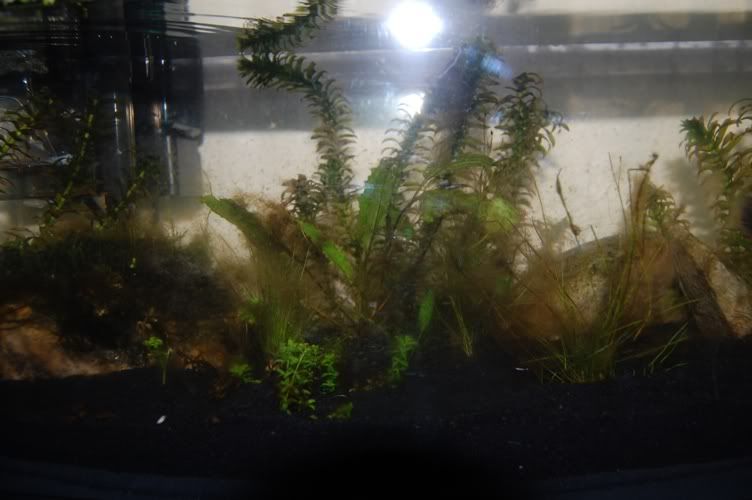 Last night I added two more snails (and took out the old one). I also lowered the temp, its now at 79 (my heater is a little off, I set it lower than that so I'll turn it down a little bit more again)... and set my timer for 8hrs of light instead of 12. Now just gonna keep up with the water changes and wait, I guess!