kcirtappatrick - dosing the full line of Seachem products according to
this guide
. I'm wondering if it's the emersion-submersion transition, too. Seems like a bit of a delayed reaction from the plants -- they looked so happy earlier this week -- but it's possible.
Dollface - I kind of hope that's the case. I'd rather not have to constantly add baking soda to the water to correct for KH issues. It's funny, I'm not as worried about the HC as I am about the UG. Probably because I've kept HC successfully before, but this is my first try with UG so I'm babying it.
Did you purchase the terrestrial form, or the aquatic form?
Aquatic form. I put 90% of it into the nano and have a small emersed culture growing separately. It seems to have adjusted to emersed life very well.

It's possible that going submersed-emersed-submersed in the nano has shocked it.
Planted Tank Guru
Join Date: Sep 2008
Location: Alameda, CA
Posts: 2,214
UG goes from submersed to emersed easily ime. I don't have any experience with emersed to submersed though, I have a feeling it might be a little trickier than the other way around. But hopefully it should bounce back, UG really isn't as obnoxiously delicate as some people make it out to be.
---
Wabi Kusa is just an Aquascape Katamari
Well, so far I've lost about four square inches of UG, including the pretty little lawn in the right foreground. It's as if the rot keeps spreading further and further back along the runners; every day there's a bit more melted.
Tank seems to be in the nitrite-to-nitrate stage of cycling, with nitrites really high at the moment. So I wonder if high nitrites have anything to do with the melting. Just in case, I did another 50% water change.
The good news is, after throwing a red ramshorn in and letting him clean up the melted leaves, I can see a tiny bit of new growth budding out. Here's hoping for that bounce back.
Planted Tank Obsessed
Join Date: Mar 2009
Location: Mililani, hawaii
Posts: 354
i think the plants are just adjusting to your tank or transitioning from emersed to submerged. i'm sure your plants will start to come back given time. whenever i see my plants melting off or starting to look unhealthy i just do water changes more often. usually works for me. anyway, good luck with the plants! keep us posted
Newbie
Join Date: Oct 2009
Location: new york
Posts: 1
I love the hardscape. I agree with mgdmirage, need some taller background plants in the end. Great start!
AndThis great pictures, thank you for sharing them. I will return to put the picture on your forum and you'll find them great.
Apologies for the long wait. Don't worry, I didn't forget this forum, I just got sidetracked by some random events in my life (possible Lyme disease late last month... weird). But, I've kept a photo log of the scape's progression over the past few weeks, and here it is:
Added Rilix, my old betta, in mid October. Ignore the HC-covered rock on the right, I was temporarily storing it.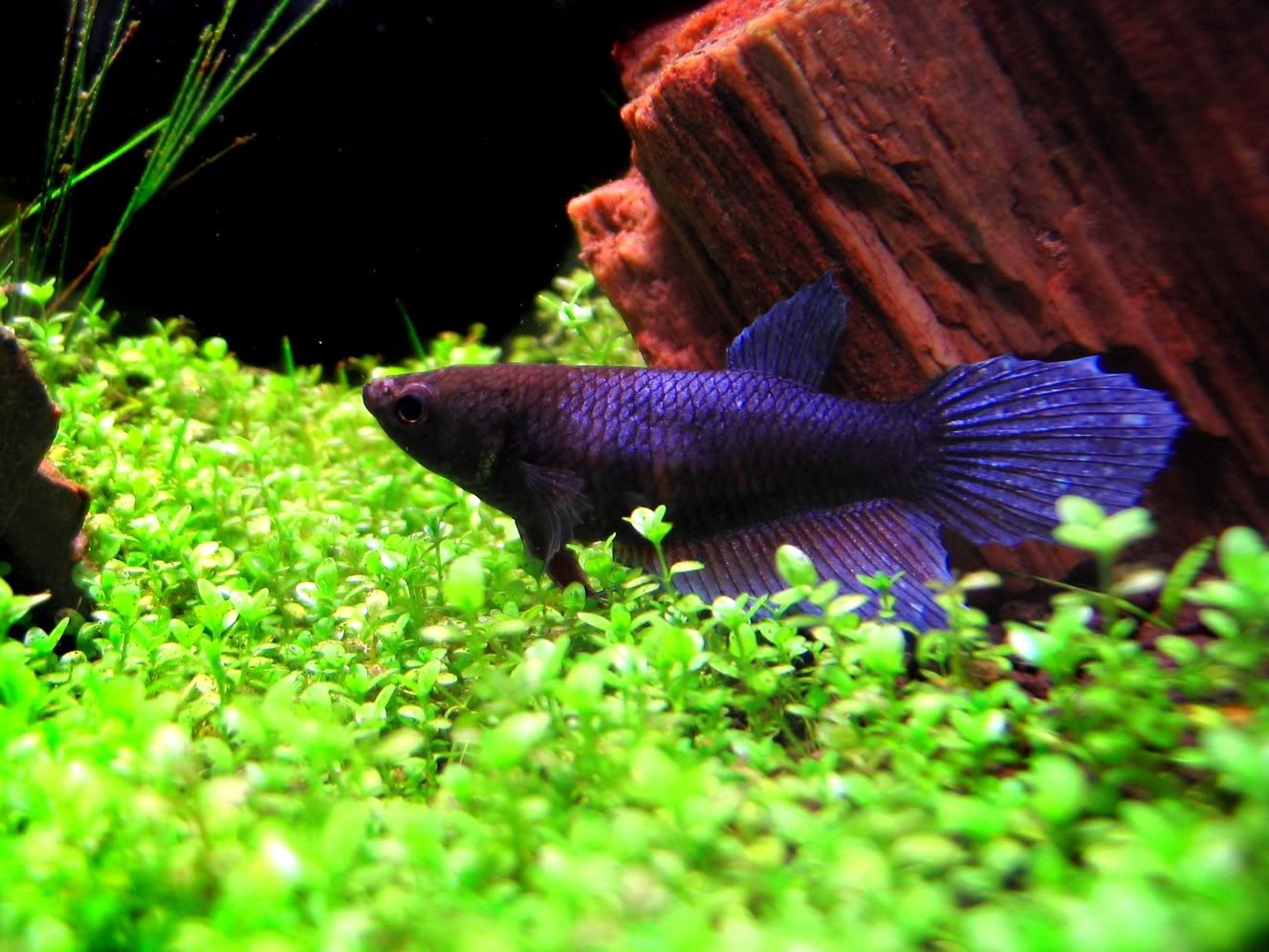 Rilix hanging out in her new home. Old betta girl is nearly 3 years old and partially blind in both eyes. Doesn't stop her from being a fiesty little nipper.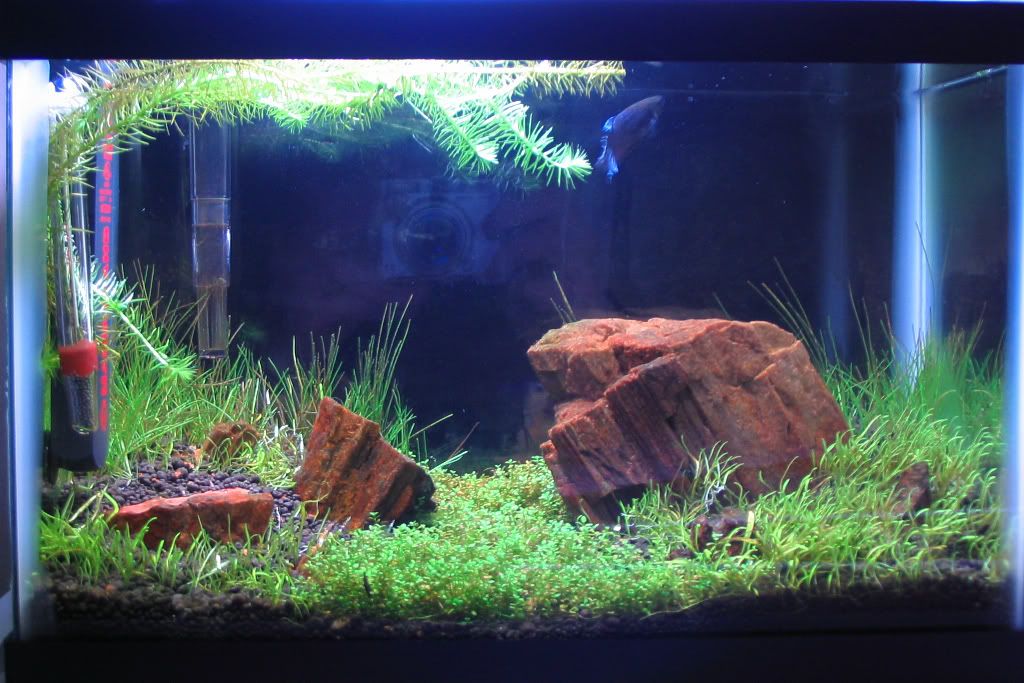 Early November. Floating some Mayaca fluviatilis on the left. Some areas of DHG and UG began to rot, for reasons I don't know. Had some trouble with Green Dust Algae.
Mid November, added Mayaca as background plant.
November 25.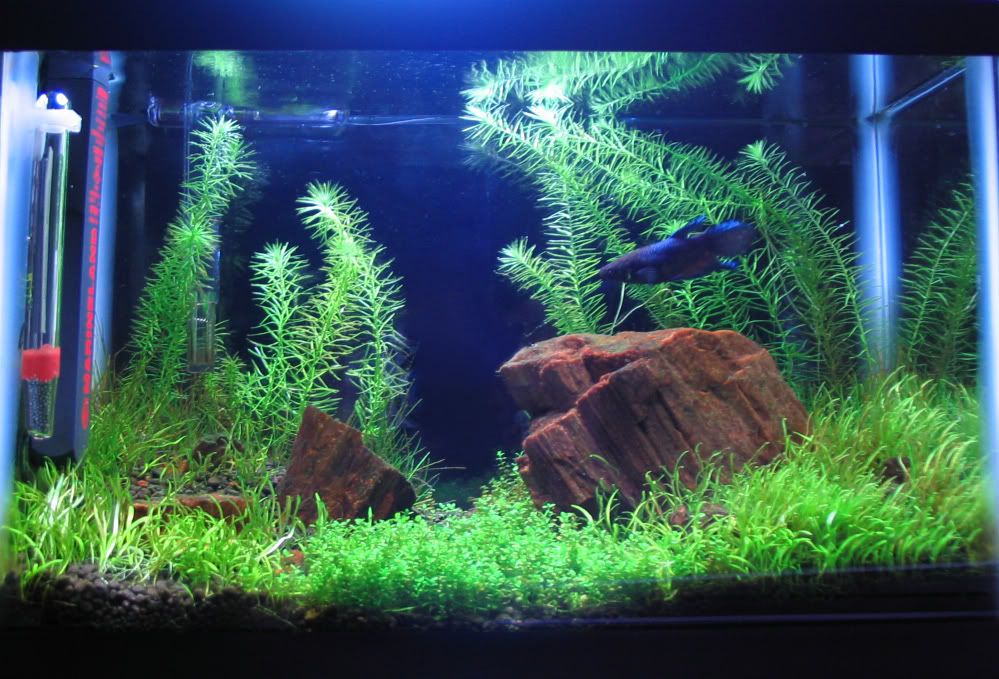 From a few days ago. Removed a patch of HC in the back left of the "wash" where the roots/base had begun to rot (no idea why! ugh). UG still hasn't filled in a few areas on the left where it suffered a melt back. DHG is flourishing in some parts and rotting in others (I think the parts that are rotting are the original emersed plugs I set in the tank). Mayaca's doing well. Green dust algae is still around but I've gotten it mostly under control by knocking it off the glass with a toothbrush every day. There's some cyanobacteria and thread algae that seems to be trying to take a hold on the plant tips, but so far it's very contained.
Still trying to figure out the optimal dosing schedule for the tank.
I think I may need to up the nitrogen dose.
My LFS sells small banana plants... I'm thinking of taking the tropical feel of this tank even further by adding a banana plant on the left, and maybe some sag behind the large stone. Soon this will be more "Jungle" than "Arroyo"!
@kkcirtappatrick - you were right; the plants bounced back!
@firudwhi - thanks! I took your suggestion and tried a taller background plant, the mayaca, and I think it looks great.
New mission - raise nitrates. I think that's what's hitting the plants so hard. Last time I tested, nitrates were about 0 PPM. I've been dosing by
this guide
, but I think the nitrates aren't enough for my carpet of UG. That, and the betta doesn't poop much, so she's not a big help. So I'm upping my dose of Flourish Nitrogen.
I also need to throw a snail in there to eat up some of the rotted stuff. I'm torn between an olive nerite or just getting some free red ramshorns from my friend. I'd do shrimp but you know how it is with bettas. The shrimp would be an expensive snack rather than a clean-up crew.
Amazing tank! Where did you get those rocks or petrified wood? Whatever those things are, they are amazing looking.
Thanks! They're petrified wood that I picked up from my LFS.
Update: "Arroyo" is no more. Something just wasn't right with the tank balance, and the scape kept getting hit by rot and algae. Upkeep was becoming too much of a hassle: think daily glass wiping and lots of pruning on a weekly basis.

The tank is now a farm tank/holding tank for my excess plants. I can put up a photo if anyone's interested, but it's completely unremarkable as a scape (no more hardscape, just vaguely Dutch-style rows of plants). Not that the betta cares, she's happy either way.