My 10g Project
---
well i'm getting a 10g and going to plant it somewhat organized and i need imput
Now for the questions
is there any good 10g hoods/fixtures anyone would recamend to me so i can grow a large variety of plants without Co2?
Hows this stocking plan sound?
1 halfmoon betta
5 corydoras catfish (probably albino) if pygmy 7 cats
this design look good? (besides the sloppy drawing) Jk on the ADA i'll try...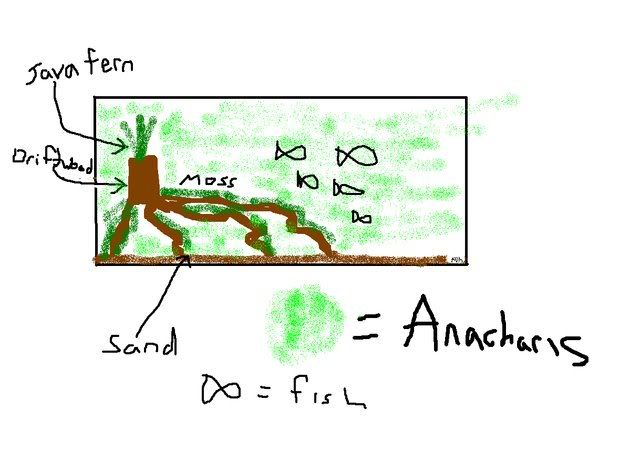 Hmm I wonder how the Anacharis would get out of the sides of the tank
Other than that, it sounds like a good plan
---
Eheim Classic 2213
Eheim Pimp #341

tank is setup using playsand and the filter is running but i have a very extreme case of mud soup
well i added 3 rocks to the right corner now just have to get driftwood (not sure if it will look like that) and wait for my java fern and peacock moss to grow (no problem with the moss just the fern)
nty i have no more room and i've got to get this one on it's way to a nice looking tank