Ed its in Socal. Some florist carry manzanita also.
Im thinking that my scape is looking one dimensional. I scaped it like I would scape a regular rectangular tank. I did not take advantage of the shape of a cube. Fishman9809's 30C has the right idea though. Im thinking of redoing it again.
Here is a current pic. There is an empty spot between the stems and the stones was thinking of planting HC there and adding stones at the base of the wood to avoid a wall of plants look followed by foreground.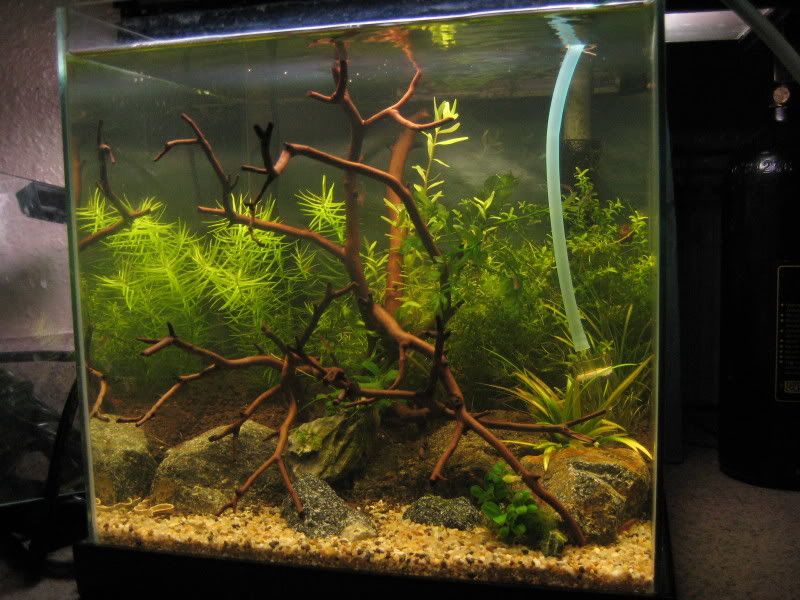 i really like how its coming together! keep up the good work
so you did it ha, the branchy like tree wood. Nice scaper very pro
---
20 Gal. JBJ 2x65watts CF, ADA Aquasoil, JBJ Pressurized Co2, Rhinox 3000 and Aquaclear 50 (Current Tank)
JOURNAL
Last Updated: April. 11, 2013
29 Gal. Coralife 130watts CF, ADA Aquasoil, JBJ Pressurized c02,Rhinox 2000 and Xp2 (RETIRED)
JOURNAL
Last Updated: Dec. 15, 2006
20L 65watts CF , 100 % Eco-Complete, JBJ Pressurized co2 w/ Rhinox 1000 and Fluval 203 (RETIRED)
JOURNAL
Last Updated: October 1, 2006