Wannabe Guru
Join Date: Jan 2004
Location: NY
Posts: 1,896
I wanted to experiment with a nanotank so I bought a 2.5 gallon AGA and a miniaqualight. For substrate I used some sand from a nearby river. I put some rotala, ludwigia and wisteria in it for plants. The light is a 10,000k and an actinic. I will try to find a 6,700 to replace the actinic, but for now I want to see how it goes. If anyone can share there experience with a non filtered nanotank I would appreciate it.
IMO, filterless would mean no nutrient/CO2/oxygen distrubution throughout the tank unless you had a small powerhead, etc.. going.

I just use the Azoo/Red Sea Nano filters. Not really for filtering, but just for water movement, and they're small with a barely noticable clear intake tube.
Wannabe Guru
Join Date: Dec 2003
Location: USA
Posts: 1,740
Agree with Daemonfly. You need something to circulate the water, and an excellent choice would be the filter he suggested - can't think of other that wouldn't cause a hurrican.
There's a section on
The All Wet Thumb
that is dovoted to the low tech approach called "El Natural."
Algae Grower
Join Date: Mar 2004
Location: S.F. Bay Area, CA, USA
Posts: 114
Hi, Doug! <waving>

Urkevitz, I've run the same tank with no filtration. It's so tiny, it's not really necessary. Then again, I had a 25W Hagen Thermal Compact heater so I imagine there was usually some heat convection helping to move the water a bit. I kept a few guppies, too. What I did for CO2 was to put an over-turned bottle cap on the "exit end" of the tubing to act as a rudimentary bell diffuser. It was more than enough to keep the CO2 levels sufficiently high, but a lot of this is going to depend on KH. One time I got very careless and the pH plummeted to way lower than was safe (especially for guppies). First thing that clued me in was the disappearance of snails. The lack of current really helps to keep the CO2 in the water.

Later, before the AZOO palm filters ever came out, I put an AquaClear MINI on the tiny tank. I liked having a filter, but I had to do a LOT to slow down the flow so that it wasn't a monsoon. I think I eventually took it off again.

I do know of somebody who has the same set-up as yours, does NOT inject CO2, fertilize, filter, or heat his tank, and grows a ton of erect moss beautifully. He set up this tank specifically for keeping and breeding shrimp. He e-mailed me a photo of the set-up and it's beautiful.

Anyway, I found it unnecessary to have filtration, but now that they have these AZOO/RedSea palm filters, I just go ahead and use them. They don't hurt, and the fish seem to prefer a little current.

-Naomi
Wannabe Guru
Join Date: Jan 2004
Location: NY
Posts: 1,896
Today I replaced the actinic with a sylvania CF. I think t is 4100k, Now the plants are pearling. The new bulb is very orange, but with the 10,000k it looks like the same color as my 55g.
Hi Naomi <waving back>
I ended up going non filtered on my new 1.5 gal hex.
I used gravel from one of my running 10 gal tanks, and water out of my 55 gal. (start out with a good bacterial population this way)
I put in 3 White Cloud Mountain Minnows, and 1 Ghost Shrimp.
I used the White Clouds so I could run it without a heater.
I used the little air pump that came with the hex and an air stone,
I used a 10 watt 6500K compact fluorescent in the hood
I feed lightly everyother day.
It's been up and running for just over a week, and so far so good.
Pic below.
CD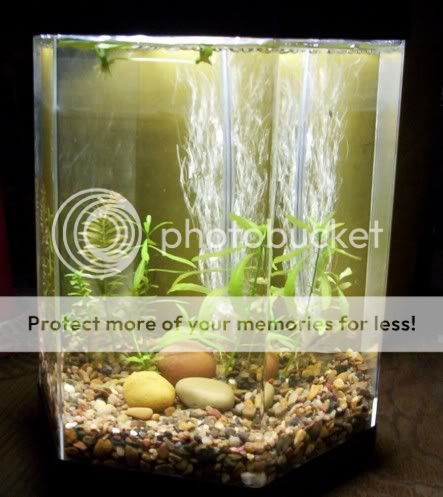 Algae Grower
Join Date: Mar 2004
Location: S.F. Bay Area, CA, USA
Posts: 114
Heya... What a cute tank! I've been tempted in the past to get a hex, but at the time, it was very difficult to find any type of fluorescent lighting for it. Well, if I were you (and of course I'm not), I would try to stuff more plants into the tank and just do away with the air pump. This way, the plants will do better without the air bubbles driving out the CO2 and the fish will get enough oxygen from the healthy plants. You may also want to add fertilizer. See how the newest leaves are growing out sort of small? That's a pretty sure sign of nitrate deficiency. Of course, with that amount of lighting over such a small tank, ferts are going to get used up really fast - if not by plants, then by algae. DIY CO2 would be helpful, too.
Another thing - thought I'd suggest Heterandria formosa for a non-heated tank. They're small livebearers with the common name "least killifish" (misnomer - they're not really killies). I've been told that they can easily tolerate temperatures down in the 60's and even 50's. Some guy in SF said that in winters past, he's left a bunch of them in a barrel outside on the deck and they were fine. The water typically got down into the 40's. I've kept white clouds in an Eclipse System Three, and they just looked so out-of-place, trying to zip around at breakneck speeds; I think they're not really suitable for tiny tanks, but you may have a different experience. Amano shrimp are good for non-heated tanks, too. They're not a tropical species so they actually prefer slightly lower temps.
What are those floating plants?
Oh, also, there are plants that actually grow better in cold water. Some of these are Lysimachia nummularia (regular and 'aurea'), Cardamine lyrata, Hottonia palustris, Anacharis, and I think the Hydrocotyle spp. They also need quite a bit of light, but I'm reasonably certain that you have enough, there
.
I love the rocks and gravel you use. They really make me think of the desert, with their warm tones.
It's a really sweet little set-up you've got! I might consider getting one for myself, but I'm already in the planning stages for a non-heated 4-gallon 'long'. Would love to see what your hex looks like a few months from now... Great start!
-Naomi
I will be adding more plants soon.

Haven't added any ferts yet, just the mulm that came with the gravel from one of my 10 gal tanks

The floating plant is Frogbit, which is like a tiny little cross between Lily Pads and Water Hyacinths.

The White Clouds do seem like they miss the 20 gal tank they were in, but the Ghost Shrimp seems to be really loving his (her?) new home.

Thanx for the compliments.

CD