Wannabe Guru
Join Date: Mar 2011
Location: Little Neck, NY
Posts: 1,605
new 3.4G TruAqua tank on the way...!
---
so... impulsively, on a Friday afternoon (5 mins ago) after a nice big lunch.. I bought the TruAqua High Clarity Low Iron Glass Aquarium HCA-12, 3.4 Gallons here:
http://www.truaqua.com/high-clarity-...um-hca-12.html
I currently have the cube version after reading jake's threads and I LOVE it.
I've been eyeing this tank for some time, and have been seriously restraining myself from buying another tank as I already have 2 at the moment. But I recently acquired a set of Elassoma Gilbertis again and "need" a dedicated tank for them to breed and hopefully share with you all soon.
No specifics yet, I am looking for some direction from you all however.
I realized I've always done moss, some foreground plants, and that's about it. I'm trying to expand my understanding of plants other than just h.c. glosso, and all the mosses.. hehe
However though, I think I am leaning towards keeping this a low light, low flow, low fuss kinda tank. Wondering if that'll keep me from success from other plants.
Substrate will most likely be sand
Light.. Likely a Finnex Fugeray
Filter: a spare azoo palm filter laying around.. I may switch to AC20
Fish: Elassoma Gilberti
Plants: need your help. looking for low/med light required plants that can grow dense. I don't mind the messy, filled in look as long as the plant selections are very intentional.
I recently saw this by Tom Barr on a nano thread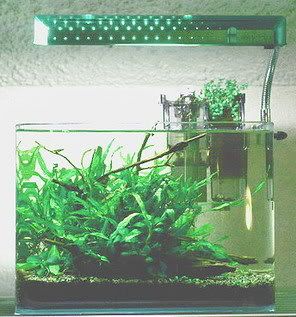 and would like to achieve this kind of look. I think that's a lot of needle java fern correct?
---
Last edited by gnod; 01-10-2014 at

05:07 PM

. Reason: edit
Wannabe Guru
Join Date: Mar 2011
Location: Little Neck, NY
Posts: 1,605
so have been researching a bit into what plants i'm planning.. here's what i have.

definitely the NLJV, ELEOCHARIS ACICULARIS. CYPERUS HELFERI and/or DIDIPLIS DIANDRA..

thoughts? i think instead of root tabs, i'll divide 2/3 of the tank substrate on one side with AS and the rest with sand.