Algae Grower
Join Date: Nov 2013
Location: NW Ohio
Posts: 14
mini bow 5
---
I have a mini bow 5 betta tank that has been up and running for a year. The kids completely lost interest, so I'm going to make it mine. I have been reading a lot, but I have never kept any plants before.
What I've done sofar:
Ditched all the colorfull "kid" gravel and decorations.
Replaced with about 2" of fluorite dark. (I still have 1/2 bag left)
Replaced the bulb with a 13w 6500k daylight twisty bulb.
Added a small piece of driftwood that I boiled and let sit in a bucket of water for a day.
Put in a plant order for Moneywort bacopa, bronze wendtii, and Vesuvius sword.
Put in another order for a 24w cfl, base, and suport clip. (Looks like itl easily fit in the hood) ill DIY the balast from a 24w twisty cfl I have.
There is already some duckweed in there. The petstore people said it would clear up the algae. And it helped a lot.
So I don't have any real questions at the moment, but I am open to any input that might help me out.
What a mess this fluorite made.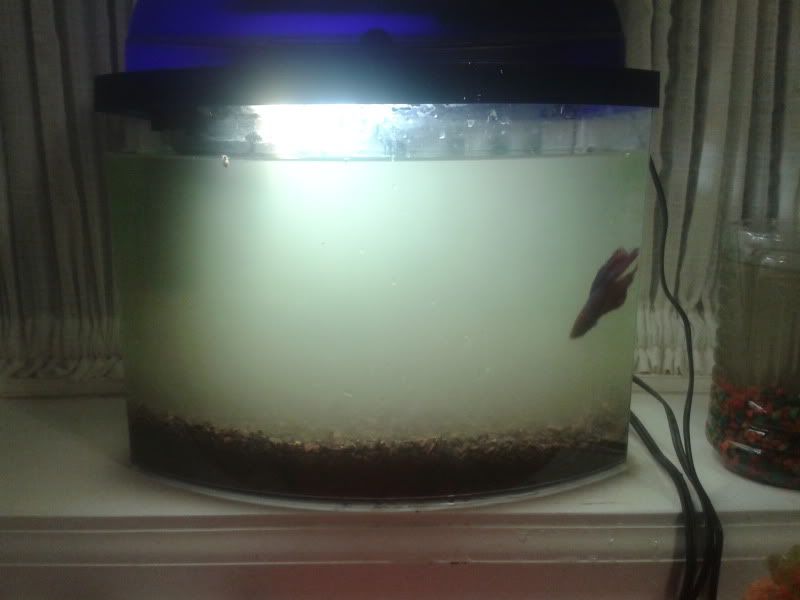 Sounds like you have a good start.! Can never go wrong with more plants. Chock it full of 'em and lessen your water changes. I'd suggest root tabs (for root feeders) or picking up some flourish comprehensive or both lol. I like the seachem tabs over the Api ones. In my tanks they last longer. 1 dose of flourish comp a week would be a good place to start imo.
---
Last edited by Aurie; 11-25-2013 at

02:31 PM

. Reason: Stupid phone autocorrect
Planted Tank Enthusiast
Join Date: Jun 2013
Location: Lubbock, TX
Posts: 606
Jam it with plants! My Bettas are much happier in heavily planted tanks.
I've got a lot of crypts in my betta tanks since they prefer low light and tannins in the water.
I've also got tons of moss, and floaters. I've got duckweed, frogbit, and salvinia minima.
Lots of low light fluffy stem plants as well, my Bettas love swimming through and around them. Cambomba, parrots feather and a lot of rotala.
Enjoy your new project!
Algae Grower
Join Date: Nov 2013
Location: NW Ohio
Posts: 14
I might get more plants, but I don't really want a jungle. I kinda just want to be able to watch a few things grow/evolve while keeping some open space for mr fish to be on display. I don't have a concrete plan at all. Not how I operate.

And I diddnt see any info about weather the plants were rootfeeders or not. I just compared the info on the store site to the info on the plant listing here and picked out ones that seemed like they would work.

Yet more homework to do. But the plants won't be here for 2 days, so there's time.
I have an open swimming space in the middle of my betta tank with plants on all sides and floaters. Gives me some viewing space, and my guys loves to play in his plants and floating log. More plants not only benefit the environment, but they LOVE to play, squeeze into all the spaces, hide and sleep on leaves.
Algae Grower
Join Date: Nov 2013
Location: NW Ohio
Posts: 14
The dust settled out nicely overnight. Put on a black background. I like the background and it doesn't appear reflective to me, but fishy is pissed off and keeps posturing like he is gonna attack the wall.
I stopped at pet suplies plus again for the background and they had all different plants then they did last week. Even 2 of the ones I had on the list of possible things to try. Guess you have to check often because shipping was 2x the cost of the plants I bought.
Cell phones just can't take a good picture of an aquarium, I don't think. It actually loks quite good. Hopefully better after by box shows up.
Algae Grower
Join Date: Nov 2013
Location: NW Ohio
Posts: 14
Well my plants were suposed to be delivered today by 8. But no fed-ex delivery here. The tracking says it was checked in at the sort facility but never left. Tomorrow being thanksgiving means they won't get here till Friday. Any chance they will survive 4 days in shipping with probably below freezing temps?
they should if packaged right, it should be in some insulation foam and in bags. Though I would let them sit in thier bags on your tabletop till they come up to ambient temp naturally so they dont get any freezor burn. If there are any crypts it will probably force them to melt pre-maturely, just gotta be carefull when planting them.
---
~Pink's Tank:~
14 Gallon Tall Aquarium
Picture link Soon