Algae Grower
Join Date: Oct 2012
Location: Chicago
Posts: 18
3 Gallon DHG Tank: What am I doing wrong?
---
Hi all,
I've had my 3 gallon JBJ Picotope running for about 2 months now and am seeing really poor growth with my DHG. I feel like my setup is strong enough to see good growth but it looks like the grass thats alive is just staying alive and not growing. I also had a lot of initial die off when the tank was filled.
This was started as a DSM tank for about two weeks and then I filled it.
Here are the specs on the tank:
Aquasoil Amazonia regular size
3 WPG for 8 hours per day
35% water changes every week
DIY CO2
Ferts:
I'm using Seachem stuff since the tank is so small. I converted their suggested fert schedule to drops since I use a dropper.
Sunday:
Flourish 7, Excel 30, Iron 12, Phos 6, Nit 6, Pott 12
Tuesday:
Excel 16, Iron 14
Thursday:
Excel, 14, Iron 12, Phos 6, Nit 6, Pott 12, Flourish 7
Saturday:
35% water change
There are some strands that grow which I trim with each water change but so far no horizontal spreading, only vertical regrowth.
I was running the original HOB filter that came with it, but it died on me so I picked up a replacement from the pet store. The pet store one has a charcoal filter but I haven't noticed any difference between the two.
Any suggestions on what to tweak would be really appreciated. I'd love to get this tank growing for me and I've heard that DHG spreads really well but I don't know what I'm missing.
Thanks.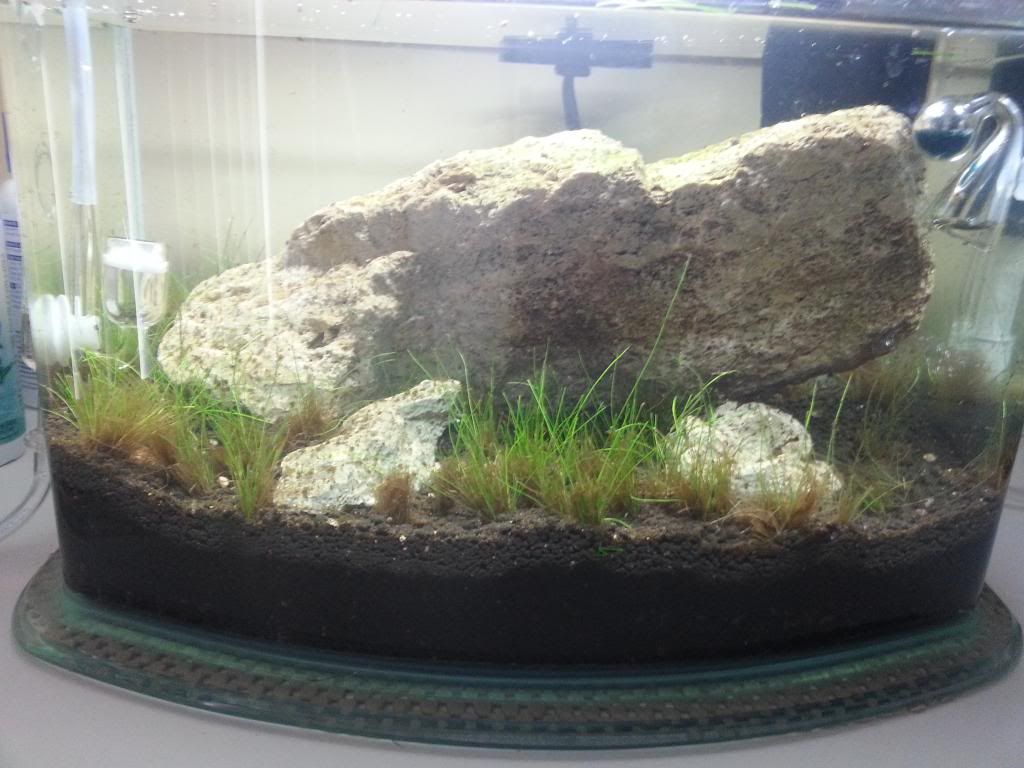 What type of light are you using, also your drop checker is blue, is the DIY CO2 actually producing CO2?
---
Nothing Ventured. Nothing Gained.
theres no bubbles from your co2, sooo you are probably not getting any co2. But what kind of light are you using? as in what temperature spectrum? It needs to be at least 6500k.
Algae Grower
Join Date: Oct 2012
Location: Chicago
Posts: 18
Sorry guys. Should've mentioned that I was refilling the yeast bottle so no CO2 and just did a water change so the drop checker is blue in the picture.

There are normally a stream of bubbles coming out and the checker is green.

I'm not really sure on the light. I know that it is a 9w 6500k that I bought to replace the 9w 50/50 light that originally came with it. Its using the stock JBJ light fixture.
---
Last edited by Rexor20; 06-29-2013 at

11:37 PM

. Reason: udpate
Nothing wrong here, it's just making it's change. Just cut off the dead brown parts and wait for it to send out new growth. It's fine, keep doing what you're doing and it will come back.

Trim only the dead parts, or the really tall leafs. My DHG does this all the time when I replant from my farming stock.
---

ADA 60P
|
ADA 60F
|
ADA 30C
|
Fluval Edge[6g]
|
DIY Diffuser YT
E-series E60
on ADA60F -
MicMol AquaMini
x3 on ADA 60P -
MicMol AquaPro
on ADA30C
Wannabe Guru
Join Date: Aug 2011
Location: Centennial,Co
Posts: 1,836
+1 I agree it is doing fine. I grow DHG without co2 at all. Just give it time.
You could put the CO2 line into the intake of your filter, it could help the spread, but it might not matter in such a small tank.
Ime hairgrass can take its sweet time before you know it you'll be asking how to keep it tame. I've read that giving it a haircut may stimulate new lateral/spreading growth.