Starting up a one gallon nano.
---
I was out today and this bowl for cheap. I had some Flourite left over from my six gallon tank I just set up so I decided to try a small bowl. Worked on a layout today that contains both rock and driftwood, however I think I might have made it too crowded. Still deciding on plants, right now I am thinking of using dwarf hairgrass, but I don't know what else. Comments and ideas would be greatly appreciated. Thanks. I'll keep updating as I go along.
---
Last edited by AlaskaRiver; 02-13-2006 at

04:41 AM

. Reason: Title
Algae Grower
Join Date: Jan 2006
Location: MN
Posts: 87
What are you planning on using for lighting?
---
55 Gallon FOWLR Saltwater Tank

2.5 Gallon Pico Reef

Two Bettas
I have a desk lamp that I am planning on using. Right now it has a "plant" light bulb in it, but I think that this will make the tank too hot. So maybe I will get a screw-in fluorescent, not sure what wattage, does anyone have any recommendations as to what I should use?
Planted Member
Join Date: Dec 2005
Location: San Jose CA
Posts: 218
where you get your bowl from was it the world market?
No H2O plant, sorry to say not that cool of a place. It was a good old target special, found it where they sell the house plants for around $10. Here is another picture, more from the side. I still cannot get a good picture of it that shows the depth of it, all of them look smaller than in person.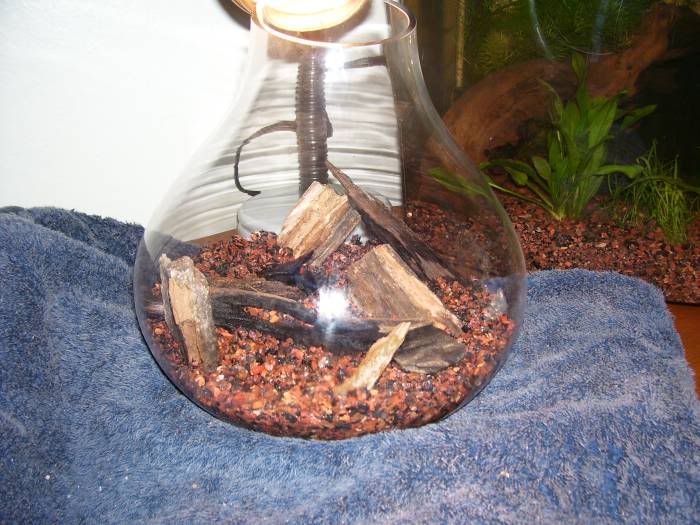 Algae Grower
Join Date: Aug 2004
Location: Athens, GA
Posts: 57
I think you are correct . . . we do have exactly the same bowl!
Good ole target special.
Let me know what your experiences are taking pictures. I am having issues with the curved shape of the bowl.
I was able to spend a little time putting in some plants a few days ago. Nothing to fancy. This bowl is my little experiment, I am planning on not using a filter or a heater and seeing how it works. I don't know if I am going to put any aquatic life in it or not.
I was wondering if anyone has tried something similar without any fish or shrimp and how it worked out. One thing that worries me is how to control algae without any animals? Any information would be very helpful, thanks.
Sorry about the pictures, the curve of the bowl along with the water make taking a good picture impossible.