You totally inspired me! I went the old school fish bowl route with a Betta. I used MGOPS capped with a "bio-active" sand (I think it is seeded with bacteria to help establish the environment). Started just a few days ago and added "Gary" the Golden Mystery snail (thanks Spongebob), and the Ziggy the Veiltail Betta today.
I threw in Wisteria clippings a banana anubias, crypt and a bamboo shoot that I hope will grow out of the top.
Thanks for the inspiration!
For a betta tank, I really wouldn't recommend no tech. At the very least, bettas need a heater and a filter, which means fairly stable temps, making them unsuitable to be solar powered. The sunlight, even indirect sunlight can have a pretty strong effect on the temps in these small containers, which as you get smaller, the effect becomes more extreme.

There is also pretty low bio limit on what these jars can sustain. With a no-tech like my jar, a single shrimp and a bunch of snails is all I feel comfortable putting in there. You'd need a lot of fast growing plants to keep up with the waste production of the fish, not to mention the regular water changes.

Really it's a good looking bowl, and plant wise it looks fairly good (keep the leaves of the bamboo above the water), but I just wouldn't have a fish in one of these.
What a beautiful bowl - really happy to have inspired such a lovely scape
If/when the bamboo grows up through the top, it's going to be such a stunning piece!
Like Kehy said, this isn't a good environment for a betta - even my largest bowl goes through some whack temperature fluctuations, I honestly don't know how the snails manage - but shrimp or snails are perfect for this set-up. Get a nano tank for your beautiful betta - something 2gal or bigger, with a hob or sponge filter, and a nice little heater. A pico cube can look stunning for a betta! And cheap too; my first betta set-up was $100 not including plants.
I have another really low tech bowl in a 5 gallon terrarium. All I give it is light for the plants and food for the shrimp. It's under 10,000k LED lights, but it does seem really blue compared to what I'm used to...Everything grows under them, just slowly. I'm using the bowl as a place to selectively breed some blue rili shrimp.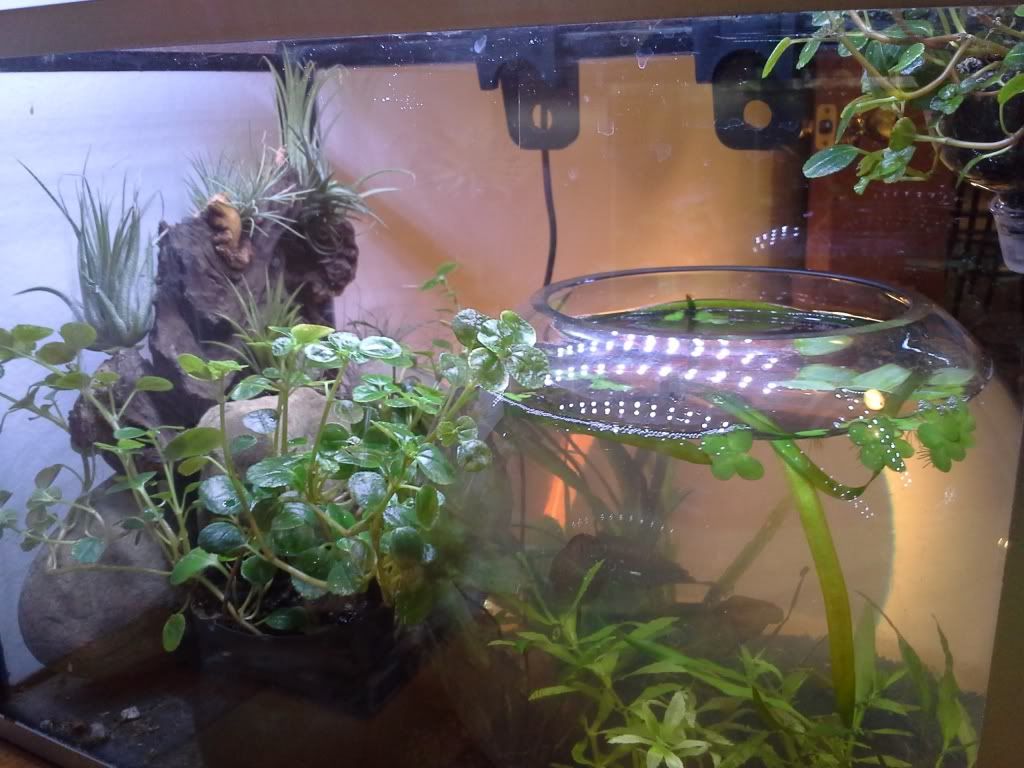 Algae Grower
Join Date: Feb 2012
Location: Houston, TX
Posts: 77
love these bowls!!
keep up the awesome low/no-tech aquaculture!
Newbie
Join Date: Jul 2015
Location: United States
Posts: 1
I have a few jars that I've converted into little tanks

Fanta bottle contains hornwort, Fluval substrate, and ramshorn snails.

Big jar has wisteria, aqua fern, hornwort, watercress, and a lucky bamboo. Black Fluval substrate with epoxy coated river gravel. Contains red ramshorn snails, feeder guppies, and ghost shrimp.