My Planted Fluval Spec V
---
Don't you love awesome camera phone pictures?
I finally got the planting done in my Spec V last night. I'd been putting it off until I had a couple of hours to spare.
Equipment:
Fluval Spec V
Stock (modified) filter
Stock lighting
Hydor 50W submersible heater (in pump chamber)
Flora:
Purple Cabomba
Marsilea Minutia
Hydrocotyle Japan
Flame, fissidens, and peacock moss
"Dwarf" sag
hygrophila bold
1 weepy little crypt
ludiwigia repens x l acurta
rotala green
Anubias petite
rotala r.
Fauna:
None, unless you count the snail eggs I missed.
I'll take a couple of pictures with a real camera later - I should hopefully be picking up some RCS and PFRs today. After they're established and the mosses have grown out some, I'll be adding a Betta.
"Front" Side:
"Back" Side: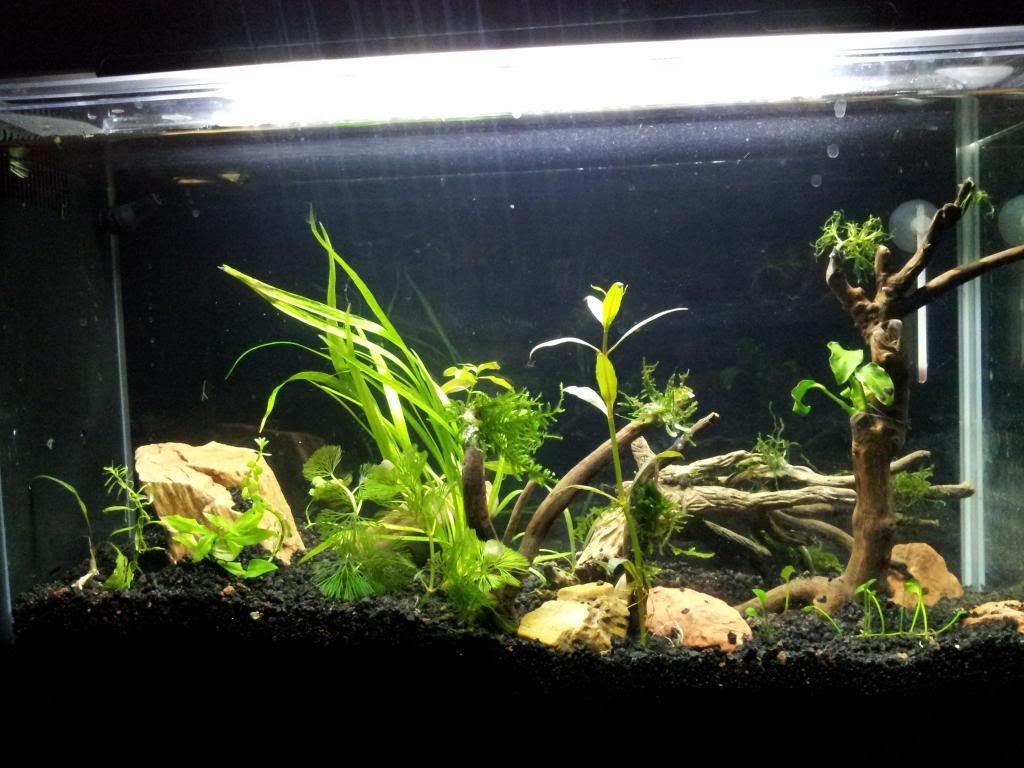 Planted Tank Guru
Join Date: May 2009
Location: MICHIGAN
Posts: 3,475
Algae Grower
Join Date: Dec 2012
Location: Washington
Posts: 42
My Planted Fluval Spec V
---
Looks great!
A few additional crummy camera phone photos:
Still letting things grow in before adding a betta.
The "rooty" piece of driftwood, crawling with shrimp (you can see some of the super glue used to attach the moss to the wood):
Sniffing around some roots:
Swarming a banana: