10 Gallon Blackwater-Like Project
---
I got one of those Tetra aquarium kits with an incandesent light hood, cycled it and had it up for a bit then now I decide I want to make it a small blackwater biotope.
This won't be densely planted, but will have a few. So far I have just added plant clippings from my big planted tanks. The main plant in it will be floating brazilian pennywort. And I want to replace the anacharis in the right corner but not sure what with yet.
For lighting, I'm going out to pick up a pair of screw-in GE CLF Daylight bulbs with 6500 kelvins. Aiming for 2 10w bulbs. I'm using the Tetra power filter it came with. 50w heater. Am going to use Flourish 2x weekly as I do on all my planted tanks.
Hardscape, I have malaysian driftwood pieces and rocks and am going to add some oak leaf litter. Substrate is sand.
Stock I am wanting a pair of ram cichlids & a few ottos OR I want 6-7 neon tetras, 3-5 panda cories and 2-3 ottos. There's 3 pandas and 2 platies in it now, the platies will be transfered to my 55 later.
On a misc note I need to remove that piece of tape I used on the outside for the background sheet. It's appearing on the left corner center and well, for me it's an eyesore lol.
July 10, 2012:
July 6, 2012:
FTS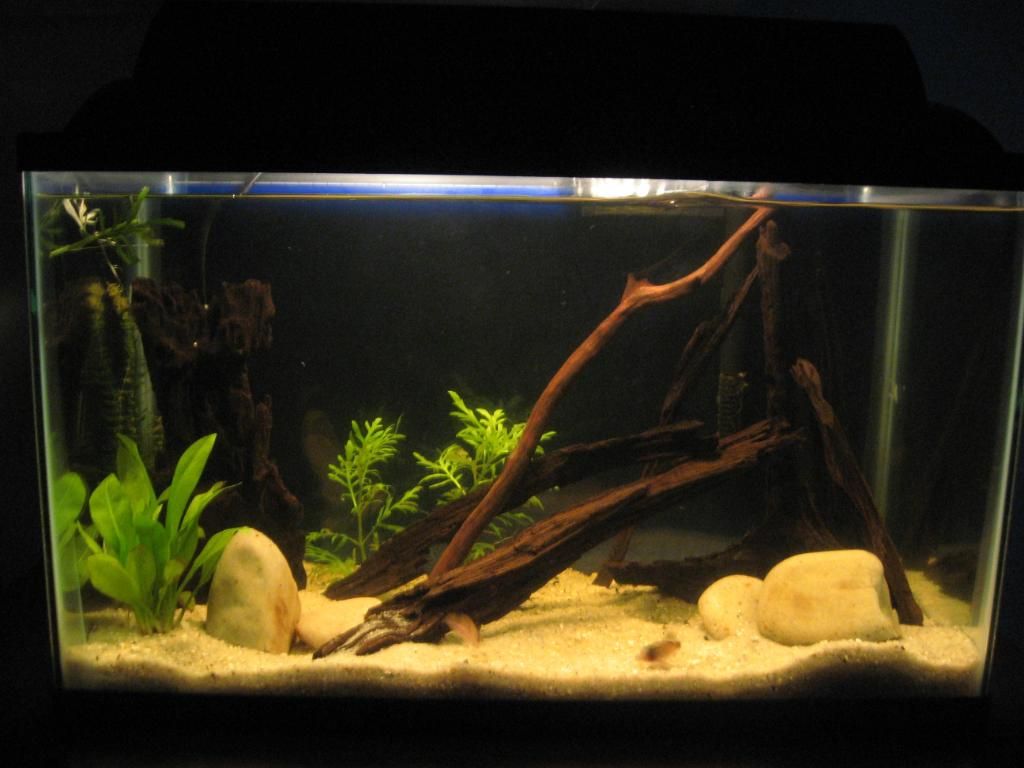 Right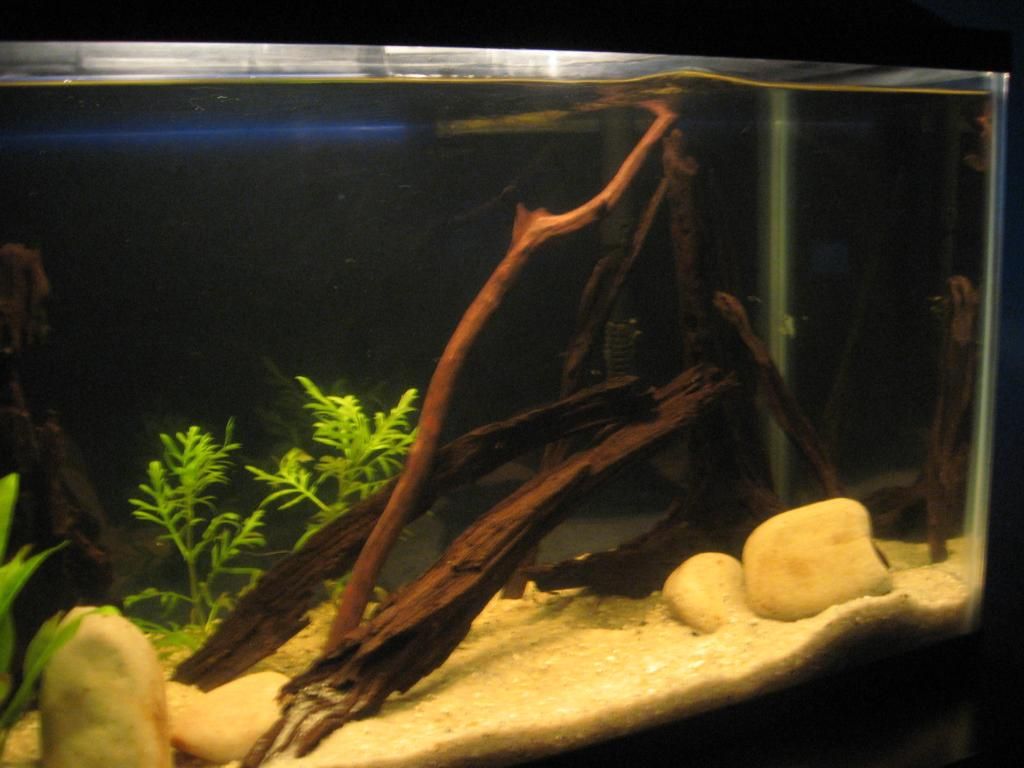 Left
July 5, 2012:
---
Last edited by Kratos; 07-10-2012 at

08:15 AM

. Reason: updating tank
I removed the platies.

Am (hopefully) getting GE bulbs this morning if I find the right ones, and the leaves by tomorrow.

Then I need brazilian pennywort, and/or hornwort and water sprite. I added a bit of blackwater extract.
Wannabe Guru
Join Date: Jun 2011
Location: NJ
Posts: 1,458
Your cories are going to love this setup, although I would stick to pygmy cories only for this 10gal size setup, add a nerite snail or floating plants for algea control as your plants get acclimated, and a few trumpet snails to stir entrapped substrate gases.
---
Last edited by AirstoND; 07-07-2012 at

12:52 PM

. Reason: edit
Pygmy's are cool and readily available in my area. Ultimately I want to move the pandas to a 90 gallon cory tank with sterbais, peppered and a few bronze and albino cories. That will be an all cory tank and I hope it comes sooner than later but space is tight in my house at this time.

I did a water change and the wisteria floated atop and now I'm just leaving it, it looks pretty cool.

Nerites are tough buggers to find here. Apple snails to sift through the sand perhaps? Small ones that is.
I've added a few more plants. Removed the wood I had in and replaced it with an anubias on driftwood log.
Eh, am thinking the cories are about to come out, right now my betta is in there with them.