Wannabe Guru
Join Date: Jul 2012
Location: Virginia Beach
Posts: 1,571
I bought one and am cycling it.

But then I thought "I need a quarantine tank.". So I wen ten Craigslist and got a 10, a 5, a 2.5 and a stand with a light, and filter for the 10 plus some silk plants.

All that for $40.

Am doing a lot of cleaning right now.
I bought one yesterday at petsmart for 80.99 after tax! I'm still contemplating the scape...
Algae Grower
Join Date: Jun 2011
Location: US
Posts: 139
Fluval Spec V
---
Does anyone have PAR data on the stock light for the 5 gallon Spec?
No one has provided PAR data that I've seen but they're perfect for low light plants and not much more.
Algae Grower
Join Date: Jun 2011
Location: US
Posts: 139
I just bought mine today and will be setting it up and cycling it tonight.

I plan on supplementing the light with 2- 12" ecoxotic stunner strips at 8k that I purchased last year. I haven't been using them for anything since I took down my large 75 gallon planted.

Also, I picked up a bag of CaribSea Flora Max from Petsmart for under 11 bucks. Does anyone have any experience with this product? I liked the EcoComplete I used in my 75 so I figured I would give this a try. It looks like the exact same product only in a different package.
Planted Tank Enthusiast
Join Date: Oct 2012
Location: ohio
Posts: 827
I have had this tank for about 3 months now and I am real happy with it, considering it cost me $95 at my LFS and came basically with everything you need to go home and get it setup for cycling right away.
I am no expert... yet lol - but so far the stock light on it seems sufficient for low light plants, sure they arent growing FAST but they are growing, it is a good light if you go with low light plants, which I have... plus I have floating plants for my tigher endler fry which shades plants below and they still are gradually growing. Not to mention I only dosed prime twice in the 3 months or so of ownership (I stopped because of concerns for my inverts in the tank... it seemed they didnt like it but I need to research this more).
Anyway, if you are interested in this tank take a look at my new journal:
Andrew's 1st tank - fluval spec V - never ending breeding
and if you dont feel like clicking, here is a picture of my current scape with this tank: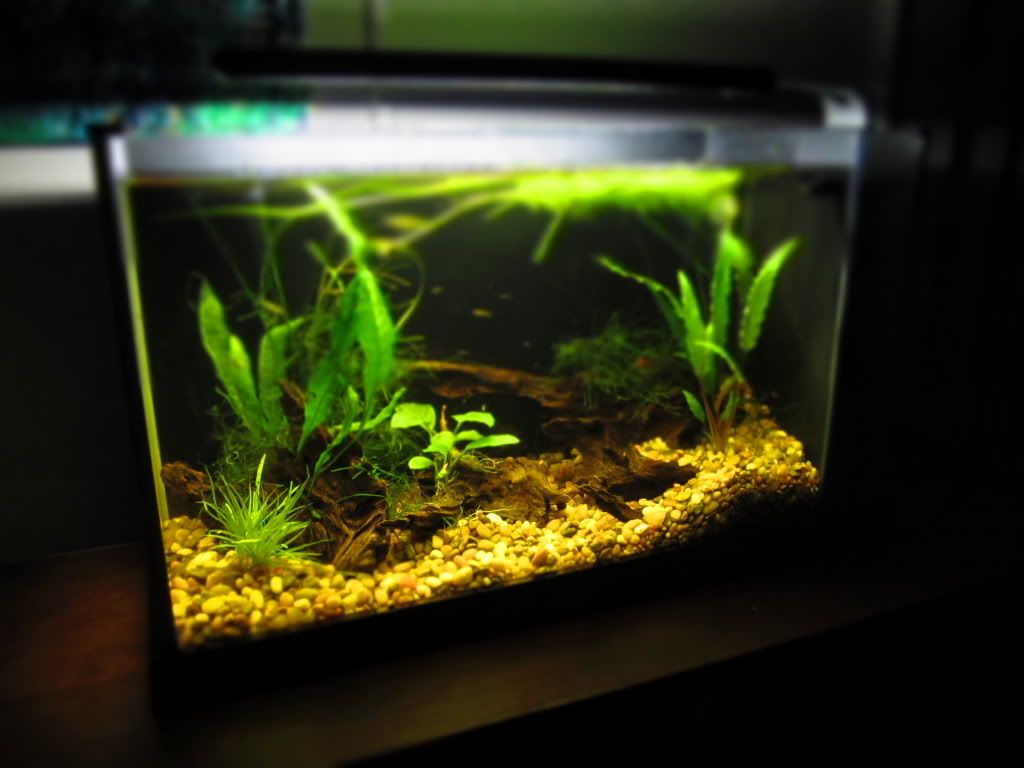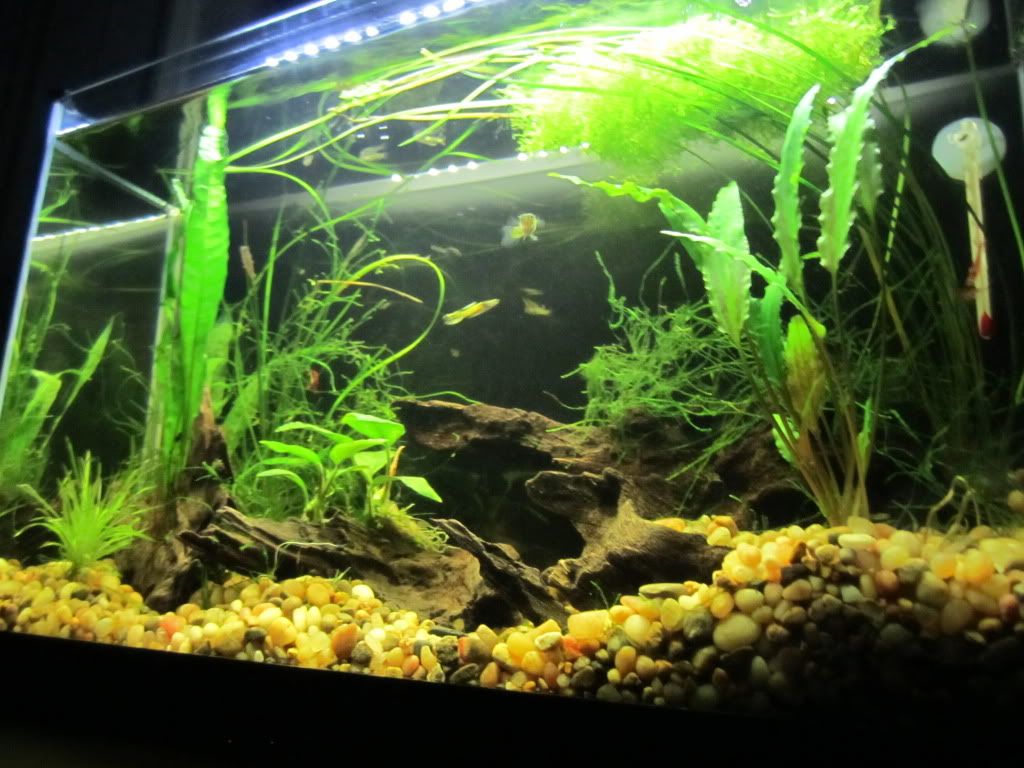 hopefully this helped you guys
Algae Grower
Join Date: Dec 2012
Location: OKC
Posts: 9
Yes, $100 is extremely low and reasonable price. I got mine for Christmas and it was on sale for $70! There is nothing wrong with the modern silver borders to cover the seams. It is a wonderful tank. One flaw, a mini heater can not be added into the main tank. The lid does not have a routing hole for the wire, so a mini heater has to be put inside the outlow chamber of the filter in order for the wire to go thru the lid's open pathway.

Also, if someone wants to use a different light strip, the lid will have to go in order to snap on a different light strip on the glass.
Algae Grower
Join Date: Jun 2011
Location: US
Posts: 139
Here is my planted fluval spec V
Sent from my SCH-I605 using Tapatalk 2