J's 3g - Glass Jar Shrimp Tank
---
Found a 3 gallon glass jar on craigslist and decided to do a small shrimp tank (with CRS or cherries). Here's what I have so far:
I picked up a Fluval U1 submersible filter and a 50 watt heater: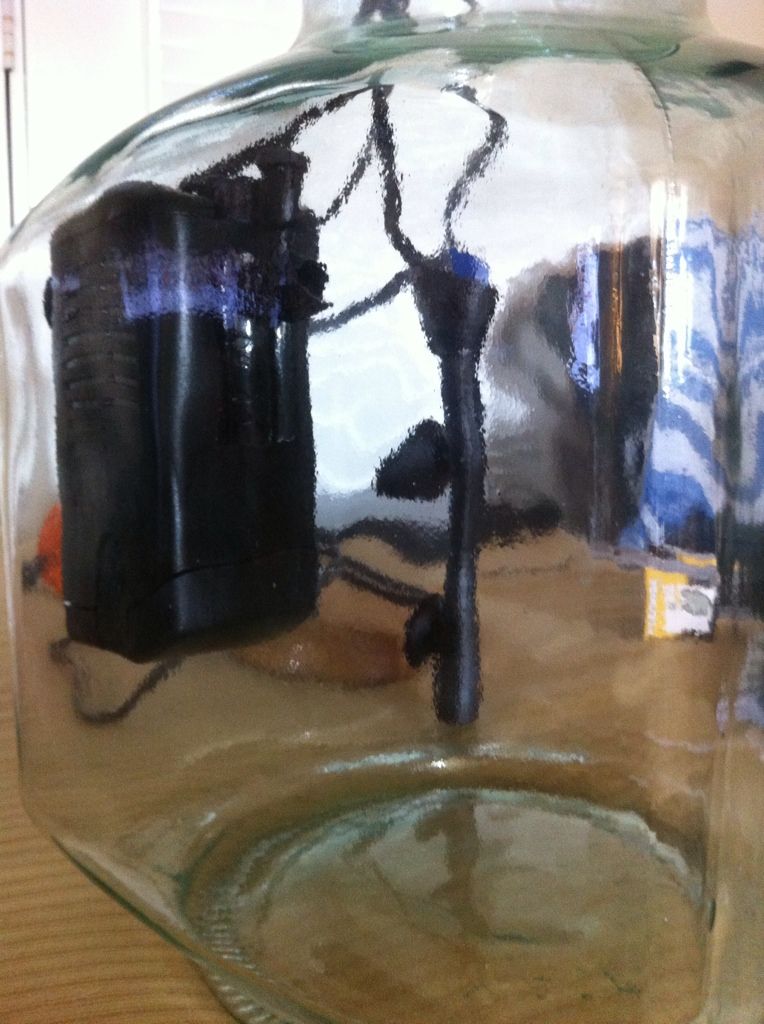 Next step is gonna be lighting, substrate, plants, etc.
I'd like everyone's input on this.
1) What type of lighting would you use?
2) I have plenty of Eco Complete left over from my other tanks. Should I just use that, mix it with something, use something different, Walstad method?
3) What type of plants? Emersed start?
4) CRS? Cherries? etc?
The glass (as you can see in the photos) is not uniform and is a little wavy. It may not be as easy to look through as a regular tank, but to be honest, I probably will just breed the hell outta some CRS or cherries and feed them to my angels and apistos for population control. The size/shape of the tank was really interesting to me, so I'm gonna give it a shot. I originally bought it to raise apisto eggs/fry for the first month.
Could really use some ideas here guys. Please feel free to fire away!
J
Algae Grower
Join Date: Feb 2012
Location: Eglin AFB
Posts: 7
The eco-complete will be fine for the substrate. As far as lighting I would go with some form/style of pendent or power compact light. Looking forward to seeing how it turns out.
1) CFL's ftw! Use a 26w flood light with a 8 1/2 in. diameter clamp light. Both can be found at walmart.
2) ADA Amazonia/Fluval Shrimp Stratum. Pretty much essential for CRS.
3) HC, DHG, Pygmy Chain Swords, anything small that won't crowd the bowl so the shrimp can be easily viewed. DSM if you have the patience.
4) Blue Pearls and CRS all the way! But only do CRS if you know what you're doing.

Good luck with the tank :P
Any lighting opinions/ideas would you mind including a link? I'm not entirely sure what store-bought bulbs will actually allow plant growth.

J
Planted Tank Guru
Join Date: May 2009
Location: MICHIGAN
Posts: 3,475
That's a sweet jar have you filled it yet?
Algae Grower
Join Date: Sep 2009
Location: San Diego
Posts: 10