Algae Grower
Join Date: Dec 2011
Location: Boise, Idaho
Posts: 5
First Attempt 2.5 Gal thrown together.
---
This is a very low budget set up.The tank was left in the garage by the previous owner along with a 12# bag of black Flora Max. I had a little Hagen Elite mini filter as well as a couple of rocks from a little waterfall set up that I had.I picked up an Aqueon mini 10w heater that keeps this tank at 78-80 deegrees. I keep the house at 71 so I will need to unplug it during the summer. I had planned on taking my time with this set up and making it look natural but at the last minute I rescued this cool combtail betta from Walmart and was rushed. I happend to go to a local chain pet store and they were cleaning out their plant tank for a new shipment. I got a big bunch of hornwort, a java fern and a nice anubius nana for a total of $2.99. I was in the right place at the right time. The light was the most expensive thing here ($22.00) at Biglots. CFL quad bulb rated at 6500K. I hope to avoid using a CO2 setup on here so I need recommendations for ferts and other additives. I have a 15 gal long that I will be setting up soon but I will plan it out and take my time.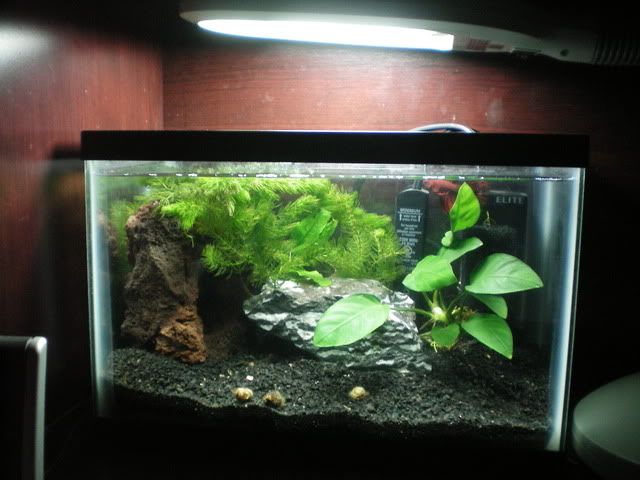 How many watts is that light? If it isn't too powerful you could get away with doseing Excel. A good overall fert is Seachem's Flourish. As long as theirs more light the plants will eat up the ferts and Excel.
Planted Tank Guru
Join Date: May 2009
Location: MICHIGAN
Posts: 3,475
Nice start. I would add some kind of plant in the front of the tank.