Planted Tank Enthusiast
Join Date: Jan 2004
Location: Berkeley, CA
Posts: 566
Co2 help with 12 gallons nanocube
---
I am tired of using the hagen canister (yeast) for c02 in my nanocube. What is the smallest c02 tanks out there to go pressurize? i have this tank in my office.

is 2.5lbs tank the smallest?


Thanks!
Quote:
Originally Posted by Ibn
Basically the smallest one that you can get filled at a carbonic store. Isn't too much bigger than the Hagen CO2 canister either (although quite a bit more expensive). I just snapped a picture of both of them w/the hagen canister in front and will show you later.
I'm looking forward to that, too. Any idea what complete unit cost would be including regulator and diffusor or reactor? I REALLY want to miniaturize the stuff for my 2.5Gs, and the yeast thing is getting a little old. I'm almost to the point of getting a 5-pound tank and a four-way manifold, hiding the tank and bubble counters under the kitchen counter, and running a line to each of the tanks (three at present) that are ON the counter:
(Tank on the left is my original tiny tank. Doggoned hairgrass has taken over, and I'm getting tired of mowing that lawn, so I'll be replacing it with...ummm...somethin'.)
Here's a picture that I snapped this morning w/the Hagen CO2 canister in front.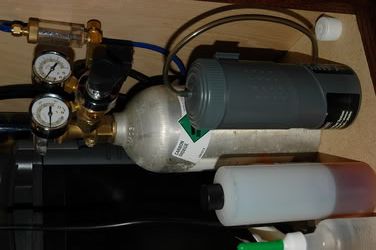 As far as cost is concerned, the tank will cost you around $50-60, check valve around $10-15, regulator around $70, reactor runs around $10 to build (not sure about diffusor cost), and not sure how much a manifold will cost (check w/Robert's site).