Quote:
ok, but experiments for testing that are easy to setup, I'm surprised there is no backing for those claims o_o
that's a good thing if the claims aren't true.
Please don't take this the wrong way because i am just the type of person that tries to see all angles of ANY situation.
I really don't see how an experiment testing if cryps/anubis can harm shrimp either just being in a tank with them or when under duress. First since that myth is just that a myth there has never been a specific chemical or composition that is claimed to harm the shrimp. Without that0 you cant even do an experiment.
Its not that the claims of crypts/anubis harming/killing CRS have been busted or scientifically dis proven; its just that so many people (obviously myself included) have kept CRS with these plants and had no issues it is pretty much just accepted fact that this myth is just one of 1,375,989 myths that have to do with CRS and crazy reasons they die that are completely bogus.
Quote:
Nice looking shrimp, Bsmith!
Thank you!
Well as I posted a week or so ago, all of my crypts started melting. The only thing I could think of that could possibly have effected every single plant was the lighting and possibly the substrate since the AS in this tank is getting pretty old it is possible that its loosing its punch. The spiral PC bulb that was lighting the tank had probably been in there for over a year. After doing some research I found that of all the PC bulbs spiral PC's loose their intensity and shift light spectrum the fastest of all of them. So I had an extra one in my office and slapped it in. Concerning the substrate the more I thought about it the more unlikely it seemed that every single plant would have ran out of nutrients at the exact same time (could happen I guess but that would be very strange). So I loaded up the sub with RootMedic Complete and Fe+ and Fe intense just in case. Since I replaced the bulb and loaded up on fert tabs I cant 100% say it was the lighting that was the main culprit but that is where I would put my money.
The very next day all of the plants looked much better. I think I lost a few but hopefully in usual crypt form they will return from the substrate bigger and better then they were before!
Hopefully I will have enough time to take/post up some pics tomorrow.
Quote:
hopefully they rebound.
Man I really hope so too. I put a decent amount of time and a good amount of $ getting some of these crypts. I love them and IMO they were perfect the way they were in the tank.
Wort case scenario, everything does melt/die. I have been toying around with getting a slightly larger tank so I can cram even MORE cool crypts in the tank. But since its on my desk my options are kind of limited.
I really like the mr.aqua 11.4g tank and I think it would fit like a champ on my desk. I already have an unused 2215 that only needs an impeller shaft and lighting would be a snap.
Maybe it wouldn't be the worst thing that cold happen. I would still have my shrimp!!!
Obviously I have been slacking on updating this since the light caused all my hard earned crypts to melt with only maybe 50% returning from the slime. But today I made an acquisition that will hopefully be arriving next week sometime that gets me all amped up about this tank again! I'm going to find the proper name real quick so I don't butcher it!
Found it.

I don't know if any of you have heard of Anubis design but I'm a member of their yahoo group. The owner Mark Denaro (might be Denero but I don't thing so) has been importing fish for a long time and being a member of the group everyone he is going to purchase something he shoots out the list of what they have.

Normally I browse through it and delete but today I noticed something that I have been wanting for a long time, Parotocinlus sp. Nanay.

These are (from my understanding) a type of Oto but they are a bit smaller and much more ornate looking.

So I ordered 6 and should be getting them next week!
Update demanded
---
"Simplicity is the ultimate sophistication." -- Steve Jobs
Quote:
Originally Posted by
Geniusdudekiran
View Post
Update demanded
I'm pretty new here, so I won't demand anything, but I have been following this thread quite a while and would love to see what's up in the tank, especially with the new fish.
Thanks!
Its been quite a while since I have done much planted tank. All is excellent, family and work just have a way of cutting down/eliminating hobby time! Ill elaborate a bit later.
Here are some shots of my M in its current iteration.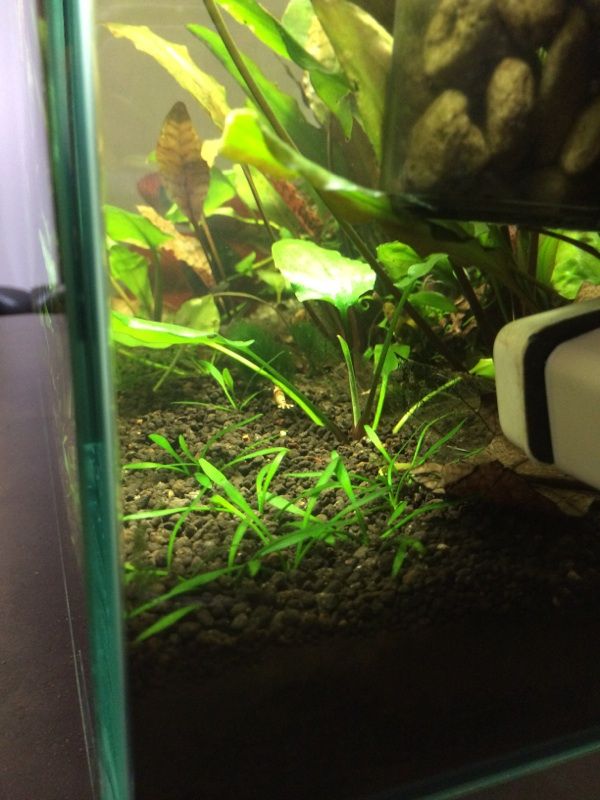 BSmith,

Have enjoyed your thread. I even read the previous one. Just wondering, do you use a heater in your Mini?

Approximately how much AquaSoil is needed for the Mini M?
---
Last edited by fjord; 11-19-2013 at

01:22 PM

. Reason: To add to