The first cargo shipment has arrived and Up-Aqua Aqua Soil is in stock!
If you have any questions just let shoot us an email.
We have launched a completely new site to a whole new platform with much more user account flexibility. We have also decreased most of our shipping rates across the board and are still tweaking some things here and there. We should have most of the logistical work done by tomorrow/Tuesday.
We also have an entire new line of rimless aquariums coming out in January, some of which are already in the warehouse and will be loaded onto the site as soon as possible.
Here is a quick snap of our new 24x24x12 Optiwhite rimless.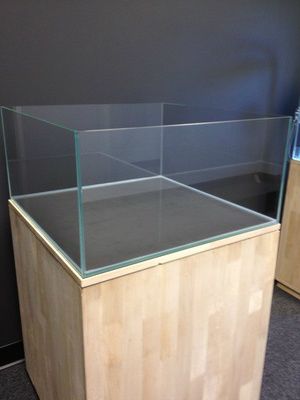 Wannabe Guru
Join Date: Jul 2011
Location: Denver, CO
Posts: 1,703
I am very excited to see the new rimless tank line!
Some great new products have been coming out very recently. The Up Aqua Soil, the GLA substrates, the Atomic CO2 kits, etc.
I just noticed the AquaRay LED tile on the front page of the new site as well.
Wannabe Guru
Join Date: Jul 2011
Location: Denver, CO
Posts: 1,703
Would GLA Black Lava substrate work as a sort of base layer in similar fashion to what people use lava rock for or is it too small?

Also, the web site says the Atomic paintball kit is sold out. Do you expect it to be available again soon?
Thank you madness
Its pretty exciting, we have new product coming in very soon so stay tuned. We are building the Atomic co2 systems as efficiently as we can, we should have them ready and done by late next week +/-
If you have any questions in the interim just shoot me an email using our contact form on the site. Thanks again Madness!
Posting Rules

You may not post new threads

You may not post replies

You may not post attachments

You may not edit your posts

---

HTML code is Off

---