Algae Grower
Join Date: Oct 2008
Location: Wilmington, NC
Posts: 15
fish ID help
---
I bought this guy some years back before I even began to have a clue what I was doing. He was an "oh, that one looks cool" purchase. Needless to say, I haven't a clue what he is. Can anyone help me out?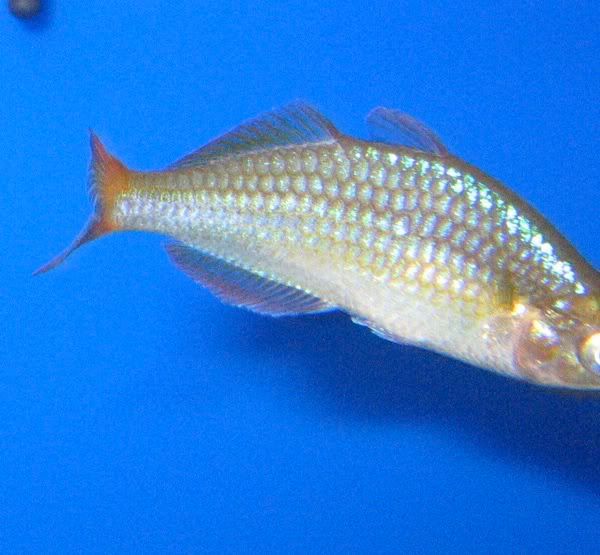 looks like a dwarf neon rainbow! easy spawners IMO, and very colorful
that one looks like a female to me
Algae Grower
Join Date: Oct 2008
Location: Wilmington, NC
Posts: 15
Quote:
Welcome to TPT!
Thanks! I've been lurking for quite a while learning more than I ever wanted to know about this hobby. About time I joined in the fun!
She (?) does indeed look like a dwarf neon rainbow fish. I'm starting to think she isn't happy with me since she's been kept mostly alone all this time and they are apparently a shoaling fish. Uh-oh! Right now she is in there with a small school on neon tetras and a couple ottos. Maybe I should get her a couple friends.
Thanks again for the ID. Now I finally know what to tell people who ask what type of fish she is!
my vote is also for rainbow fish
---
Without Algae, death of mankind would be inevitable.

how big is the rainbow? if it is a dwarf it will only get to about 2" max size if it is bigger then it is a regular rainbow fish.. it might not be showing its colors yet.. or the tank conditions might not be right for it to show.

most of the dwarf rainbows have nice colored dorsal fins at the edges.
Algae Grower
Join Date: Oct 2008
Location: Wilmington, NC
Posts: 15
my tank is a 25g tall lightly planted. my bioload is not that much, but I dont know if a 25g is enough for them. the one I currently have is about 2" and hasn't grown much, if at all, in the past year or so. guessing she is a dwarf. i wouldn't mind getting a few more if i can find them...

what do you guys think? 25g tall not enough for them or what?