Algae Grower
Join Date: Nov 2006
Location: Canada, Northern BC
Posts: 40
Moonlight gourami behaving weird
---
I recently bought a 90 gallon tank for my cichlids that have out grown their original tanks. With it came 2 id sharks (gone to the lfs), 2 moonlight gouramis, a dojo loach and a random feeder goldfish (going to the school soon). I put these fish in with a plecostomus in a 25 gallon tank. In the last few days the smaller of my two moonlights has been acting strangely. She was gulping/moving the gill plates quite quickly and had a few small, white fuzzy patches on the forehead, so I did an immediate water change and put the temperature up a little. The white fuzzy spots have gone away but the gulping continued. Now she is hiding a lot, moving back and forth in place and snapping her head from side to side. None of the other fish have labored breathing so I don't think its oxygen deprivation. But I might put an air stone on tonight anyways. The other odd thing is that the two gouramis seem to be fighting/ mating, they will shake, like cichlids, while beside each other and rapidly move their "feeler" fins against one another as well as take turns nipping each others sides.
I'm confused and not sure what to do.
This is the odd one.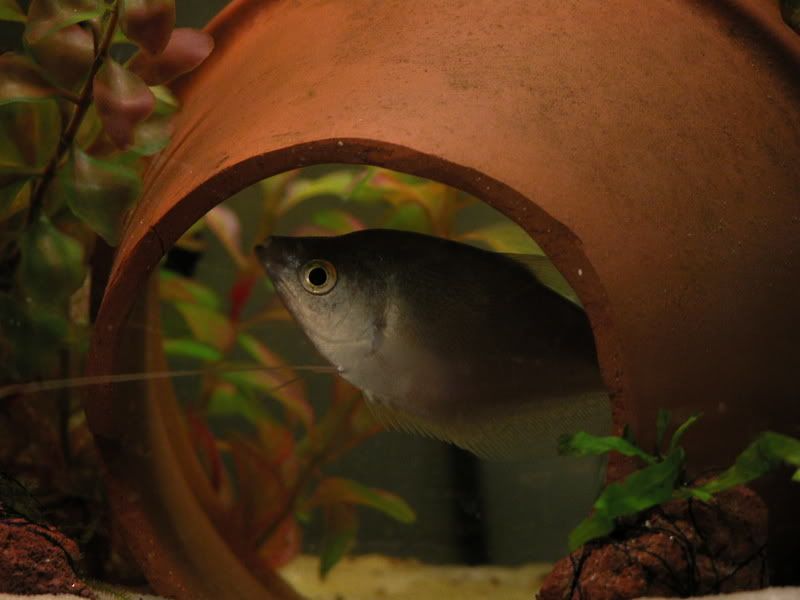 Here are a few pics of my 25 gallon, to add in some detail of my setup.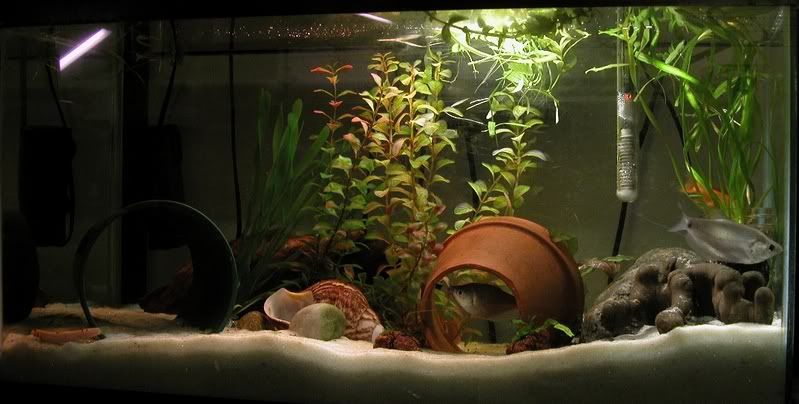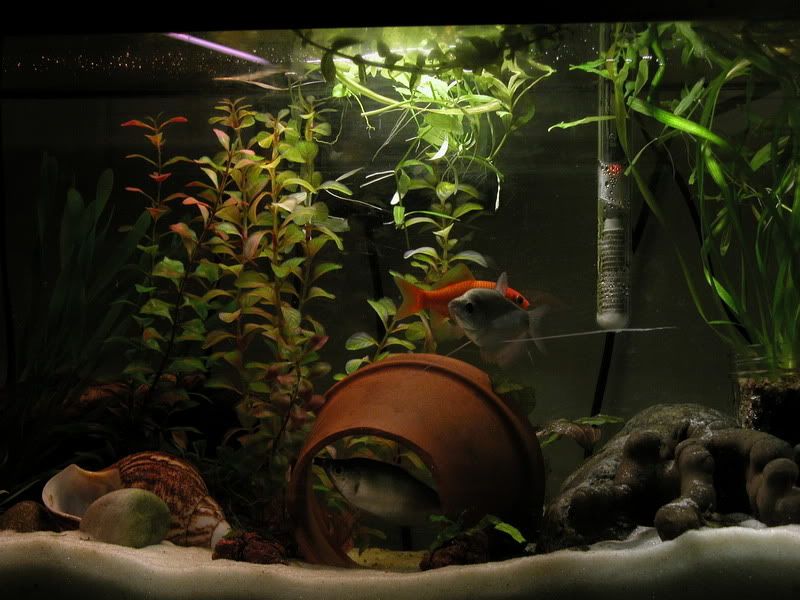 Thanks
Robyn
Algae Grower
Join Date: Nov 2006
Location: Canada, Northern BC
Posts: 40
Hmm... Well my other gourami has started the excessive gill movements and snapping of the head back and forth as well. I did another 25% water change today as well as vacuuming the gravel and cleaning the filters, also added some Aqua Plus tap conditioner. The gourami haven't seem to have lost their appetites at all, the only time the smaller one comes out and acts normal is when it is feeding time. I tried to get a picture of the "wounds" on her head but she was too skittish, never managed to get a good shot of her head, the wounds are basically little indents where there are no scales. I have no idea what is going on, but I took a small video clip of the smaller one being weird, I'd like someone to watch it and maybe suggest and idea to what the problem is. Any comments would be appreciated.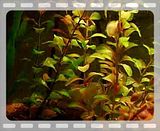 thanks
Robyn
yeah, something is wrong.. Have you tested your tank for ammonia, nitrite, nitrate?
It might explain things.
And the wound could me a bacterial/fungal infection... If you have a spare tank, set it up as a hospital tank and use anti-biotics on it.
---
Algae Grower
Join Date: Mar 2004
Location: Louisville, Kentucky, USA
Posts: 124
Rocking syndrome
---
It sounds like you've got a mystery going on.

I'm with the previous poster, could be environmental. Parameters are important, though gouramis aren't necessarily all that particular in relation to them.

Secondly, eons ago it was noted somewhere (God, long-term memory's going now) that any gourami with "rocking syndrome" was infected with a parasite. Now, where one came from . . . you'd know better than I. The gasping is pretty much part of the "rocking syndrome," though gasping is associated sign/symptom of many things.

Try to remove them, find a parasite treatment that isn't copper based (I recently learned the horrors of copper in any tank). I used to use Maricide (sp), but they've changed the formula and I find it less effective.

This could be environmental though, and that would be my first suspicion. Oddly, none of your other fishes seem to be showing this same distress--again, gouramis are not usually the "first to go" when something is awry in water quality.

Good luck and I hope they come through ok.
Kev.
Algae Grower
Join Date: Mar 2004
Location: Louisville, Kentucky, USA
Posts: 124
Just watched your clip. I think it's the "rocking syndrome" (e.g. possibly parasitic). As for the bumps . . . no clue. Eurythramycin would be my first choice there.
Algae Grower
Join Date: Nov 2006
Location: Canada, Northern BC
Posts: 40
I don't have an empty tank but I think I might be able to catch the loach, plecostomus and healthy gourami and move them to a tank I'm redoing that just has ottos and snails and a bunch of plants. Then I can use the tank she's in as a hospital tank. I'm a little hesitant about using medications not knowing the horrors of copper based meds and the pet store only has capsules that treat for hole in the head, gill parasites and worms with one of the active ingredients being copper. I'll have a look at another pet store tomorrow when I got to pick up some airline tubing. For now my plan is that tomorrow I will raise the temperature and add aquarium salt and aeration. The gasping has subsided, but the one is still rocking back and forth. It seems like "gourami disease" would be a good description of what is going on, the fish is now starting to rub on décor right around the gill area so a gill parasite is very plausible. Thanks for your help so far, I'll read up on this tonight so I'll have a better idea of what to get tomorrow.

Robyn