Planted Tank Enthusiast
Join Date: Jul 2006
Location: Seattle, WA
Posts: 560
Something else about Angelfish
---
thought I lost one of my little guys... turns out he/she's hiding in my overflow filter. no idea how to get it out... I'm afraid of removing the filter floss stuff 'cause he dives into it when I look in... I know he went in there just to spite me... (ok, probably because the guppies go in there to give birth...) I may need to buy more filter stuff and just stuff it so full none of the fishes can get in there... here's a pic of my....... incredibly young tank, in case you wanted a visual...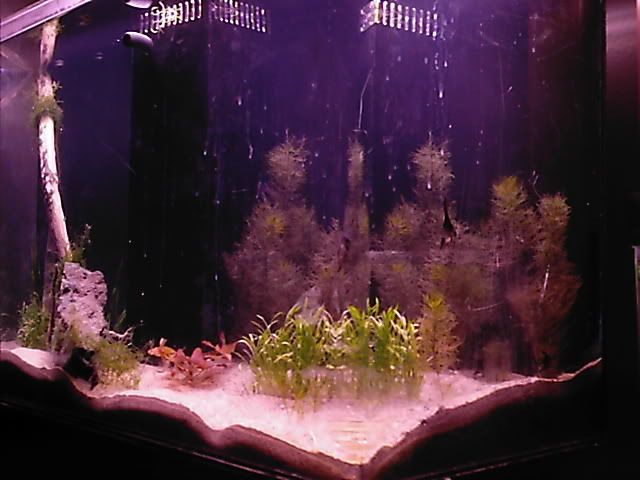 see that big black box thing? he's hiding in there... It's just one of those things where, I'm not actually
worried
about him, though I probably should be. I'm more
annoyed
because I want him to come out and play with the rest of the angels. Oh well. I guess I start digging out my overflow!
edit: hm, I also can't net him out, net is just a bit too big. I guess it's time to invest in a smaller net!
I would leave your angel alone if no dire consequences from its habit to hide in that filter will come. Fish have their own choice as to the lifestyle they like.
---
~Lupester
Let the loach and snail assimilation begin!
Planted Tank Enthusiast
Join Date: Jul 2006
Location: Seattle, WA
Posts: 560
Yeah, I just removed most of the filter floss so he has some space to move around... I can't get him out anyway. I still think I'm going to invest in a small net, though. I can't wait 'till they're too big to get through those little slots.
They'll be bigger before you know it! What type of Angelfish do you have? I think I like Mixed Koi looking Angelfish the best, i just love the colors.
---
2.5g nano journal
Member, Pittsburgh Area Planted Aquarium Society (PAPAS)
Planted Tank Enthusiast
Join Date: Jul 2006
Location: Seattle, WA
Posts: 560
mmmm... they are currently very dark, with verticle stripes, except for one, which is very dark, solid colored with a bit of a metallic gold sheen to him/her (I think this one is a him-don't ask me why...) I actually duno what they'll grow up to look like! I duno if they'll stop being so beautifully dark and turn into the silver with stripes that I saw in the pet store or if not. I don't really like the marbled ones, personally, and the white ones, though they would show up better in my tank with the black background, look kinda creepy to me! so I got the dark ones. they're just so pretty (to me) makes it hard to see them in the morning, though - but by evening, they come right to the front of the glass and say hello! (it's probably more like, "FEED US!!!!")

hehehe...
Wannabe Guru
Join Date: May 2004
Location: Illinois
Posts: 1,681
It may have gone down thinking it was trying to go downstream. I would suggest placing some kind of mesh covering over the top of the built in overflow.

I would think that leaving it in the overflow would NOT be a good idea. The turbulence of the water would not allow it to rest and settle down. Plus it would probably have a hard time eating fresh food. It would probably only survive on the old, decaying food caught on the floss.
---
125 gal (473 liter):
Low Tech
(1.5wpg PC for 10 hours, no CO2/ferts, gravel substrate),
Equipment
(72" Coralife PC, Eheim Pro II 2128 w/built in heater, FilStar XP3 w/Hydor ETH201 inline heater),
Fish
(6*Discus, 2*Angel, 5*Clown loaches, 4*L-018 Gold Nugget pleco, 1*L-260 Queen Arabesque pleco, 7*Cories, Farlowella cat)
Planted Tank Enthusiast
Join Date: Jul 2006
Location: Seattle, WA
Posts: 560
I'm also kind of wondering what it will do to his... emotional well-being? to be separated from the other 5 for so long... it's a shame he's hiding, too. he's got some of the best-formed fins of all of them.

Actually, the food he gets is only in the water a minute or two before it gets to him. I put floating crumbles on the water surface, and the flow is actually pretty slow. He just doesn't wanna come out. I'm thinking it's cause there are two that are bigger... like half-dollar sized, and him and the other smaller ones are only... maybe quarter sized if you count the fins. I've noticed the bigger two herding the rest around the tank. still though, nothing I can do 'till I get some free time after work tonight.
Planted Member
Join Date: Jun 2006
Location: Chicopee MA
Posts: 217
It won't be long before the fish won't fit into the overflow. They grow FAST. If you have a few Angels you just can't tell now who'll become the dominant one. My biggest one has always been bullied by the others till he got a girl for himself and I quess a purpose in life. I have six Angels and as luck would have it they formed three pairs. My wife feels bad for the unmated one.
Planted Tank Enthusiast
Join Date: Jul 2006
Location: Seattle, WA
Posts: 560
Well, got him/her out.
pretty easy once I got the right sized net. Actually, none of these guys seems particularly difficult to net. they just kinda sit there and wait for it, looking like it's some cool game. I'm not complaining - it makes it easy for me.
And it's wierd, but I came home today and it looked like my big ones were even bigger than when I left for work... there are now three distinct sizes among my angels... ones that are STILL tiny, ones that are maybe quarter sized, and two that are close to rivalling the size of my dwarf gouramis.
maybe that's where my guppies' babies are going?? lol.. good thing I bought the guppies specifically for that purpose...
Oh, thought I'd point out before anyone gets all jumpy.. gouramis are in a completely differnt tank from my angels.
gouramis and angels are fine together lol
---
Jordan.
90 gallon-fully planted, dual aquaclear 110s , pressurized co2, dual double glo HO t5 2.3 wpg.(tetras)
125 gallon- 5 frontosa, 12 yellow labs, 2 blue dolphins
125 gallon- 25 assorted discus
65 gallon- REEF
6 tube t5 by t-tech
37 gallon- REEF
400 watt 20,000 k metal halide.